Speaker Meeting, 6.15 for 6.30pm
Mon 18th November 2019 at 6.30 pm - 8.00 pm
In the picture with Club President Robin are Rotarians Andrew Mitchell and Peter Elliott, members of the Rotary Satellite Group – Rotary in the Rissingtons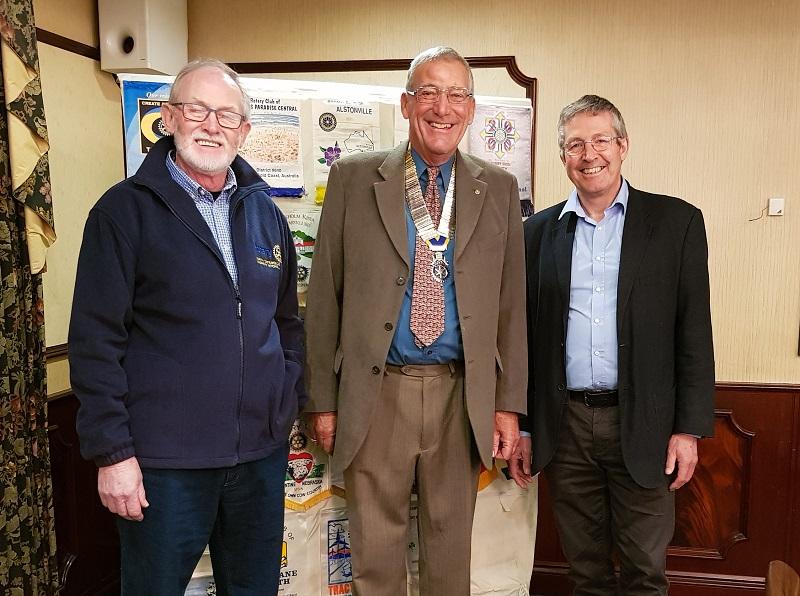 Club members please log in for more information.
The speaker appointed for this meeting was unwell and Andrew and Peter were more than happy to step into the breach.
Andrew was in the Merchant Navy for 25 years working for Shell and then worked on the oil production platforms in the North Sea. He then started his own consultancy business and ended his career writing Maritime Law (new legislation). After retiring he joined Rotary.
Peter is a semi-retired IT/Data Protection consultant who returned to the Cotswolds after living 20 years In Ireland. He wanted to meet like-minded people so decided to join Rotary in the Rissingtons after he was "canvassed" by Andrew.

The group was set up in July 2018 by Andrew who felt that the Club he was in (North Cotswolds) needed to change as membership was sadly reducing. Lady members were actively discouraged. There were lots of recruitment ideas, but the club had no response from these. Andrew suggested starting a Satellite Group which was met with resistance at first but finally the Club agreed. The four Rissington villages were canvassed and an informal meeting was arranged in the Upper Rissington Village Hall which took place in November 2018. 12 people attended – 8 of these became and are still members. A few decisions were made at this meeting including meeting times – twice a month (7.30pm to 9pm) and that the group would raise money for mainly local charities.
The group's inauguration took place in January 2019. The meetings are very informal – dress code is "anything". Wine and crisps are enjoyed by the members. Most meetings follow the usual Rotary format although some meetings are now held in members' houses so everyone can get to know each other on a more informal basis. Every member pays £12 per month which includes Rotary membership, room hire and refreshments. The group now has 13 members

This year the focus has been to help the new local school and, in the summer, created a garden for them - lots of hard labour!!! They have been involved with several other projects including having their own RYLA candidate. The group has good relations with the main club (North Cotswolds) and they put on shared events.
Andrew is the Chairman of the group and Peter the Secretary and a lady member, Sue, is the Treasurer. The decision was made by the group that these posts will be held for three years and not the normal one year to help continuity.
There were costs involved setting up the Satellite group, but funding was received from the main Club and District. There are also lots of forms to fill in and "hoops to jump" but both Andrew and Peter feel the group will go from strength to strength.
The group has its own Facebook page and through the work they do in the community are well known in the area.