Speaker Meeting, 6.15 for 6.30pm
Mon 20th January 2020 at 6.30 pm - 8.00 pm
Guest speaker Shirley Ludford, Station Manager Swindon 105.5 Community Radio with Club members Kathy Hobson and Ken Winslow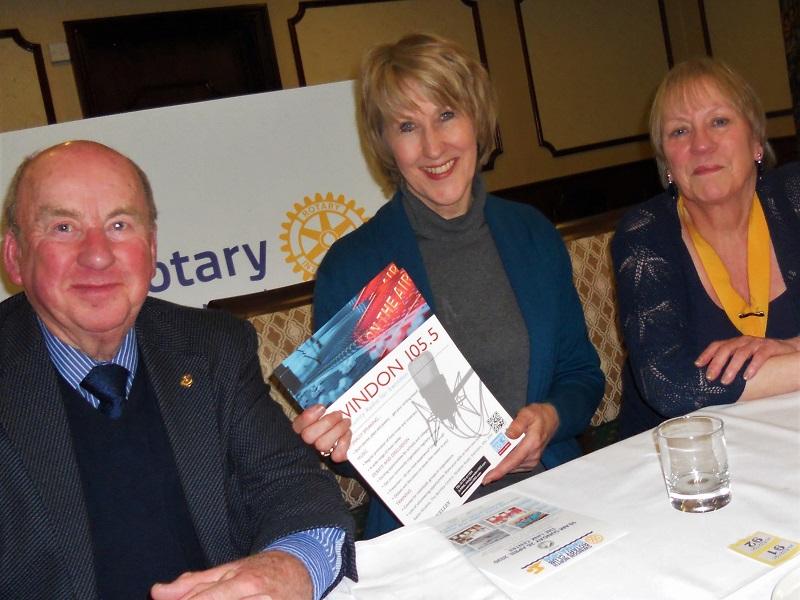 Club members please log in for more information.
Swindon 105.5 is Swindon's only Community Radio Station and its programmes feature local people, events and organisations. Our guest speaker at this meeting was the station's manager, the former BBC Wiltshire Sound and GWR FM employee and presenter, Shirley Ludford.
Swindon Community Broadcasting (SCB), a Restricted Service Licence station, was set up in 2004 to discover whether a community radio station could work in Swindon. The broadcasts took place from the now demolished Bulldog pub on Queens Drive, Swindon. After positive feedback in a 4-week broadcast period it was decided to apply for a full-time Community Radio Licence from Ofcom. There was a rival in the frame too, but Ofcom decided in favour of SCB (Swindon 105.5) in February 2007.
The first studio was at the County Ground shared for a short time with ITV Thames Valley. The inaugural show on 15 March 2008 was presented by Shirley and a former colleague from BBC Wiltshire, Peter Heaton-Jones.
The station moved to The Bentley Centre in Stratton in 2010. Larger premises allowed it to have 3 studios and administration and training areas. Shirley ran the first accredited radio course for 9-year-olds at Drove Primary School in 2011, making them the youngest in the Country to gain this certificate.
The Station continues to offer training today, particularly to disabled and disadvantaged youngsters.The Station moved to its third home, Liden Library, in 2016, which gives it even bigger studios. The Station works with local schools and in particular Liden Primary School which is next door. The school stores the Station's mobile staging unit.
Annual running costs amount to £40,000. Shirley is paid part-time and some 120 volunteers aged between 11 and 79 help her. For 11 years the Saturday morning programme has been presented by 12 to 16-year olds. Funding comes from grants, donations, fundraising events and training courses. Since the launch some £400,000 has been raised from fund-raising. Support, both monetary and in kind, comes from many local companies.
The Station broadcasts 24/7. Most programmes between 6am and 11pm are live and from 12pm to 6am they are repeats or pre-recorded. Recorded programmes are made by local schools, colleges and community groups, including a Swindon Rotary Club. The Station promotes local musicians. In March 2020 it will celebrate its 12th birthday.
After meeting Ed Vaisey MP Shirley was invited to the Houses of Commons and Lords to present the case for all community radio stations to be allowed to carry commercials. The law was changed and Swindon 105.5 now broadcasts a few commercials.
On thanking Shirley Rotarian Ken Winslow said that her enthusiasm and job satisfaction was so evident. From her Wikipedia page he discovered that in 2018 Shirley was voted No.39 in the Independent newspaper's poll "the people who make us happy". Furthermore in 2014 she featured in ITV's "Surprise Surprise" which saw Boyzone visit the Station. Subsequently Shirley went to New York and met Whoopi Goldberg and was selected to appear on her show. She received the High Sheriff's Award for long service to the community in 2014 and later in the same year The Duke Of Kent visited Swindon 105.5 to present the Queen's Award for Voluntary Service.