Gurkha Lunch Sunday 30th June 2019
Sunday 30th June 2019 12.30 pm for 1pm At Stafford Grammar School Burton Manor Road, Stafford ST18 9AT (By kind permission of the Headmaster)
Gurkha Lunch
Sunday 30th June 2019 12.30 pm for 1pm
At Stafford Grammar School
Burton Manor Road
ST18 9AT
(By kind permission of the Headmaster)
In aid of the provision of water & sanitation facilities at the village of Doode Pokhari, Lamjung District, Nepal.
The meal was prepared by the locally based Gurkhas for which the meal choices were: Pork or Chicken curry, Vegetarian Curry, Vegetarian Lasagne followed by a choice of sweets. BYO wines/beers. Glasses and water will be provided.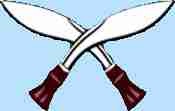 This event will include a display and short talk about the Gurkha Soldiers and their 200 years of service to the British Army and a display.
All labour on the project at Doode Pokhari, Lamjung District, Nepal will be provided by the villagers at no cost to ourselves, and the project is also supported by a Rotary Foundation grant.
For more information on the project