Reflections by Renton Laidlaw
Wed 11th September 2019 at 12.50 - 14.00
Renton had many stories to share from his long career in the media, especially as a golf commentator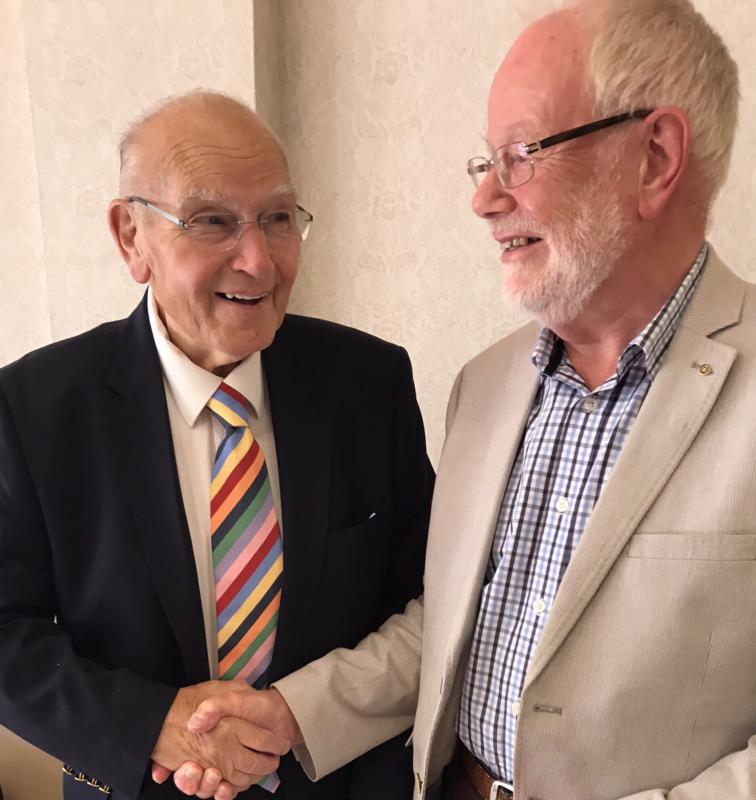 Hamish Tait introduced the members to Renton Laidlaw a well known voice to everyone and a very good friend of Rotary.
For 60 years Renton worked for the Edinburgh Evening News, Grampian Television, the BBC, the Evening Standard in London and PGA European Productions. He has been the golf correspondent for the BBC in Britain and for the World Service and was for 15 years the European anchor for the Golf Channel.
Renton has covered 165 majors including 58 Opens and 42 Masters for which he earned a life-time achievement award and has been grandfathered at Augusta which means he is welcome to go every year. He is recipient of the Jack Nicklaus Memorial Award for golfing journalism and has earned a Life-time achievement award from the PGA of America, the PGAs of Britain, the Scottish PGA and the PGAs of Europe. He has travelled round the world covering golf more times than even Gary Player visiting 36 countries in the process.
From such an impressive pedigree a fascinating talk was guaranteed. As a young man his headmaster asked Renton what he planned to do when he left school He answered that he would like to go into journalism. The headmaster said "No! He should choose a more secure profession" and recommended that instead he went into banking or insurance. Renton made the right decision and has enjoyed his life on the road.
He told us that unusually the BBC had tried to change his name as his news boss in seriousness said they liked to keep things simple. As he had no other names the name Renton Laidlaw remained.
He recalled some tricky moments abroad when he was held at gunpoint in Zambia, nearly collided with a private plane in Killarney and had to play golf with badly fitting borrowed shoes and clubs in the Ivory Coast. We heard about the famous personalities he has met and interviewed including Gene Hackman, Michael Douglas, Gracie Fields, Samuel L Jackson, Bing Crosby, Richard Nixon and Bob Hope. He talked about the golfing greats like Seve Ballesteros, Arnold Palmer, Jack Nicklaus, Doug Saunders, Tom Watson, Jose Maria Olazabal and the modest Sandy Lyle who was clearly a modest man and a favourite of his. As well as the most memorable competitions and also told us about his saddest memories including when Doug Saunders missed the putt on the final green at St Andrews which would have won him the Open and would have changed is life.
The master speech was appreciated by members and the vote of thanks was given by Eric Brown.
As good friend of our member, Jimmy Spankie, Renton had helped our Club with Look Who's Talking events interviewing Peter Allis and Hazel Irvine.
Jimmy and Renton shared digs together over 50 years ago.