Club Speaker - Commander Paul Blythe MA, BA(H)ons), FCMI, Royal Navy
Mon 2nd September 2019 at 7.15 pm - 9.15 pm
Illustrated talk by a retired Royal Navy Nuclear Submarine Commander Paul Blythe MA, BA(H)ons), FCMI, Royal Navy (Rtd)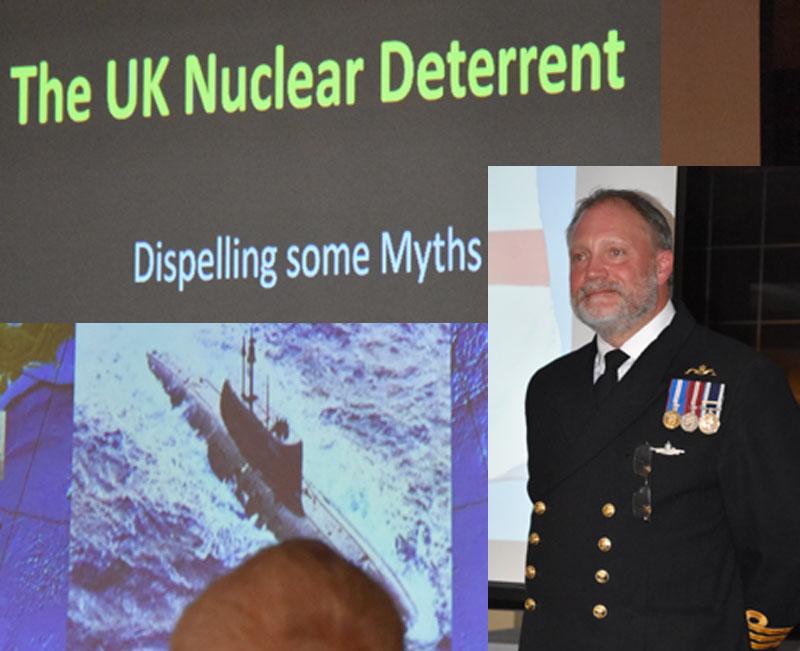 Rotary Club of Birstall Luddites
Club Speaker Paul Blyth Royal Navy.
The UK Nuclear Deterrent

Commander Paul Blyth came to the club and spoke of his life in the Royal Navy.
His talk "The UK Nuclear Deterrent - Dispelling some Myths". was a powerful look into the world of Nuclear submarines and the life of the crews who spent months underwater keeping their position secret so as to provide the UK with a Nuclear Deterrent.
Paul retired after serving thirty years in the Royal Navy, to a shore based role in
Whitehall advising the Cabinet Office on nuclear deterrent policy, having previously gained considerable experience on submarines of many types, culminating in him being a Commander of a Trident nuclear missile submarine.
He became Captain of a fast attack nuclear submarine armed with Tomahawk Cruise missiles and gave an outline of some of the many tasks undertaken, including anti-piracy, counter trafficking (slave trade), transporting of special forces and counter narcotics activities. A convincing case was made by Paul for the logic behind the policy of maintaining a nuclear deterrent. It was fascinating to learn of the degree of autonomy given to submarine commanders and of the many facets of "Mission Command" when the most crucial aspect was essentially to avoid detection and the great lengths which were taken to achieve this. The patrols last a considerable length of time and one of the most interesting parts of Paul's presentation was his account of everyday life on board, during the long period submerged, which in his case had included two Christmases spent underwater and the efforts made by the crew to provide appropriate seasonal entertainment.
Paul took Q&A from Rotarians and friends.
Past DG Rotarian Nigel Arthurs gave thanks on behalf or the club for a very impressive talk.


Below - Video of Nuclear Submarine life.
UTube video showing life iabord HMS Vengeance Nuclear Submarine.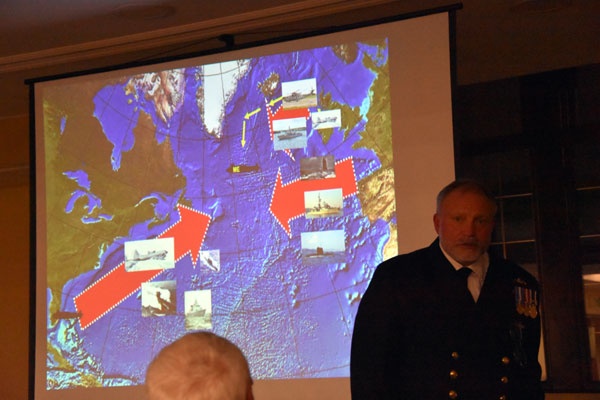 Paul showing an example of submarine shadowing.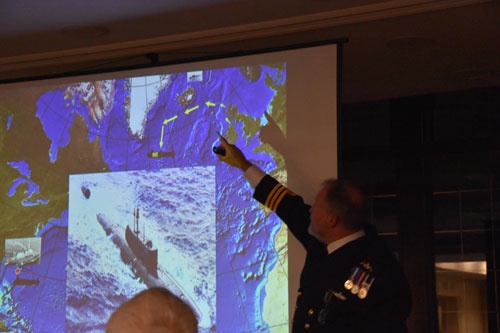 Pauls illustrations of staying undetected on their tours of duty.
-------------------------------------------------------------------------------------------------------