Rotary Ride For Life
Wadebridge Rotary raises funds toward prostate cancer research.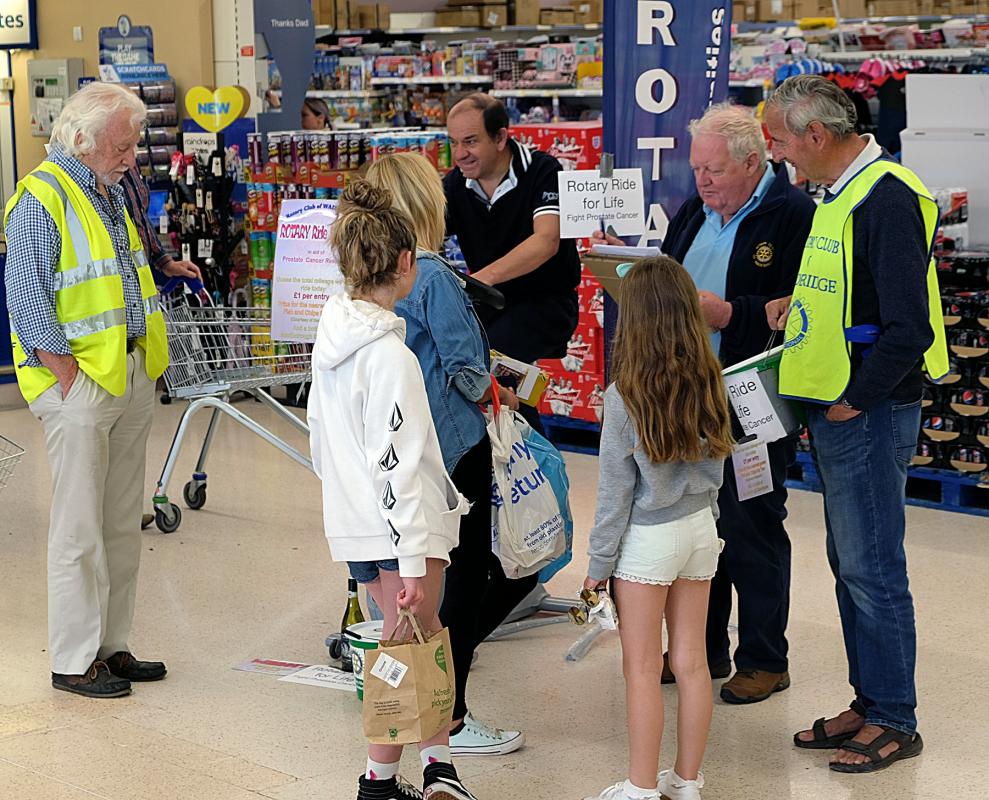 Rotary Ride for Life
Wadebridge Rotary Raises £387 to Fight Prostate Cancer
Shoppers at Wadebridge Tesco on Saturday 15th June were perhaps surprised to find new additions to the shop display in the entrance - a static exercise bike, an assortment of more or less static Rotarians and a Rotary feather flag. Wadebridge Rotary was "Riding for Life" to raise funds to combat prostate cancer.
Eschewing the normal approach of using bikes with actual wheels to travel an actual distance, Wadebridge Rotary several years ago pioneered the static bike, where Rotarians and willing (for the most part) family and friends take 15-minute stints over 6+ hours on a static bike and we note down the distances the bike says we have travelled. We run a sweepstake on the total distance, people paying £1 per entry. There are, of course, no prizes for the individuals going the furthest, but it is noticeable how many put on a sprint in the final seconds to get that number higher.
The final distance we clocked up was 82.29 miles, roughly Plymouth and back. The sweepstake winner was Mrs Ruth Clench of St Tudy, whose prize is a fish and chips supper for two, courtesy of Barney's, and a bottle of wine.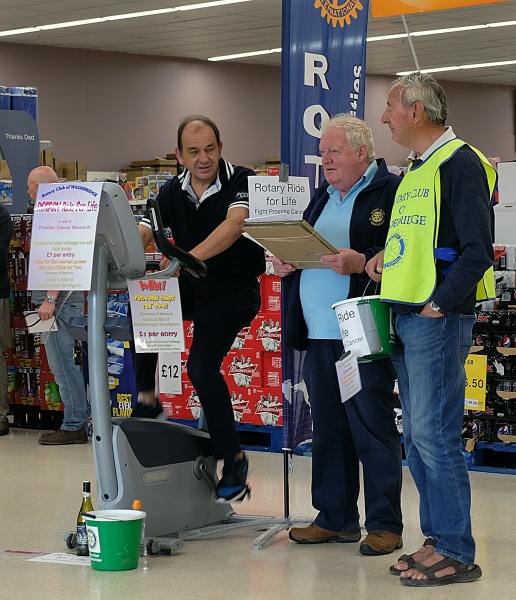 Previously we have taken a space on Molesworth Street in the town centre, but this year Tesco kindly allowed us to use their shop. With the varied and none-too-sunny weather we've been having, the participants thought that being under cover was a great idea. Also, the amount raised of £387.08 was £140 up on last year, showing the benefit of greater footfall, particularly during the afternoon.
Thanks to Tesco for allowing us space, to One 2 One Fitness for lending us the bike, to all the Rotary members who took part, and especially to Patricia Brocklebank, Rob Davey and Cameron Hutchison who also Rode for Life.
Report by Kevin Smith; Photo by Martin Broadfoot.