Multiple Sclerosis society - Mark Colley-Davis
Wed 31st July 2019 at 7.00 pm - 8.30 pm
Duncan presents cheque to Mark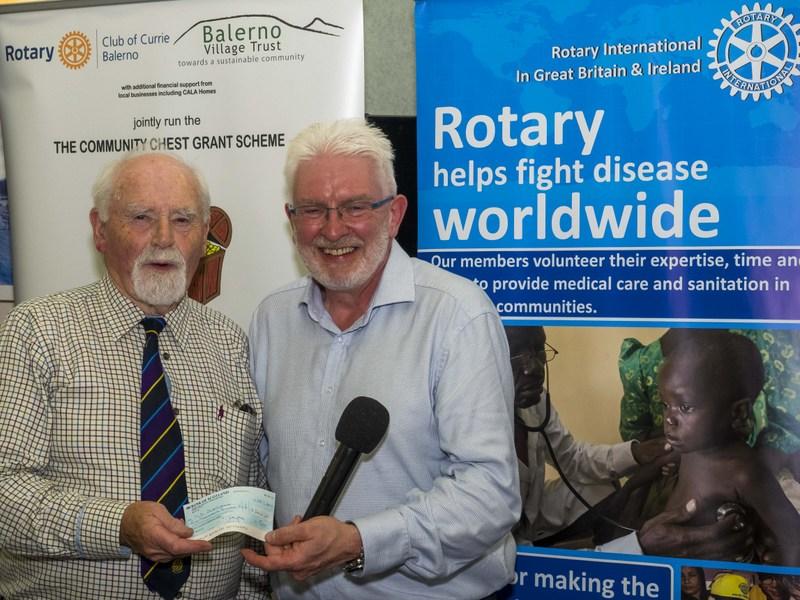 The MS Society raises money for research and to help people live with MS. They also lobby parliament to try and persuade government to help.
Multiple sclerosis (MS) is a condition that affects the brain and spinal cord. In MS, the coating that protects the nerves (myelin) is damaged. This causes a range of symptoms like blurred vision, pins and needles, fatigue and pain, along with problems with how one moves and thinks. Symptoms can start with people in their 20s but is not diagnosed till around the age of 60.
It is thought that around 11,000 people in Scotland suffer from the condition. There are three times as many woman sufferers than men. There are far more sufferers in Scotland than the rest of the UK.
A good lifestyle helps to prevent the disease. One should not smoke or become overweight. A healthily diet helps. Everyone should take vitamin D supplements, especially during the winter.
Treatment can help manage the symptoms. A range of drugs have been and are being developed to help.
There is a large unit in Edinburgh carrying on research and many discoveries are being made. It has recently been discovered that the cholesterol reducing drugs, Statins, may help the condition. As yet there is no cure.
The society have events and fundraising ideas to suit everyone. Whether ones looking for a physical challenge, a cake recipe or a social occasion, every penny raised helps stop MS.
Mark is extremely grateful to Duncan Law for raising so much money by making and selling bird boxes and wheelbarrows over the past year or so. Duncan then presented Mark with a cheque for £2000 havimg raised £1000 last year
In his vote of thanks Mike Rowe reminded those present that around 10 years ago the club had raised some £25,000 for MS by producing and selling a cookbook. This project had been championed by past president and former member Robert Menzies.