On Friday evening a small busload of enthusiastic Seagate Rotarians and friends went to Ayr Races. The bus company and the bookies made money, but for the rest it turned out to be just a social occasion.
On Saturday, President Andy Slater accompanied the quiz team from Glebe Primary School to the Scottish finals of the Rotary Primary Schools Quiz in Glasgow. Glebe put in an excellent performance, but were not in the top 3. Perhaps next year.
Monday was Seagate Rotary's annual handover meeting, with partners and guests. Outgoing President Andy Slater outlined significant events in the past year, both in fundraising and community support, and noted that in addition the club had a strong social and fellowship element. Andy thanked members for their support over the past years, then handed over the Presidential chain of office to Ian Dickson.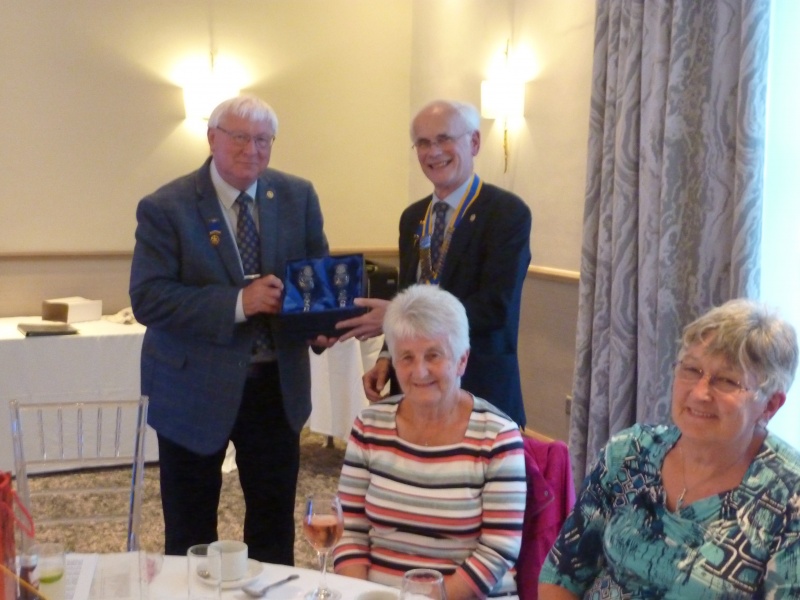 It is 50 years this month since Ian moved to Irvine, and he seems quite settled here now. Ian mentioned a number of activities and projects he hopes to bring to fruition in the coming months. Andy Slater will continue as Secretary, and Billy Dickson as Treasurer. Finally, in the monthly charity raffle, the winner was Eric Greig. Eric has had a run of success in the raffle recently; perhaps he should have gone to the races in place of one of the form studying 'experts'.