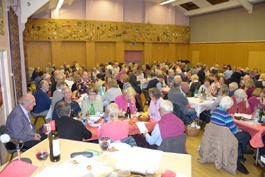 Shelter boxes are sent to disaster areas around the world as required. The sturdy green ShelterBoxes are designed to help people who have lost everything. They are filled with practical tools and utensils that help to create the framework for everyday life.
Each contains a family-sized tent that protects people from the elements and provides a safe space in which people can start to recover from physical and emotional trauma.
The contents differ depending on the disaster and the climate, but items such as solar lights, water storage and purification equipment, thermal blankets and cooking utensils help start the process of creating a home.
The main fund raising event for this cause is a quiz evening held annually in January, but this year a sponsored cycle ride in September raised funds for 6 Shelterboxes