2019 Organiser's Report
A final report from Colin with the highlights of Drive it Day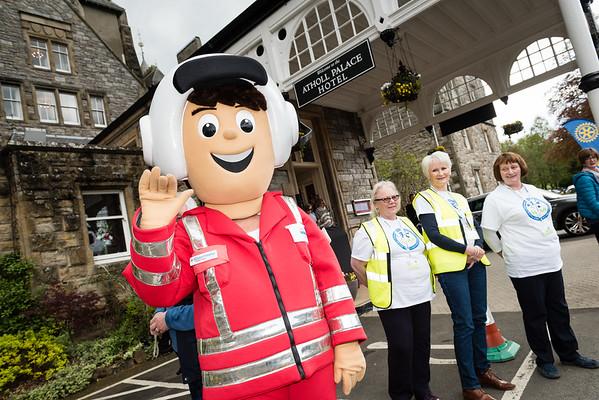 Rotary Club of Blairgowrie Classic Car Tour
28th April 2019
This is the third annual Classic Car Tour and the Charities supported this year were CHAS (Children's Hospice Across Scotland) and SCAA (Scotland's Charity Air Ambulance).
80 cars took part and once again the sun shone. The tour started from the Blairgowrie Golf Club following registration.
The oldest car taking part was 1922 Morris Oxford (Bullnose) with a fantastic range of cars and models through the years, right up to a 2019 Bentley Continental GT Convertible.
The route went into Blairgowrie to be officially flagged off by Brigadier Sir Melville Jameson KCVO CBE who stood on a Land Rover kindly lent by Morris Leslie Group Ltd (the one which was used during the handover of Hong Kong to the Chinese). This year the 'Goody' bags donated by the lady Rotarians were handed out by them in the Wellmeadow
The morning route was less than thirty miles but was very scenic towards Abernyte and over Dalreoch Moor before heading to Perth Airport where the participants enjoyed seeing a fantastic collection of vehicles courtesy of Morris Leslie. They also had access to Vintage Aeroplanes and Air Services Training at the Airport.
The afternoon run was north through the Angus Glens and over Moulin Moor to Pitlochry where we were warmly welcomed to the Atholl Palace Hotel for High Tea.
The Auction and Raffle were very well supported and helped swell the total amount raised for the Charities to
£16,400 with an additional £2,100 from Gift Aid. This will be divided as follows - 40% to CHAS, 40% to SCAA and 20% to The Rotary Club of Blairgowrie.
Prize winners were –
Oldest car to complete 'Drive it Day' – 1922 Morris Oxford (Bullnose) – Ian & Sara Milford
Furthest travelled – Silas Adler from London
Most money raised – Joyce Leslie
Concours d'Elegance – Bill and Ethel Ross
Quiz – Ian & Sarah Milford
'Spirit of the Event' Award – Jim & Anna Graham of Graham Environmental Services
Period Costume – Tim and Sara Hudson from Aston in Hertfordshire
The Rotary Club of Blairgowrie thank most sincerely the Sponsorship from Graham Environmental Services, Morris Leslie, Bentley Edinburgh, Milford Vintage Engineering and all other Sponsors and advertisers in the Route Book
and our wholehearted thanks go to all participants who gave so generously.
My personal thanks go to President Robin Duncan and Members of the Rotary Club of Blairgowrie for their enthusiastic and generous support which I value greatly and to all those who work quietly behind the scenes. Special thanks also to Eric Drummond for his invaluable help with organising parking etc.
We look forward to seeing you again in 2020. Drive it Day will be held on Sunday 19th April – Entry forms will be available on www.blairgowrieclassiccartour.co.uk in November. Photographs taken in the Wellmeadow and at the Atholl Palace on this year's 'Drive it Day can also be viewed on the above website.
Best wishes from Colin Stewart
Chairman of the Organising Committee
26th June 2019
info@blairgowrieclassiccartour.co.uk