Presidential Handover
Retiring President Kevin hands over his responsibilities to President Hywel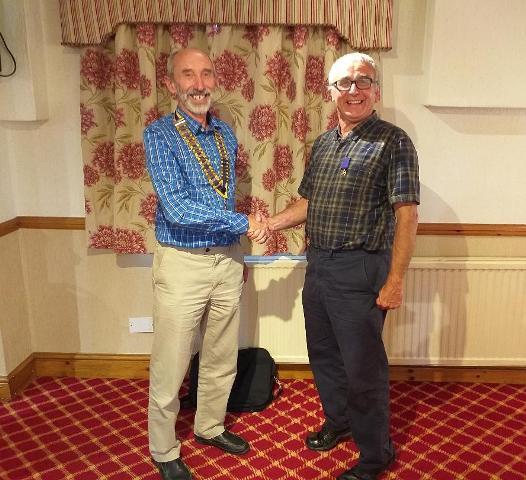 July 2nd 2019 was Handover Evening for The Rotary Club of Denbigh.
Following the meal President Hywel thanked Retiring President Kevin for his leadership throughout the past year and for the positive changes he has brought about within the club during his year of office.
Hywel then went on to highlight some of his plans for the coming year and invited the incoming chairpersons of committees to introduce their plans for the coming 12 months, which looks to be a very interesting year once again.
Gorffenaf yr ail oedd Noswaith Trosglwyddo ofewn Clwb Rotary Dinbych.
Yn dilyn y pryd bwyd, diolchodd y Llywydd newydd, Hywel i Kevin am ei arweinyddiaeth fel Llywydd drwy gydol y flwyddyn diwethaf ac am y newidiadau cadarnhaol y mae wedi eu creu ofewn y clwb yn ystod ei flwyddyn yn y swydd.
Yna aeth Hywel ymlaen i dynnu sylw at rai o'i gynlluniau ar gyfer y flwyddyn i ddod, ac yna gwahoddodd cadeiryddion y pwyllgorau newydd i gyflwyno eu cynlluniau ar gyfer y 12 mis nesaf, sy'n ymddangos i fod yn flwyddyn ddiddorol iawn unwaith eto.