Oswestry Community Games, Cae Glas Park, September 2019
Sun 15th September 2019 at 11.00 - 15.45
The 7th annual Oswestry Community Games - supported by the Mary Hignett Bequest Fund with MC our own David Davies! Mike Jones need our help to run a Rotary Stall - Contact Mike asap!
thumbnail view
Hi all

I am still somewhat jaded even two days after the Games!

Well we did very well on Sunday despite the disappointing weather first thing, and we enjoyed large numbers in the afternoon to make the day a great success, especially rewarding after last year's regrettable cancellation.

One of the many highlights for me was Atlantic Mavericks somehow squeezing their rowing boat of 8.64 metres length through the park entrance so that the public could view it and talk to the crew. The boat goes out from La Gomera in the Canaries in December in the Talisker Whisky Challenge and the voyage to Antigua is expected to take 45/50 days, and our best wishes go to them.

Di Carrington - Atlantic ladies from Pontesbury who completed the same challenge in 2017-18 was a wonderful guest of honour and belied her age of 64 by getting stuck into most activities on offer. She now goes to climb Kilimanjaro in her spare time!

I have attached a small sample of photos for your enjoyment and to give you a flavour of the day. A lot more are now on our Facebook page and this number will grow considerably as we receive more photos.

In conclusion, many thanks for your support for our 2019 Games which was very much appreciated.

Clive Knight :)
17th September 2019
----oOo----

Dear Fellow Rotarians

The weather kept a lot of people away from the games today but my toys made £62 which will go to the Rotary GBI Disaster Recovery Trust (formerly the Donations Trust) which has reopened its Caribbean Hurricane Appeal following Hurricane Dorian.

The Disaster Recovery Trust is a registered charity, established in 2007, which collates donations and makes grants to Rotary projects working to rebuild communities in the longer term through sustainable development projects.

https://www.rotarygbi.org/how-you-can-help-following-hurricane-dorian/
Thank you for your support!
Yours in fellowship

Mike Jones
----oOo----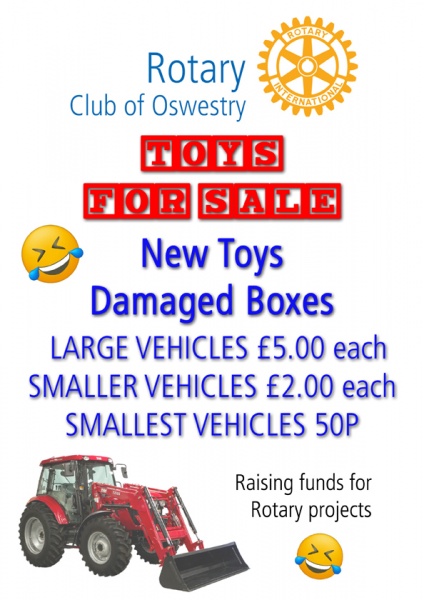 ----oOo----

The Oswestry Community Games which is now part of Oswestry Heritage week is looking forward to its seventh annual event on Sunday 15th September in Cae Glas Park from 11am – 3.45pm.
Last year's Games sadly had to be cancelled for health and safety reasons due to the adverse weather, so this year we are hoping for a kinder forecast for the day! The programme promises to be yet another success with local sport, music, and dance from local organisations providing free activities through the day.

Michelle Delieu - Dance organiser said – "This will be the fourth year that dance has been a part of the Games. Dance has brought in a new vibrant and exciting aspect to the event, promoting local dance groups and providing a wide range on dance genres. Previous years have seen both adults and children enjoying demos and 'join in' sessions in a variety of styles including belly dancing, ballet, cheerleading, lindy hop, salsa, ballroom, sign dance, street dance and fitsteps. Whether you are 2 or 102; whether you have two left feet or perfect timing; if you want to dance for fun or to keep fit; are you looking for a new style to try or wanting to rekindle an old passion; you might be a complete beginner or have been dancing for years. At the Community games we believe that dance is for everyone and everyone should be able to have the chance to dance. "

We are delighted to announce that Shropshire's Di Carrington from Pontesbury is to be our Guest of Honour. Di Carrington, 62, was part of an all-female trio to take on the Talisker Whisky Atlantic Challenge in 2018, rowing the 3,000 miles from La Gomera in the Canary Islands to Antigua in the Caribbean. The journey took 60 days, 18 hours and 34 minutes, and the crew had to contend with 40ft waves, chronic sleep deprivation and strong winds, and amazingly picking up three world records along the way.

The other piece of very good news is that our MC will be David Davies who is very well known locally, and undertook this key role in 2016, so the Games will be in very safe and experienced hands on the day.

This year the Community Games has secured the financial backing of Oswestry Town Council, Oswestry Sports Forum, Wynnstay Hotel, Shropshire Towns and Rural Housing Ltd, Mary Hignett Bequest Fund and Charlotte Hartey Foundation to whom we are very grateful.
Clive Knight
Oswestry Community Games Organiser