Richard Scott
Wed 11th September 2019 at 18.05 - 20.30
Richard Scott - 'Get on Track' walks.
The speaker on Wednesday 11th September at the weekly meeting of the Rotary Club of Furness, held at Barrow Golf Club was Richard Scott hosted by Rotarian Graham Dixon.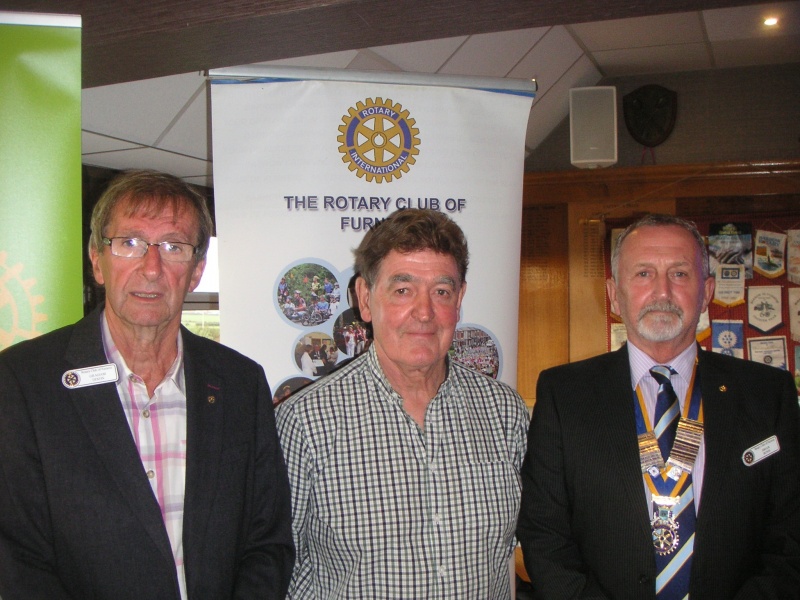 Richard told us that following retirement from Merlewood Research Station, Grange over Sands, his interest in leading walks began in earnest in 2006 when he was persuaded to work for health promotion group with a program called Get on Track.
Originally designed for folk with mental health issues, it quickly expanded, so much so that when the money ran out and the programme was shut down, the group had become self-sustaining and carried on with its own programme.
Richard then digressed to tell us of a walk he undertook, to circumnavigate Cumbria. It was a 6-day project which he described to us with the aid of some excellent slides.
His trip began in Barrow climbing over the slag bank, which he said now has incredible bio-diversity, after some remodelling and the introduction of soil in areas, plant life has blossomed.
From there he made his way to Sandscale, Roanhead, Askam Pier, Dunnerholme and onto Angerton Moss. His talk was punctuated with examples of plant life he came across.
Richard explained that at university his degree was in botany so plants along the way interested him immensely. He old us of spotting a Bee Orchid on a car park in Barrow and indeed had several pictures of orchids in the sandhills at Roanhead.
From Angerton he made his way through Broughton mills, to Stickle Pike and then into Dunnerdale and "Wonderful Walker's" church at Seathwaite with the tiny church yard abounding with plant life.
Taking to the hills again at Grassguards he entered Eskdale and then over to the next valley, reaching the Wastwater Hotel at 20:00 for a well deserved nights rest.
Next day was spent tackling Kirkfell, into Buttermere, Crumock Water and in the shadow of Melbreak Hill, he took a welcome pint at the Kirkstile Inn. Then on to Loweswater and to Maryport crossing the incredibly fertile Solway Plain. Eventually to Wigton where he then cheated a little and caught a bus to Carlisle for another night halt.
Next day he took the old A6 to Penrith, admitting that he hated the road stretches but there was little alternative for the next few miles. From Penrith onto the other Askam, actually Askham and then to Haweswater where he told us he had visited with his father many years ago. His father's family hailed from Mardale and Richard said he had a photo of his father as a child outside the Dun Bull Inn at Mardale Green, all of which were demolished and flooded when the Hawesater dam was built.
Onward and upward and then walking down Sad Gill to Kendal and then via the old A590, now a restful haven and some footpaths to Lindale, then across the Cartmel valley and climbing again to Bigland, skirting Bigland Tarn and walking along the banks of the Leven to Greenodd, his reception committee and the end of his journey.
In closing Richard told us about his current walking group – 'Get on Track'. They meet every Thursday at about 10 o'clock at Barrow Station and from there go either north or east. He said they generally have about 30 people attending, almost filling a railway carriage.
Richard gave some examples of the walks, including going to Lancaster with a 9 mile trip along the canal bank, stopping at a convenient watering hole for a drink, and finishing at the nearest convenient railway station.
Richard showed us their current walk programme and the one proposed for next year. After questions Rotarian Graham Dixon proposed the Vote of Thanks.