Club President's Handover
Mon 24th June 2019 at 18.15 - 20.00
Outgoing President Carole Baldam hands over responsibility to the Clubs 2019-2020 President, Mark Taylor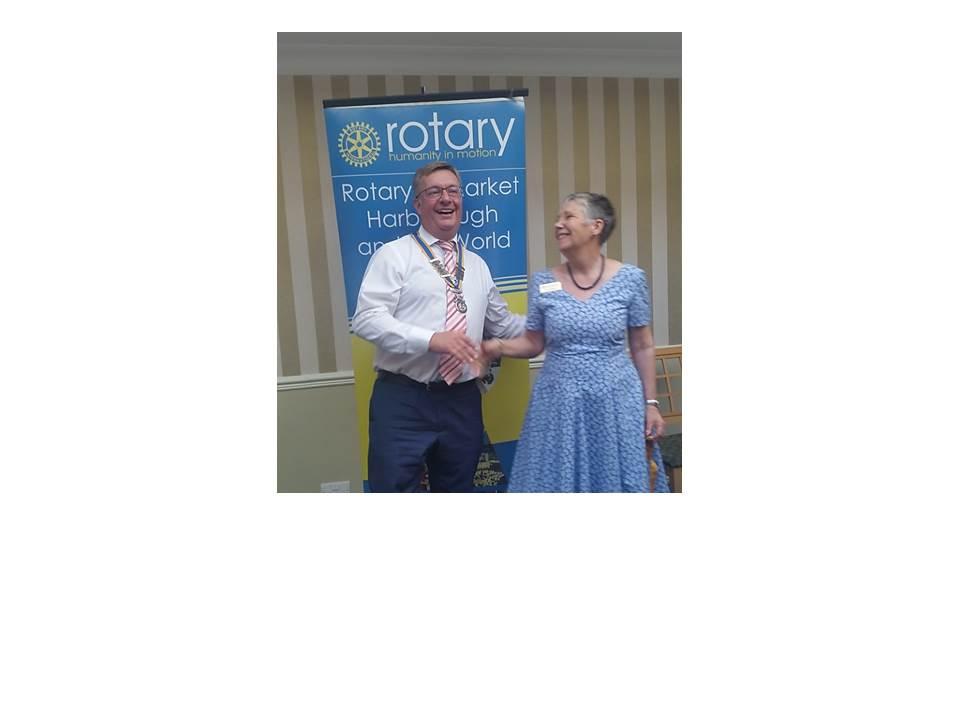 At the 2019 Handover Ceremony of the Rotary Club of Market Harborough, President Carole Baldam passed her chain of office over to Rotarian Mark Taylor.
Reflecting on her year in office, President Carole was pleased with the many successful service and social activities.
Earlier in the year a donation was sent to Rotary International's End Polio Now campaign, aiming to vaccinate every child in the world against polio, leading to its total elimination. A similar donation was given to Parkinson's UK, providing information, friendship and support to local people with Parkinson's, their families and carers.
Over £1800 was donated towards an Admiral Nurse for Leicestershire. Carole says she is delighted that there are now two nurses in Leicestershire, one at LOROS and the other working with the three main hospitals in Leicester. One target is to get an Admiral Nurse into St. Luke's hospital, Market Harborough.
The money was all raised at various activities and events organised by Rotarians. These included a street collection in Market Harborough on Christmas Eve, a sweepstake on the duration of speeches at the club's charter anniversary dinner, a gala night at Harborough Theatre, a coffee morning, Santa's Grotto – led by Rotarians of the Inspire group, and a murder mystery evening.
Other activities during the Rotary year included the famous SwiMarathon, a harvest collection of items for the local foodbank, and the donation of the book "Lost Words" to each primary school.
Incoming President Mark is looking forward to leading the club in continuing its successful activities, in serving both the local community and international Rotary work. He has chosen to support the Admiral Nurse for Leicestershire, the Leicester Musical Memory Box and Polio Plus. He would also like to support some local environmental projects and the district Scouts attending EuroJam 2020 as well as organising a Harvest Festival for the Jubilee Food Bank.
President Mark has been a Rotarian for 10 years. He grew up in Market Harborough and still lives in the district. He is European training manager for an international surgical equipment company and manages to combine a demanding job with being a rotarian at home.
President Mark wants to make sure the club will open up Rotary to new connections and maybe some new ways of being active as Rotarians. With the Market Harborough Rotaract Club, the Kibworth and Fleckney Rotary Club, the Welland Valley Rotary Club, and the Rotary Inspire Group there is opportunity to make the Rotary presence and effect in Market Harborough stronger.
Although Rotary is an international service organisation, there are many very active rotarians locally, serving as volunteers in lots of ways as well as having fun.