Funding Recipient Sarah Mc Arthur
Wed 7th August 2019 at 19.00 - 20.30
MY JOURNEY FROM BALERNO TO KABUL AND WHERE I'M GOING NEXT" Sarah receives a cheque from President Lindsay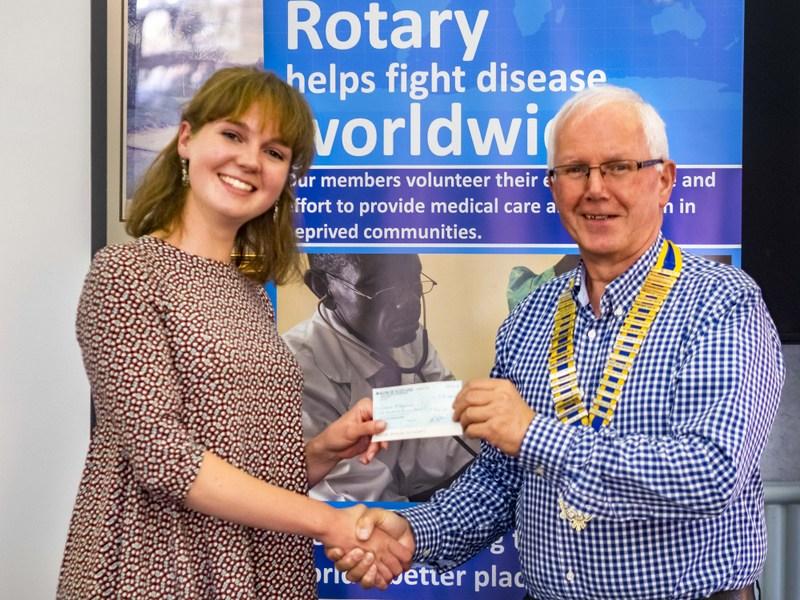 Sarah went to Dean Park Primary School where she went on a week-long trip to Kenya in 2010 and then to Balerno High School where she also went on a week-long trip to Kosovo in 2013. After school she volunteered for a year in the Congo (DRC) working in education helping to train English teachers despite it being in a Conflict Zone. After these experiences Sarah decided she wanted to work in a career that helped make the world a better place and particularly for people in Conflict Zones.
With this in mind Sarah went to St Andrews University for 4 years to study Economics and Sustainable Development. Last summer she was in Afghanistan with APPRO (Afghanistan Public Policy Research Organisation) as English speakers were needed to write Reports. She saw how Conflict Zones affect local people – lost education for generations – and how poverty and conflict feed off each other. Economic situation leads to conflict – people only pick up guns if there is no other option.
Sarah is now going to London to do a Masters in Violence and Conflict and International Development at the School of Oriental and African Studies. She wants to know more before going back out to these War Zones. Having seen at first hand the gap in the way charities and Development Aid Agencies work she feels the need to do something different. Local people are often not satisfied with the UN and Save the Children projects – they are not seen to be what was needed. Humanitarian Aid supplied for15 years and still not enough. She feels that she wants to change things to do better.
Sarah thanked Currie Balerno Rotary Club for our funding of £500 towards her MSc as one of the steps on the way to achieving her aims and was presented with a cheque by President Lindsay Craig.
Vote of thanks was given by Rodger Thom.