Susan Fullerton - PLUS - Westlands Hotel 18 July @ 18.30
Thu 18th July 2019 at 18.30 - 20.30
Susan Fullerton - PLUS - Westlands Hotel 18 July @ 18.30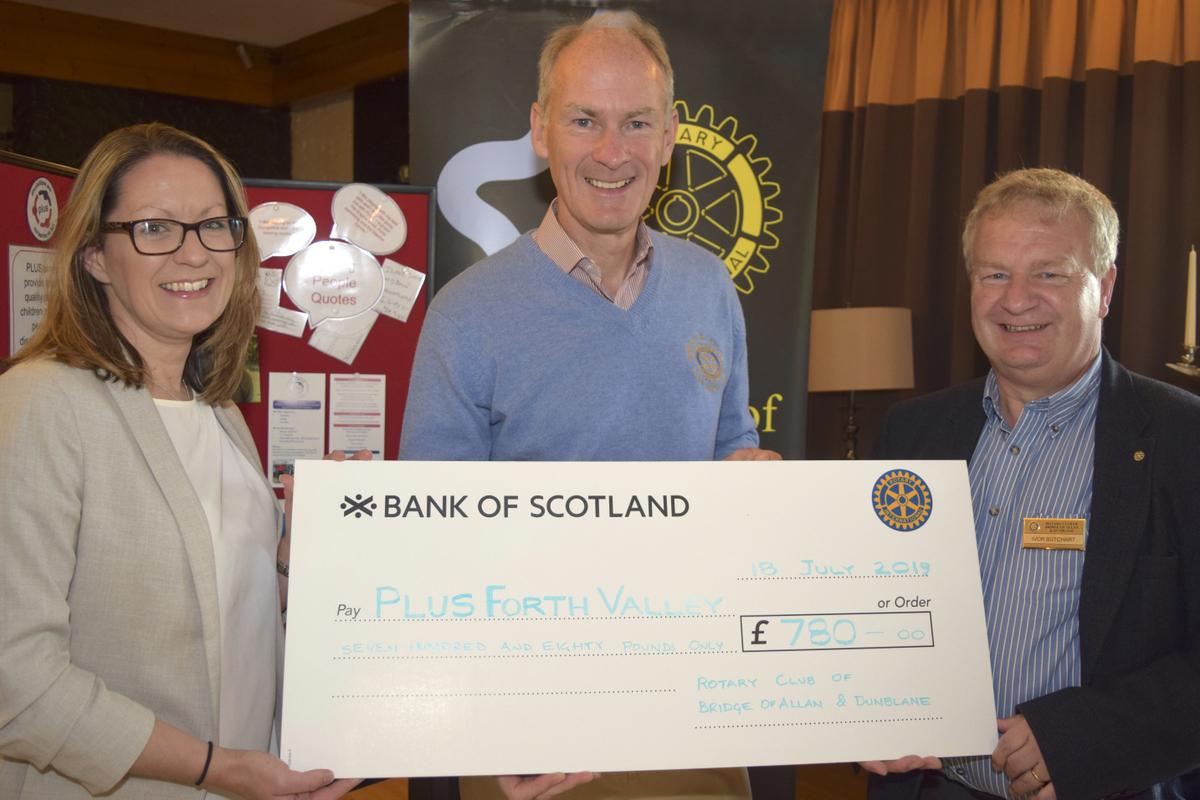 Susan Fullerton - PLUS - Westlands Hotel 18 July @ 18.30
Thursday was the Club's monthly business meeting. It's a time when members have an opportunity to talk about the Club's current activities, and to consider plans for the future. On this occasion, however, there was an additional item of business: the Club welcomed Susan Fullerton, Chief Executive of PLUS Forth Valley, who was to receive a cheque from the Club for £780 as a contribution to the work of her organisation. Making the presentation, President Andrew Hilley and Ivor Butchart, Chairman of the Community Services Committee, explained that the cheque was part of the proceeds of the annual Duck Race that took place at the Dunblane Fling. They then asked Susan to tell members more about the work of PLUS.
Based in Stirling, but serving Forth Valley, and now more widely, PLUS was founded in 1988 by parents of young people who insisted that children with disabilities had as much right as anyone else to experience an ordinary social life. PLUS, Susan explained, caters for these children and young people from age five to 18 and over. PLUS offers various opportunities to enhance social inclusion, and has provided short breaks to over 250 children and young people with additional support needs. In this way, while spending time with their peers, these young people experience some independence from their parents and carers, and have an opportunity to develop friendships.
Thanking the Club for its donation, Susan emphasised the increasing difficulty of sourcing funds to allow PLUS to continue its work. Stirling Council has been a major funder, but it is facing budget reductions. Anyone wishing to support the work of PLUS can donate by way of its website www.plusforthvalley.org.uk.
President Andrew thanked Susan for her description of the work of PLUS, and wished her well in ensuring continuity of this excellent work.