A copy of the talk and picture at the Biographical Talk given by Kevin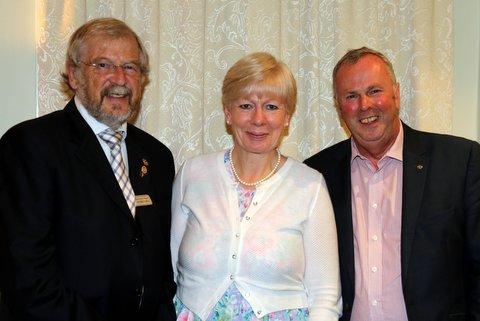 Rotary Talk – 15th Aug 2019 Kevin Gwilliam
Good Evening – thank you, for inviting me to tell something about myself.
Born in 1957 in the Forest of Dean which as you know is that far distant plateau.
Assure you that I don't have 6 fingers or toes and I am not one of those free miners.
One of 4 with 2 older brothers and a younger sister.
Spent a very happy early childhood living right in the Forest at Canop in an old miner's house which was originally my grandfathers who was mining inspector at the local Collieries.
It was a good start in life, we had lots of fun as family in the forest esp. with all my aunts and uncles.
Dad was headmaster at a Forest school and Mum was a school secretary.
Moved to Coleford in the F of D where I attended Berry Hill Secondary School and took my CSE's in 1974, along with being Head Boy in this final year. Playing Rugby, was my passion hence a lost a tooth or two.
Not knowing what to do career wise I decided to transfer next door to the Royal Forest of Dean Grammar School after my attaining my CSE's in order to take some GCE's and A –Levels.
This move turned out to change my life.
During first year of sixth form I met a girl called Wendy who later on became my wife.
Upon leaving school in 76 I decided to look for a job as management trainee in Department Stores. To which I joined Debenhams at Gloucester on a two year scheme, travelling from
Coleford with Wendy who also happened to be working in Gloucester. This was great fun at the time but when I look back at some of the things we used to get up too!!!.
(Wendy had a little Ford Anglia which was always breaking down, so we decided that it would be a good idea to travel in front of the local bus in case we broke down, so one day we did break down, caught the bus in the nick of time and then asked Wendy's brother to fix the car to which he duly did and told us not to use it again until the weekend so that he could have a good look at it - so we used it again that evening and duly broke down. The call to her brother was not a good one!!)
So I spent a very happy two years going from Department to Department learning the retail trade as well as attending various internal and external courses which lead to a retail diploma.
Over the course of the next couple of years I progressed up to the position of Department manager within Debenhams running most of the basement of the Gloucester store.
I Moved to Cheltenham with my parents in the late 70's as Dad had obtained a new headship in Cheltenham and enjoyed the commute to Gloucester in my first car - A Blue Fiat 127
1980 saw me promoted to Assistant General Manager at Gloucester to which I was responsible for all the home side of the store and even better I was able to use the senior dining room which had waitress service.
Then in 1981 I was transferred (and totally unplanned) to the Luton store as AGM as this store was being doubled in size, this good for my career.
In those days Department Stores had a number of senior management - General Manager, Assistant GM, Department Mgrs,
Assist Department Mgrs along with all the general sales and back up staff.
Wendy and I decided to get married in this year as well, living in a village of Henlow which was outside Luton.
1983 saw me transfer to a new store that was under construction in Cambridge so I commuted each day from Bedfordshire to Cambridge until the store opened and for a few months of trading. Obviously good for my CV.
In 1984 I was promoted to General Manager at Northampton, therefore we moved to a small village called Preston Capes just outside Daventry.
Bramley Cottage became our home for 12 years and in 1986 our twins Tom and Charlie were born and over the years we brought them up in countryside and within village life.
I had never heard of Round Table but a neighbour of ours persuaded me to join this organisation saying it was good socially, supported the local community and good for your business. (recall - return cricket match with USAF base at Croughton) So I joined Daventry Round table and was honoured to become its chairman some years later. (in my year I mamanged to raise enough money to fund a community mini bus) Round Tables very much became our social life and did we have some fun from which I still have lifelong friends and I continue to support the past Tablers club - 41 in Cheltenham, Malvern and Daventry as and when I can.
Back to my career - two years later in 86 I was offered the top store role with Debenhams as General Manager - Oxford Street, a job I could not turn down. So it became the weekly commute. I am responsible for the large hole with the escalators within and I believe is still there today.
A career change in 1988 resulted in me working for a private Department Store group called Joplings who were owned by the Swan family mainly based around Sunderland in the North East, but they had some Midland stores to which I was General Manager. This is where I learnt to run a business and understand fully a balance sheet. I spent a very happy ten years as part of a small team of Directors and General Managers in running all the stores from both day to day operations, marketing and the buying of good There were several stores based around Leamington to which we developed and also closed non profitable ones.
I had been in Department Stores for twenty years and I felt that retailing was becoming ever tougher and the era of department stores would diminish. Staff numbers cut, margins cut and budgets cut.
Shopping Centres were growing and this seemed the natural move to run one.
In 1996 I was offered a position as Centre Manager with a company called Rock Eagle to help set up a Factory Outlet Scheme at Ebbw Vale on the site of the old the Garden Festivals ( which you may recall) the site was set in 50 acres of parkland and still had many of its attractions, hence this was the start of my career in Shopping Centre Management.
Wendy and I also decided for schooling reasons that we needed to move to the other side of Evesham and this would be close to a good school in Evesham and near the M50 for commuting to Wales.
So we bought an old barn called it September Barn just outside Evesham and converted this within four months, just about moving in by Christmas 96. Hence my love for building started.
After a very happy few years in Wales and as Operations manager at Northampton's Grosvenor centre (commuting to Northampton)I
was offered a role in 2000 at Wellingborough as Centre Manager of the shopping centre which was the real start of my career in Shopping Centre and Property Management career to which I spent a very fruitful five years running this 370,000sqft centre as well as being part of the local community and business groups. One thing that I can recall is I set up a local town centre manager group
During this time I completed a two year diploma in Shopping Centre Management hence the letters - DIP SCM !!!!! and also made many friends within the industry as well becoming involved in the British Council of Shopping Centres organisation which was the highly regarded property organisation.
For those who do not realise there is a considerable team behind each shopping centre as well all the security and cleaning staff as well as all the tenants
So my responsibilities included -
Staff, Marketing, Security, Cleaning, Health & Safety, Tenant liaison, Legals/Law, Local Business relationships, Council relationships, Representing the centre on various bodies.
Although the centre might be owned by a investment bank, insurance company etc it was managed by one of the major property companies e.g Savills, JLP, CBRE
Whilst on holiday in New Zealand with the family in esrly 2005 I received a call from the then head of Savills management re taking up a new role as Centre Director in overseeing a new build shopping centre in Ashford, Kent that was being built by ING Bank. Could I let him know upon landing!. Opportunity I could not turn down. It was a £120million build and would take at least two years to complete.
As I arrived in Kent on the first day in June of 2005 the construction of the new centre started, to which I opened it some two and a half
years later in 2008. We had secured major names including Debenhams, M&S, River Island, H&M, BHS. To be the head of the team of a new 450,000 sq ft shopping centre and see it grow out of the ground was certainly the high-light of my career apart from one aspect!! - the day of opening the new centre - Fire officer refused permission on the day of opening. Imagine all the guests etc had arrived - (recall story)
During this time my passion in converting, making good houses continued as I had bought another old cow shed/barn in Kent. Pancake Cottage (another name for cowpat!!) as we named it, converting it whilst living in it. Camping is luxury by comparison. Dirt, dust gets everywhere!!
I enjoyed my time in Kent but it was hard having to leave the family on a Sunday afternoon to return to Kent. Schooling was more important and we decided not to move from Eckington to which we had moved from September Barn in the early 2000's. So there were many school activities I was not able to see and in fact I missed a lot of seeing my children growing up.
Then my old boss at Savills who had left to head up a private company and owned many shoping centres and properties phoned me, could I meet him at his office in Grosvenor Street. (you look older/greyhair story) I had the opportunity to return to living at home in Eckington in 2009 and took up a new role as Regional Centre Director based at a large shopping centre in Wolverhampton and also managing three other shopping centres, retail parks and business parks.
So it is not what you know but who you know!!
This then eventually lead to the same sort of role with another company in 2014 and with the same guy who had moved to another company with myself based at home but running a number
of properties from Bristol to Leeds, which again meant spending a large amount of time away from home.
The opportunity then came in 2015 to become General Manger of the Brunel Shopping Centre in Swindon was one I could not turn down and allowed me to concentrate on one centre and its town. The centre was large one at nearly 700,000 sq ft with some 120 tenants. I became highly involved in a new development within and refurbishment as well as taking up a director's position with the local BID organization, I was elected President of the local Chamber of Commerce along with holding a trustee position with a large disable chaity called Uplands. (explain). It also allowed me to move to Cheltenham in 2015 and start a new life which was where we had intended to live and retire too at some point.
Both my children in the meanwhile were pursuing their chosen careers.
Charlie working in contaminated land and still is and living in Leeds with her partner.
Tom as a project manager firstly for a waste company and now working as a program manager for BA at their head quarters in Heathrow, having spent a couple of years in New York on their terminal at JFK airport.
So both T & C are doing well.
Life can certainly though some upsets and it makes you consider what you are doing!! hence my early retirement at 60.
My two brothers died in the very early 2000's , each before the age of 50. So both of my parents out-lived two of their four children. You accept that one day you will lose both your parents and mine lived to their nineties but to lose two older brothers so early in
their life started to make me think about LIFE and the meaning of it!
Both T & C had been to university (again we decided to have a couple of projects on the go so we bought houses in their respective uni cities - Plymouth and Birmingham renovating them before T & C lived in them along with friends during their last two years.
With the children gone Wendy and I decided we needed a new project - so we moved and built an eco house just outside Malvern from 2011 - 13 to which she never saw the end of the project.
Wendy was diagnosed with cancer in August 13 having already battled and successfully beating lung cancer in 1992 after having had a lung removed. However on the day of her operation her father passed away. But Wendy was determined to see her children grow up and she did.
However in late 13 early 14 Wendy's cancer slowly worsened and I was told to prepare for the worse by the oncology consultant at Cheltenham General which is where had Wendy spent many weeks. This came within 10 days and I lost Wendy in April 14 after 33 years of marriage and knowing her for 40 years.
My life had been turned upside down yet again - first my brothers, my mother , Wendys parents and now Wendy.
There is always a light and I was determined to carry on and finish the house that we had both put a lot of time and effort into.
Through my son Tom who had become friends with Pips daughter Libby I met Pip both socially and then with her knowledge of palliative care, as at the time she ran a team of palliative care nurses who provided care for people during the last days of their life in their own home. Pip was of great support to me during this
time helping me look after Wendy and also in running the home as I was still trying to work and trying to finish the build.
As a result of and over the next months, years, our friendship developed even further and in June 2017 on the hottest day of the year Pip and I married at Cartmel Priory in Cumbria celebrating with many of our friends over a very long eating and drinking weekend. Why you say so far away - well Nick who is the vicar of the Priory I have known along with his wife Di for probably 40 years and it was the natural thing to ask him to marry us.
How lucky I am to have met Pip and I will probably embarrass her now, I am so lucky to have met such a loving, kind and caring lady. Although Pip is still working in the medical world. Pip and I have many of the same interests and enjoy good food, visiting new places and being part of Cheltenham and the clubs I belong too. I continue to support 41 clubs at Cheltenham, Malvern and Daventry which has again led me to another very active social life. Pip and I enjoy watching Rugby and often visit Gloucester and Worcester grounds and just last Sunday we were both at Twickers watching England beat Wales We both enjoy walking, gardening, visiting National Trust properties and my passion of renovating or building houses continues as I have one finished and up for sale in Childswickham.
Retirement for me finally came 18 months ago and I am certainly enjoying not receiving the hundreds of emails a day and the pressure that my job demanded.
However I have started to working at St V & St G collecting some several disadvantaged people returning then to a day centre and returning them to their homes. Humbling.
Pip and I also bought a cottage in Moreton in Marsh as a holiday home/let and much of our time is also spent doing change over's.
So anybody wanting a few days break in the Cotswold Pip is taking bookings at the rear after.
I would still love to play squash but a back muscle injury prevents me so I try to swim 4/5 days a week around half a mile each day.
Pip and I have plans now to continue to see the world having already been to the USA, Canada, Mauritius, France, Italy, Greek Islands, Canneries,
Another house move - some more ABB etc
Thank you for this opportunity to share my life experiences with you.
I have a new wife, a new life and a new love of life I am lucky - Thank you
I Look forward to being part of Rotary