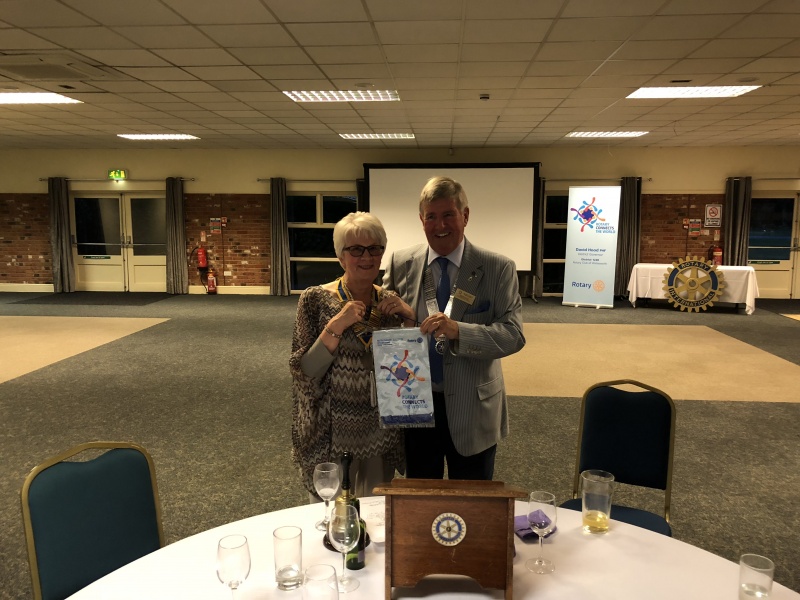 We were pleased to welcome our new District Governor, David, who came to give us his personal background and to expand upon his plans for Rotary throughout his year. Making use of projector and screen, he gave us an interesting and informative presentation.
Born in Glasgow, David has spent a long career in business, promoting trade. He was Export Manager for Coats Viyella, living overseas for several years with his family in various countries. From these bases he promoted sales not only to his new countries of residence, but also to the neighbouring areas beyond the borders. Later, he was employed as the Head of International Trade for the East Midlands Chamber of Commerce, which has about 4000 business members. In that role, he headed up many trade missions to different parts of the world.
In his private time David was still a leader; in the Scouts, then a youth club and later as a trainer of a young rugby squad. By then, he had moved to Derbyshire and had joined the Rotary Club of Wirkesworth, where he enthusiastically undertook many Rotary activities, including Aquabox which was started by the club. In 2013, he made use of his vast experience and skill to be the Rotarian Leader of a Group Study Exchange Team to Nepal. The trip lasted for four weeks. Good contacts were made and, as a result, Rotary started humanitarian projects which are still ongoing.
David's presentation moved on to his visit to the Incoming District Governors' Convention in San Diego, where he was able to mix with new Governors from around the globe. He showed us a video of the presentation given by the new International President, Mark Maloney, which was entitled "Rotary Connects the World". Mark's objective had the strapline "Grow Rotary". Therefore, David 's intention is to use his Chamber of Commerce connections to develop Mark's theme through promoting Corporate Social Responsibility with businesses around the District, hoping to use these contacts to find new members. He was particularly pleased to hear about Newark Castle's BPI (Business Partnership Initiative) project, where we gained the support of twenty-one companies and organisations in the erection of our Eco-Greenhouses in local schools.
Throughout the evening we were all impressed by David's enthusiasm, his strong and friendly personality and his suitability for his role as District Governor.
John Lewington