Weekly Neswire from Peter Race 6 November 2018
Ripon Rotary Club Weekly News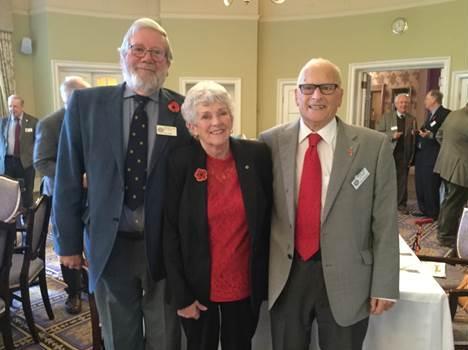 Show related pages
Wendy, David and Tony [pictured] gave a presentation featuring morale-boosting songs and thought-provoking poetry for the Armistice. References were made to Wilfred Owen who was posted to Ripon where he composed or revised a number of poems including' Futility' and 'Strange Meeting'.
Brian is reported to be doing well and in good spirits.
Thanks expressed to all who helped with Gardeners' Question Time', Fountains By Floodlight and Rowels' bonfire.
Sponsor forms circulated for Children In Need.
The Club agreed to donate November raffle money to Foundation.
Young Musicians Concert is on November 17th at 7.30 at Sharow.
E-mail Wendy for tickets for Masham Players November 22-24.
Christmas Dinner is on December 11th at 7 for 7.30. Menu choices to Secretary Russell.
Ideas for sponsors for the Bike Ride to Derek or Richard Booth. Bike Ride flyers are now being printed. Let Chris E know if unable to take on 2018 Bike Ride roles next year.