Scotland's Bravest Manufacturing Company
Tue 16th July 2019 at 12.30 pm - 2.00 pm
A talk by Jackie Johnston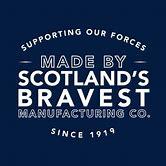 Club members please log in for more information.
Guest speaker at the weekly meeting was Jackie Johnson. Jackie explained her job title of 'Senior Bid Writer' by telling members of an as yet little known, but splendid social enterprise.
June 2019 saw the formal opening by the First Minister of Scotland's Bravest Manufacturing Company - an exciting new social enterprise. Its location has been famous for supporting Armed Forces Veterans since the darkest days of WW1, when many service personnel returned from conflict needing lifelong care and support.
Today, the Erskine Veterans Village Estate in Bishopton, Renfrewshire, is a vibrant Veteran community providing accommodation and care for Veterans in a village environment. The new commercially viable factory boasts state-of-the art technology providing jobs and support to brave men and women adjusting to life outside the military. Some are learning to live with an injury or disability, others need support adapting to civilian life. The factory competes for contracts in the private and public sectors. Products include signs and panels, as well as high-quality digital printing using the latest technology.
Erskine also has bold new plans for apartments on the same site so many Veterans will be able to live and work on the same site and enjoy purpose-built accommodation for themselves and their dependents. 10 veterans presently hold 18 month employment contracts. Plans are afoot for a further 150 veterans to benefit from this enterprise over the next 3 years.