Calendar of future activities
The regular meetings are at 13.00 on Fridays. An exception is made in weeks where there is a second Thursday. On second Thursdays of any month the meetings commence at 18.15 Any changes to this schedule, will be recorded below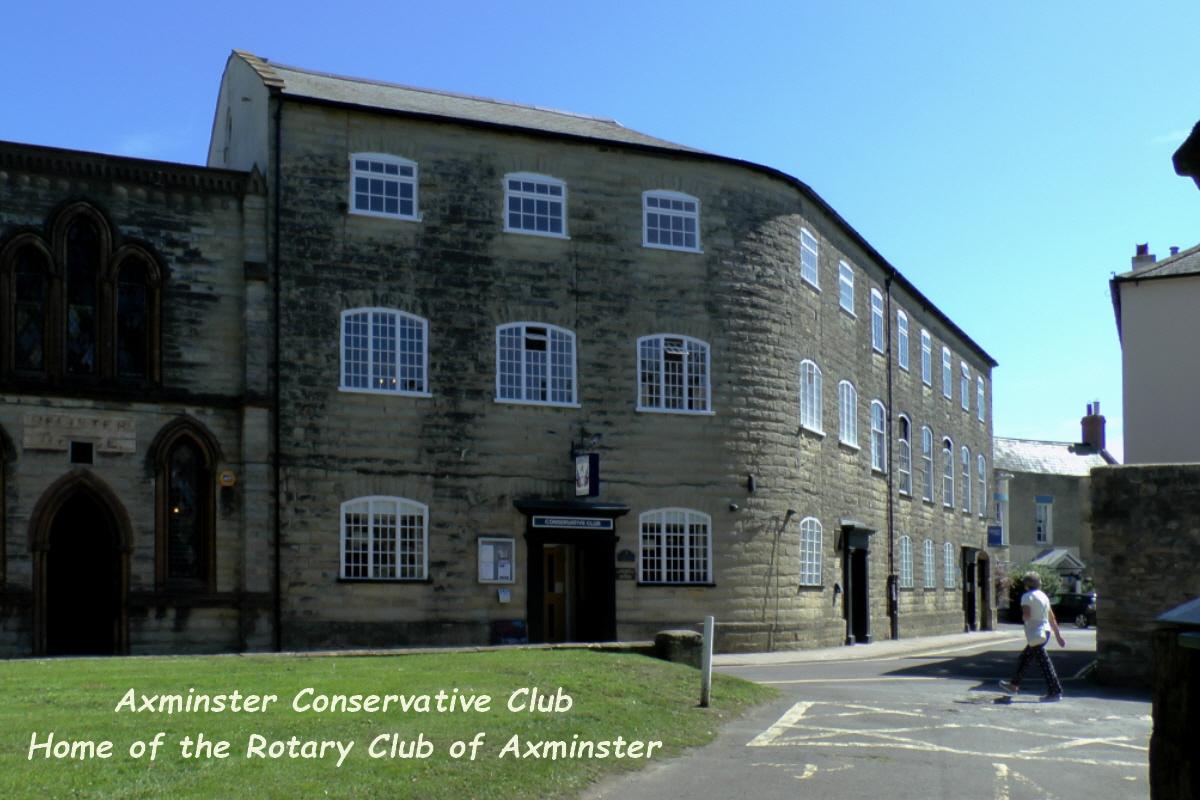 The Rotary Club of Axminster meets in the Conservative Club which is adjacent to the Minster in the centre of the town
The regular meetings are at 13.00 on Fridays.
An exception is made in weeks where there is a second Thursday.
On second Thursdays of any month the meetings commence at 18.15.
Should any changes be made to this schedule, the change will be recorded in date order on this page.
The Conservative Club does not have available car parking and visitors must use public car parking.
Visitors should also advise the Club Secretary,Martin Kingon 01 460 220 319 or axminsterrotary@gmail.com of their intended visit because meals are ordered from a caterer in advance of any meeting.
MARCH 2020

Saturday

7th

Forever Queen at Guildhall

Thursday

12th

18,30

Evening meeting Speaker on ' My life in Journalism

Monday

16th

17.45

Council Meeting

Thursday

19th

Lyme Regis President's Night

Friday

20th

13.00

Business meeting

Friday

27th

19.00 for 19.30

President's Night at Lyme Regis GolfClub

April 2020

Saturday

4th

Visit to Norman Lockyer Observatory

Thursday

9th

18.30

Evening meeting - Ian Harrison on his life in education.

Sunday

19th

Exmoor Walk

Friday

24th

Cancer Research UK Collection at the Tesco Store

Saturday

25th

May 2020

Wednesday

13th

CHARITY GOLF DAY at Lyme Regis Golf Club. Our members will be joining the members of Lyme Regis Rotary Club to manage this event.

Thursday

14th

09.00

Stroke Association Blood Pressure Day

Thursday

14th

18.30

Evening meeting. Jess Newill, the student we sponsored, will talk about her experiences on a VSO project in Nepal

JUNE 2020

Saturday

21st

All day

Axe Vale Festival

It is hoped that all our members will assist

Sunday

22nd

All day

Friday

26th

19.00

Axminster Cherry Fair Week - The Big Dinner