Young Writer Competition
Details of the Kirkcaldy Heat of the Rotary Young Writer Competition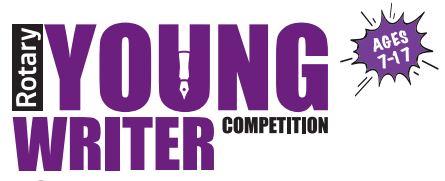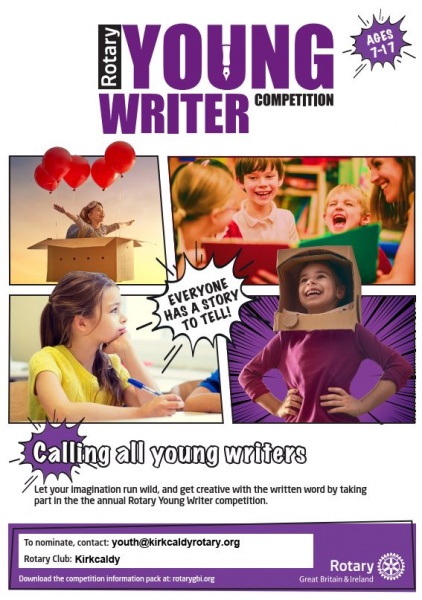 This National Young Writer Competition is a well established and successful competition promoted by Rotary International in Britain and Ireland (RGBI).
It is a three-stage competition designed to support and encourage development of writing skills.
Aims
This competition aims to encourage young people to:
use their writing skills
write with imagination and creativity

Who can take part?
The competition is open to all schools and college communities including those that are home educated and any other young peoples' community organisations, for example, community RotaKids, community Interact, Scout Groups, Girl Guides.
The three age groups are:
Junior: 7 to 10 years old
Intermediate: 11 to 13 years old
Senior: 14 to 17 years old

Entrants must not be above the age parameters for each group on 31 August 2019.
With the age qualifying date of 31st August 2019, it should be noted that some junior entrants may be 11, intermediate entrants may be 14 and some senior entrants may be 18 at the time of some or all the stage competitions i.e. a competitor who may be 17 on 31st August but turns 18 on 1st September is permitted to enter. Competitors must include their age on the 31st August 2019 on the entry form.
For entrants with motor control difficulties, an amanuensis may be used to record the entrant's work to paper.
Task
To produce a written or typed story in prose entitled, Connections. The written entry could be fiction or non-fiction, a story or a poem, as long as the piece relates to the theme.
An A4 page or up to 500 hundred words is a suggested suitable submission.
Entries should be sent to the The Rotary Cliub of Kirkcaldy by Monday 3rd February 2020
Entries may not be returned unless specifically requested.
How to Enter
Send your entry along with a fully completed entry form to:
The Rotary Club of Kirkcaldy
Young Writer Competition
69 High Street
Burntisland
KY£ 9BD
Entries to be submitted by Monday 3rd February 2020.
Click on the following links to download;