Dover Foodbank
Mon 16th September 2019 at 11.51 - 12.51
President Janet Dagys has chosen Dover Foodbank as her charity for 2019/20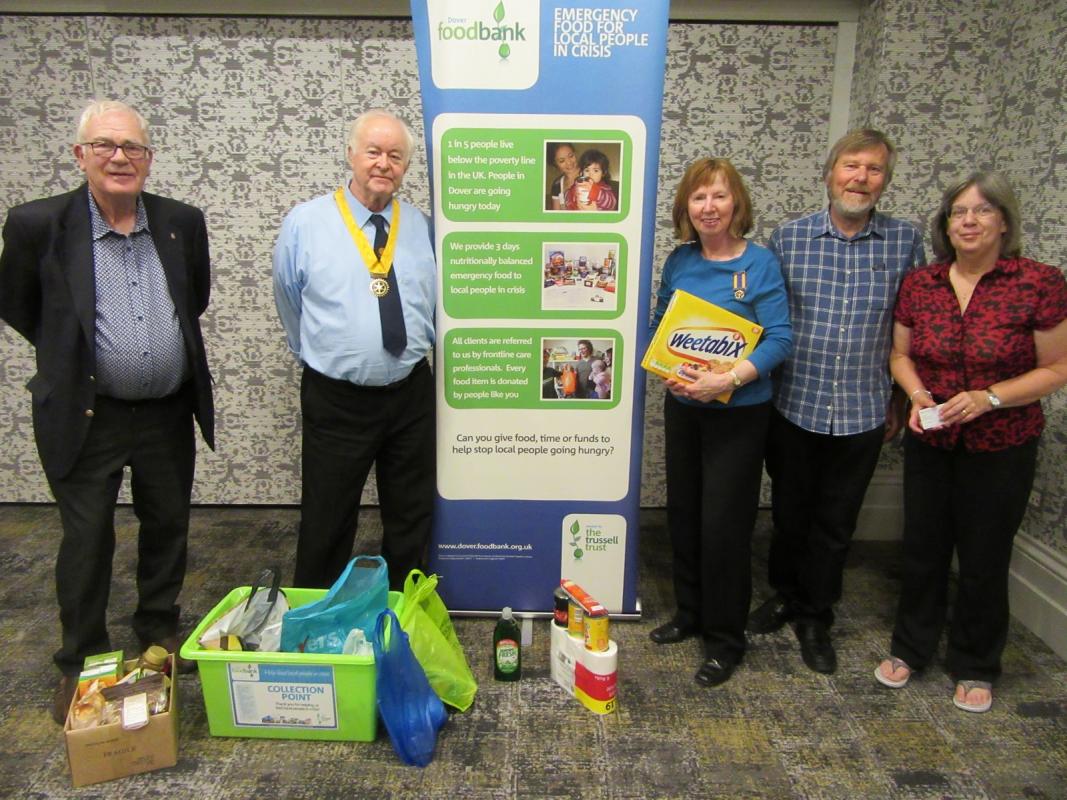 The Dover Foodbank
At a recent meeting of the Rotary Club of South Foreland members heard about the Dover Foodbank from Johnathan Wheeler who, with his wife Janet, and working through Christians together in Dover, helped establish the Foodbank which opened in October 2013. There is now a national network of 428 foodbanks supported by the Trussell Trust which works with them to combat poverty and hunger across the UK and is developing practical ways such as budgeting, employment, and life skills courses, to help people out of crisis and reduce dependency on foodbanks.
The Foodbank provides three days nutritionally balanced emergency food to local people in crisis. Clients will have been referred by trained staff in local agencies such as the Citizens' Advice Bureau or Dover Gateway, or by professionals such as Health Visitors or KCC Liaison Officers. Having been assessed as in need the client attends a Foodbank session where they are welcomed and a shopping list tailored to their household needs. Record keeping is important to check client details and times they use the foodbank so that if their crisis continues they can be directed to other agencies for help.
Since opening in 2013 the Foodbank has supported 13,054 people, 34% of them children. While the number of clients varies from month to month the average is increasing, with a significant rise, particularly of children within families, over recent years. In the last six months 425 households have been supported in Dover. All the food is donated: from churches, supermarkets, schools, local businesses and organisations as well as from individuals. There is a fund to buy essential items if any run out and a list of most wanted foods is published monthly. The food is weighed and sorted into types and date and each client receives 9kgs of food for three days. Last year the monthly average of people receiving food was 267, amounting to nearly 2 and 1/3 tons a month.
Volunteers are the lifeblood of the Foodbank, those who work at the distribution centres and warehouses and those who donate: local people are helping other local people who are in crisis. That is why President Janet Dagys has made the Foodbank her special charity for 2019/20: monthly food collections will be made at club meetings and fund raising events held, such as a Quizz Night on 26th September.
For more information see: dover.foodbank.org.uk