Charity afternoon Tea Party
Sun 1st December 2019 at 2.30 am - 5.00 pm
We have been holding this event for a number of years now and it has always been a great success and one we look forward too.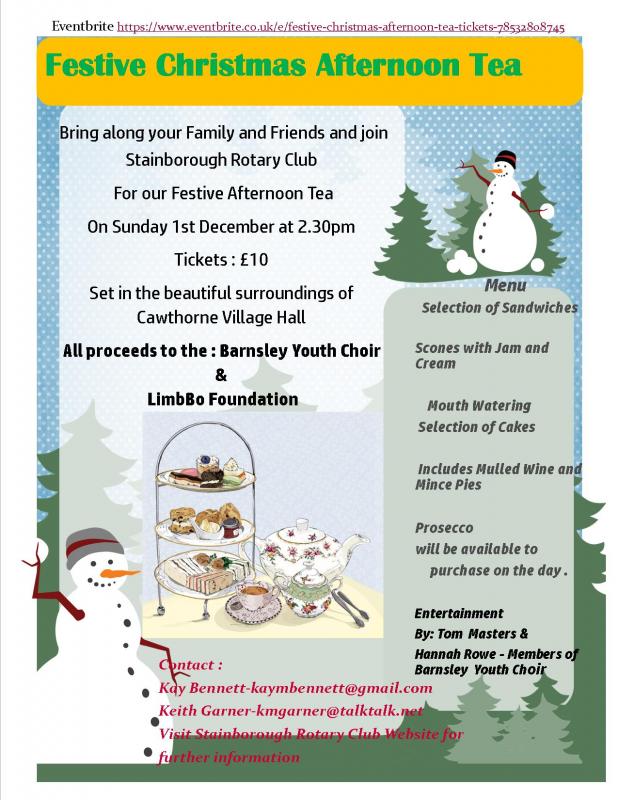 This year it will be held on Sunday 1st December at 2:30pm, in the beautiful surroundings of Cawthorne Village Hall.
There will be traditional afternoon tea, with mulled wine and mince pies to get everyone in the Christmas spirit.
We are also very lucky this year to be entertained by Tom Masters and Hannah Rowe members of the Barnsley Youth Choir who will be performing some of our favourite Christmas songs.
Tickets are £10; Prosecco will be served on the day for an additional cost of £2.50 per glass.
The proceeds of the event will go to:
Barnsley Youth Choir and the LimbBo Foundation.
Tickets can be obtained by contacting
Kay Bennett – kaymbennett@gmail.com
Keith Garner – kmgarner@talktalk.net
Barbara Lee – B.lee1853@icloud.com
Please note tickets are limited so please book early .