Longleat Christmas Lights
Sun 22nd December 2019 at 08.00 - Sun 15th December 2019 - 22.00
Coach trip organised by Janet. Please contact her for tickets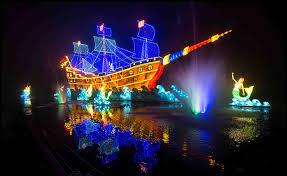 Hundreds of breathtaking, illuminated lanterns, set in over 30 acres of splendid 'Capability' Brown landscaped grounds, will transform the Estate as darkness falls. This year the extraordinary Festival of Light presents Myths and Legends.
Longleat are inviting you to join them on a thrilling odyssey, discovering epic stories from around the world. From the gods and magical beings of ancient Greece, to heroic tales of British folklore with the legendary Kraken, a colossal sea monster lurking in the depths of Longleat's Half Mile Lake, ready to engulf any ship that sails too close … Filled with astonishing creatures, magnificent scenery and stunning structures; don't miss the most amazing mythical adventure of them all.
The seasonal silk and steel lantern spectacle is enhanced with festive favourites, such as the 20 metre Enchanted Christmas Tree Show, the grand Longleat House dressed for Christmas and the much loved Santa Train. You can also enjoy all of the popular animal and adventure attractions, including the Safari Park, Koala Creek, Jungle Kingdom, Jungle Cruise and the iconic Longleat Hedge Maze.
The Festival of Light is included in a Group Day Ticket and pre-booked groups of 12+ can access exclusive discounts and perks such as generous reductions to entry price, free driver meal vouchers and tickets, and complimentary organiser tickets.
Why not supplement a magical day of exploration and discovery at Longleat's Festival of Light, by adding lunch, or a behind the scenes tour of the ancestral and opulent Longleat House for your group?
The Cellars Café, in the vaults of Longleat House is an atmospheric setting for a two or three course festive lunch, seating up to 55 guests at once to enjoy this sumptuous treat. Alternatively, if you're a larger group and are looking to seat everyone together for a celebratory gathering, opt for the Longhouse. The Longhouse seats up to 200 and can also cater for a delicious Christmas lunch.
If something lighter is on the agenda, then why not treat your group to a Luxury Afternoon Tea in the picturesque setting of Lord Bath's Banqueting Suite. Groups of up to 45 can enjoy an exquisite selection of sandwiches, savoury treats, scones, cakes and fancies. The menu is curated by Emma, the Viscountess Weymouth herself, with a festive theme to match the beautiful wintery season.
You can also enjoy unmissable behind the scenes group tours of Longleat's prestigious stately home. Take The Exclusive Tour to soak up the grandeur of the historic building, or travel the secret corridors and passages in The Mystery Tour. You can also chose the compelling Scandalous History Tour; taking in the famous (and infamous) salacious gossip surrounding the some of the more controversial goings on in the house over the centuries.
From "Visit Bristol"