Rotary Club of Oswestry HSBC Investment Competition - November 2019 - April 2020
Fri 1st November 2019 - Thu 30th April 2020
Our annual investment competition for local secondary schools begins 1st November!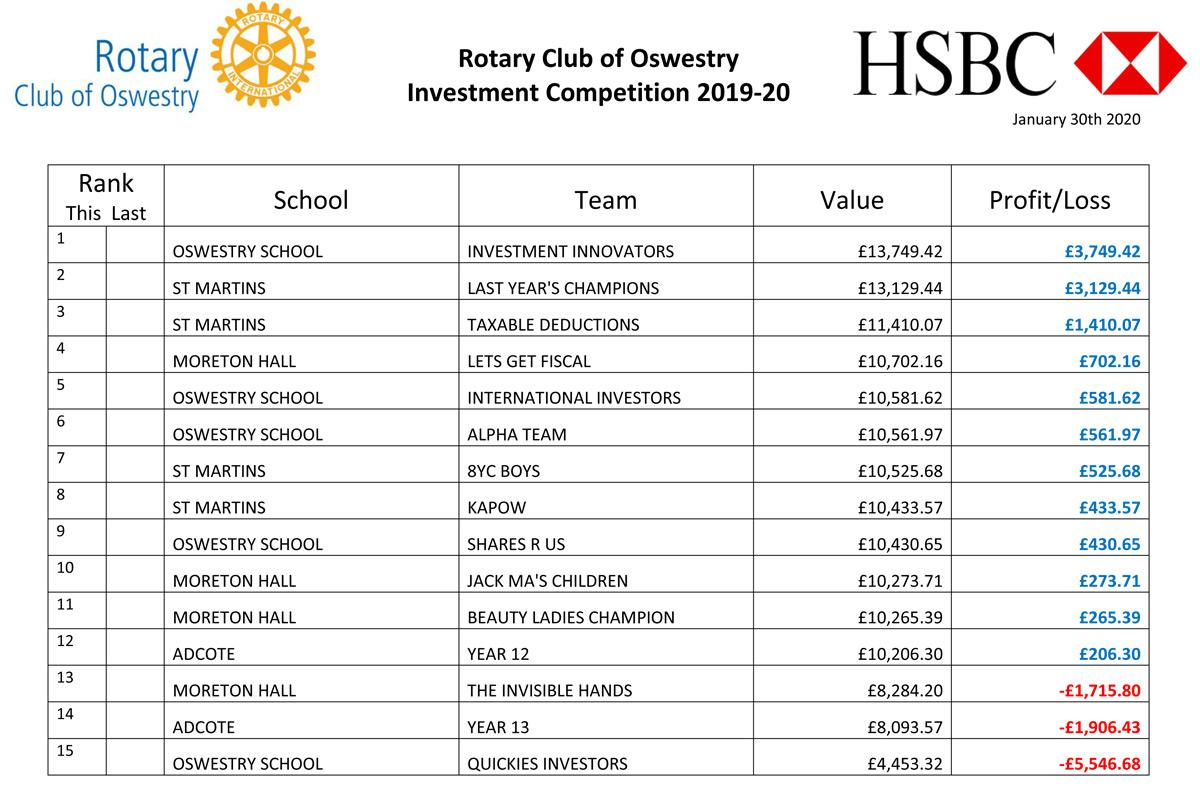 After an exciting climax to last year's competition, a team from St Martins School completed a hat trick of wins for that School by narrowly overtaking a team from Adcote School in the final few weeks.

The question is can they continue their magnificent run for a fourth year?

The object of the competition is provide an introduction to the operation of The Stock Exchange and a vehicle for broadening the interest of students in their business studies as well as affording an extra resource for teachers and lecturers. Once again each team of 4 students will start with a theoretical £10,000 with which to invest in the UK stock market through the London Stock Exchange from the 1st November 2019 until the 30th April 2020. The Team with the highest value portfolio at the end of that period wins and the 4 team members will each receive £25 and an HSBC goody bag. The winning School, Academy or College will receive a cheque for £100.

Notional portfolios of stocks and shares will be invested directly through the good offices of HSBC Bank Oswestry and changes may be made not more than once per calendar month. The Bank will adjudicate the results on our behalf. There will be no limit to the number of teams entered but no student may enter in more than one team and no changes of team members may be made without the consent of the Organiser.

I attach an entry form to be completed and returned as set out therein and I very much hope that your School, Academy, or College will take part. I look forward to receiving your entries which must be submitted on or before the 31st October 2019. A presentation lunch for the winning team will take place at the Wynnstay Hotel, Oswestry during the Summer Term.
Yours sincerely

Robin Sinclair - Organiser
pp The Vocational Service Committee of The Rotary Club of Oswestry

REMEMBER - STOCKS AND SHARES (MAX 5 PER TEAM AT ANY ONE TIME) MUST BE QUOTED AND TRADED IN STERLING ON THE LONDON STOCK EXCHANGE MARKETS AND INITIAL INVESTMENTS NOTIFIED ON OR PRIOR TO 1/11/2018 WILL BE APPLIED AT CLOSING PRICES ON THAT DATE (OR IF CLOSED THE NEXT TRADING DAY).