Prescot / St Helen's Meal Packing Experience
Sun 9th February 2020 at 10.00 am - 4.00 pm
One of two district meal packing events in 2020.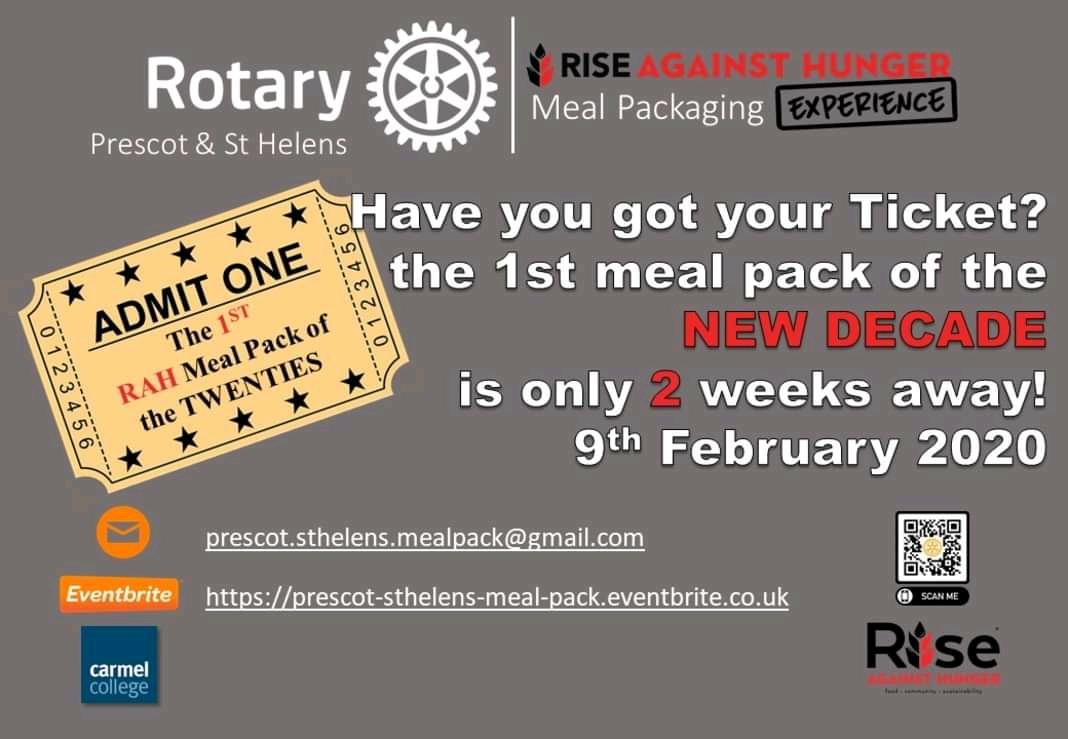 Another fabulous meal packing experience event has been arranged with our partners
RISE AGAINST HUNGER
.
The event is scheduled for the 9th February 2020. The location is Carmel College in St Helens.
We are packing 60,000 Meals, and Aim to do that is 4 Hours!
The event of course is a large-scale event requiring much support and much fund raising, but the feel-good factor, the fellowship and the volunteer engagement are unsurpassed.
This event is a joint event with both Rotary Prescot and Rotary St Helens working in partnership to deliver this event.
The event requires bookings to be made on Eventbrite, and for you to decide if a morning, afternoon or even both sessions are required. Each attendee needs to register although club secretaries can book up-to 10 persons in one go!
Additionally, a minimum contribution is required of £50 per person per session.
The first step is to book and secure a place using Eventbrite, thereafter an email will be issued confirming the details for a payment to be made to our Meal Packing Event.
We really hope you will consider supporting this event as part of your international service projects this year, not only is this an incredibly fun event but the results are just so worthwhile.
RISE AGAINST HUNGER are aiming for the year 2030 to be the year they stop children going hungry in the world, why not start the last decade of their amazing quest to do this with our event 9th February 2020.
EVENTBRITE BOOKING
https://prescot-sthelens-meal-pack.eventbrite.co.uk
EMAIL - prescot.sthelens.mealpack@gmail.com
MAKE A DIFFERENCE & GET INVOLVED
We would be delighted to provide you with any further information you may require and or come to your club and explain in person the event, the outcomes and the amazing work RISE AGAINST HUNGER do in the world.
Attached is our event flyer which we hope you can pass on to your club members .
Yours in Rotary
Phil & Derek
Phil Dyer – President - Rotary Prescot
Derek Downey – President - Rotary St. Helens