Nov 2019 Ross Henrywood - Robotic Surgery
Mon 4th November 2019 at 17.45 - 20.00
A meal and a talk. Speaker Host - Alan F, Guest Host / Cashier - Terry G.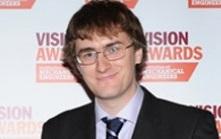 Today we hear about the fascinating cutting-edge work being done locally on Robotic control.
Ross is currently a senior research engineer at CMR surgical looking into future technologies for medical devices in surgery. He has been with CMR since they were around 40 people over 3 years ago. In his time, he has seen the company grow to over 400 people and has worked within most aspects of the development of Versius Surgical Robotic System. Ross will be talking about how CMR are transforming surgery.
Over the last 200 years surgery has been transformed from a life threatening treatment without anaesthetics or strerilisation to a minimally invasive experience with very quick recovery times and minimal scarring. Surgery in 1825 as done by Dr Lister was a public affair performed surrounded by audience with a commentary from the surgeon. With no pain relief speed was of the essence and he was famous for doing amputations in 2.5 minutes !.
Followed by a Special Council Meeting (President Amber organising).
NOTE - Project Committee Mtg was moved to 31 Oct 2019 .- Chair - David Ellis.