Click for special message from "Buddy"
This breathtaking show has rock,n,rolled audiences across the globe and is guaranteed to have everyone singing along to the music and dancing in the aisles.
Starring some of the finest actor-musicians in the UK , the show rarely pauses for breath as the hits just keep on coming
That'll Be The Day , Peggy Sue , Heartbeat, It Doesnt Matter Anymore, Raining in my Heart, Oh Boy ! , - and much much more .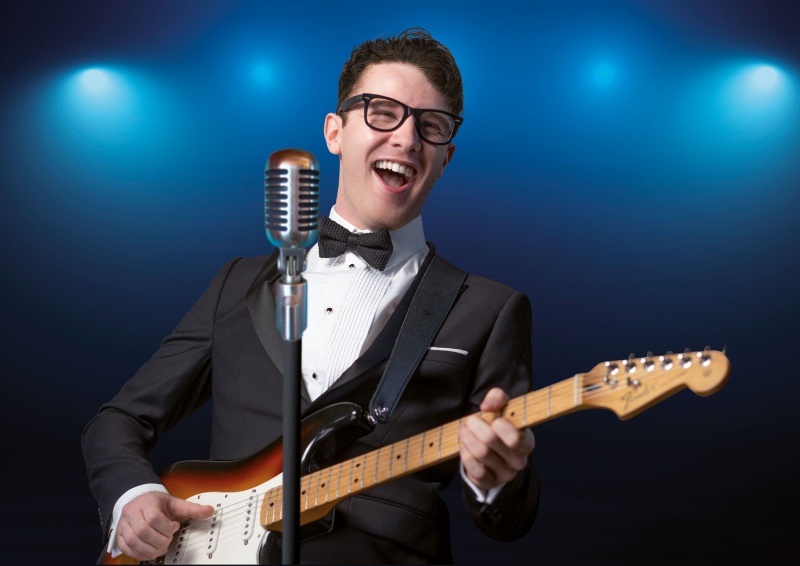 Audience Comments
"Fantastic show great musicians"
"First class- the whole group were very good and talented"
"My husband and I thoroughly enjoyed the show tonight from the first song to the last"
"An excellent night of entertainment from five highly talented musicians- polished professionals who look as if they love what they do. The whole theatre was kept in a great mood all evening"
"An excellent show. The musicians were brilliant. And what an encore!! We would definitely come back and see them again."
"The show was fantastic. All members of the group are very talented. I went tonight with no expectations but I was overwhelmed by the performance."
"Absolutely fabulous show would go back again in a minute"
"Fabulous show everyone had a blast"
"Present for my parents who were huge Buddy Holly fans they said it was one of the best shows they have seen."
"Absolutely brilliant. Fantastic musicians. A real flavour of Buddy Holly and the Crickets &Rock n' Roll !!!!!"
"A WONDERFUL SHOW VERY LIVELY AND SO LIFELIKE BROUGHT BACK LOTS OF MEMORIES.THANK-YOU"
"It was wonderful. Talented musicians singers and entertaining."
"Real value for money I have spent lots more in the past and didn't get a show like that"