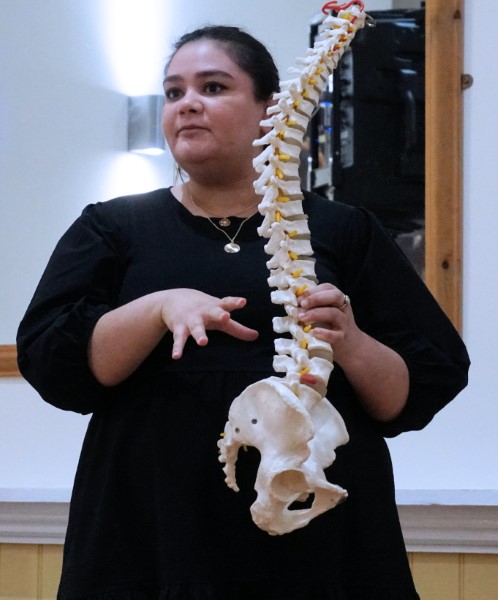 On 5th February the Club were given a talk on Backs and all things Musculoskeletal by Tara Marwaha, Clinical director of the Lansdown Clinic in Stroud.
Tara joined the Lansdown in 2013 and became its Clinic Director in 2014. It continues to grow with an expanding team of therapists.
Tara, with the help of a spine, demonstrated some of the complexity and variety of problems we humans are frequently afflicted with particularly in the lumbar area and neck. Tara told us about the principles of managing pain and stiffness and was quizzed in some depth by several in the club who have been afflicted with chronic pain. She explained the limitations of XRays and Scans in diagnosing and guiding treatment of the commonest 'mechanical low back pain problems and suggested the best way forward was often to find a therapist you trust and can establish a rapport with and follow their advice.
She advocated good back care with lots of movement, a good sleep pattern, avoiding prolonged sitting, not worrying too much about posture or particular furniture adaptations and above all the extremely high value of regular exercise that you enjoy.
It was a most enlightening and useful evening and I am sure all us will have learnt more and found some good ideas to put into practice and we are very grateful to Tara for sharing her expertise and wisdom.
Charles Buckley