Best Foot Forward (Sal's Shoes Collection)
Fri 1st November 2019 at 11.00 am - 12.00 pm
This was a second collection by the pupils of Rawdon St. Peter's C. of E. Primary School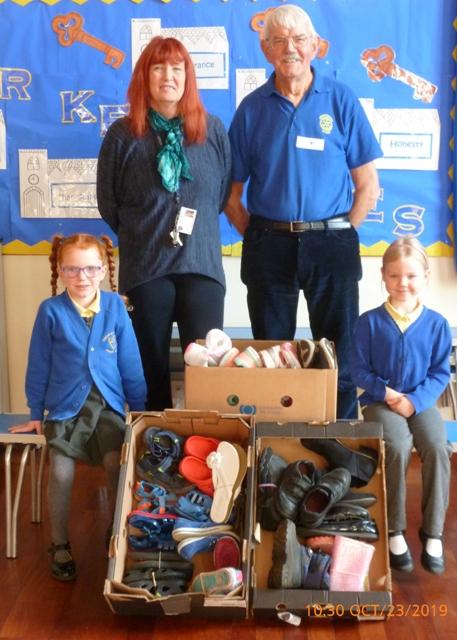 Pupils at Rawdon St. Peter's C. of E. Primary School have once again donated more than 60 pairs of used, pre-loved and outgrown pairs of shoes to children worldwide, many of whom are not permitted to attend school without shoes. This brings the total donated to the charity Sal's Shoes by the school to more than 230. As usual there was a great variety of clean girls' and boys' shoes, boots, sandals, football boots and trainers.
C J Bowry who simply did not want to throw away her son Sal's first shoes once he grew out of them began this imaginative project, adopted by the local Rotary District four years ago. In that first year 4805 pairs were sent to an initial 8 countries and pictures soon came streaming back showing their happy new owners. By November this year more than 1,500,000 pairs of shoes have left the warehouses travelling to 43 countries around the world including the . Each pair is accompanied by a minimum £1 donation.
Picture shows Headteacher Caroline Sibson, School Governor and Rotarian Robert Mirfield and two of the pupils delighted to add their shoes to the total.