Sun 5th January 2020 at 11.00 pm - 11.55 pm
Tree of Light Appeal 2019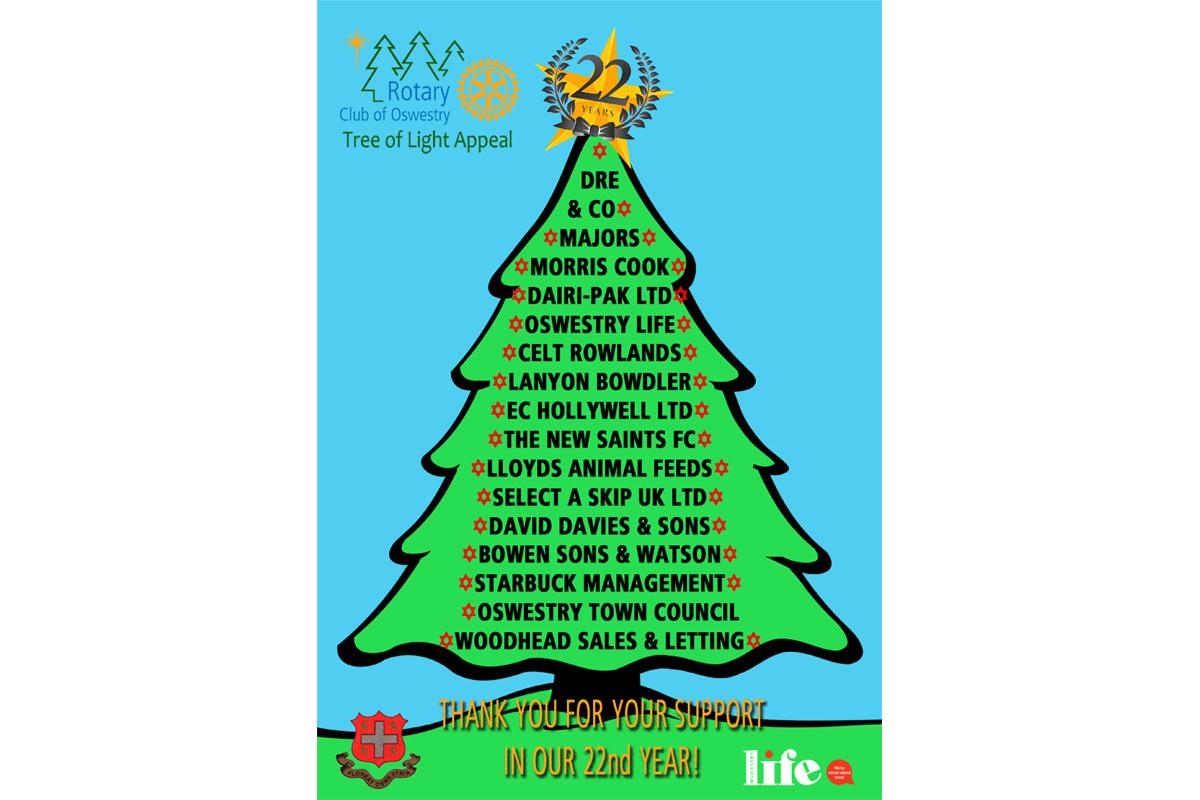 Show related pages
Click below to download a sponsor form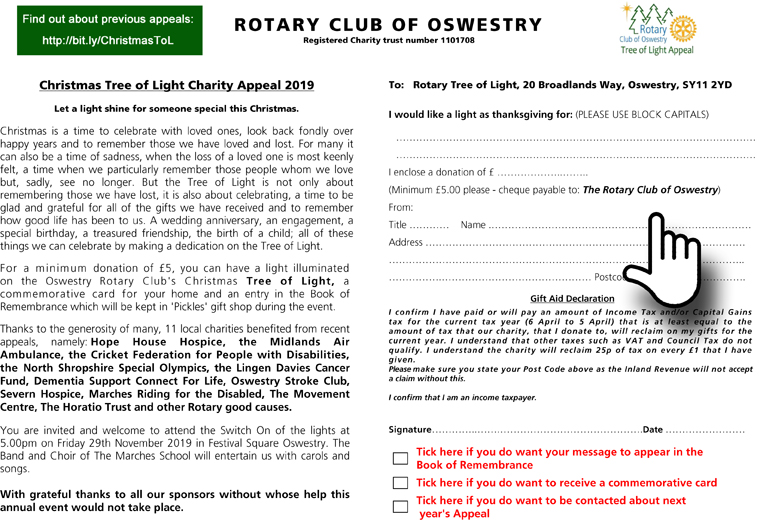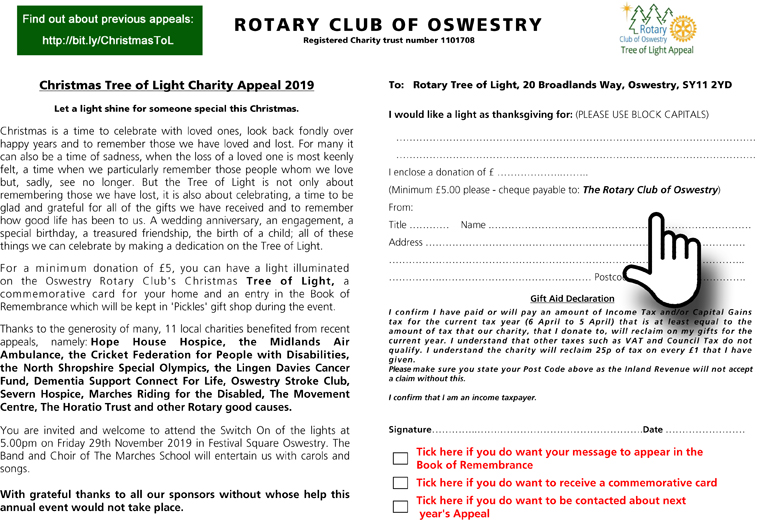 http://www.rotary-ribi.org/upimages/clubfiles/1091/Pdfs/Tree_of_Light_Donation_2019.pdf

or donate online at http://uk.virginmoneygiving.com/fund/TreeofLight2019.
At Christmastime each year we all enjoy giving and receiving presents. Over the last 20 or more years the Rotary Club of Oswestry has run its annual Tree of Light Appeal around this time to raise funds in support of a number of local charities by allowing members of the public to commemorate a significant event in their life by lighting a bulb on their Tree of Light for a minimum donation of £5.00.

Donors may mark happy events such as a marriage, the safe birth of a child or even a graduation or new job to share their good fortune with others. Many donors take the opportunity to mark the sad passing of a loved one by recording their name in a Book of Remembrance.

After many years of valued support by Sainsbury's supermarket the Tree of Light will this year, by arrangement with Oswestry Town Council, be on Oswestry's Festival Square next to Pickles Card and Gift Shop where the Book of Remembrance will be kept throughout the appeal.

The Tree of Light Appeal 2019 will be launched by the Switch On of the tree lights by Oswestry Town Council's Mayor and Mayoress Councillors, Mr John Price and Mrs Joyce Barrow, at 5:00pm on Friday 29th November on Festival Square with music for carols and festive songs beforehand by the Band and Choir of The Marches School.

If you would like to donate to the appeal you may download a Sponsor Form here and return it, together with your cheque, to the the address on the form or sponsor via the Club's Virgin Money Giving website.

Last year the appeal raised over £6,000 and supported 11 local charities including The Movement Centre, Connect For Life and Hope House. With the support of their business sponsors including to date Oswestry Life, Oswestry Town Council, Celt Rowlands, Lloyd's Animal Feeds Ltd, Dairi-Pak Ltd, Lanyon Bowdler, Starbuck Mangement, Bowen Son & Watson, Morris Cook & Co, David Davies & Sons, D.R.E Accountants, E.C.Hollywell, Woodhead Sales and Letting, Select A Skip UK Ltd, The New Saints FC and Majors. and the many members of the general public who generously sponsor a light, they hope to beat that figure this year.