Charter Dinner
Wed 12th February 2020 at 6.30 pm - 9.30 pm
Charter Dinner, Whitchurch Golf Club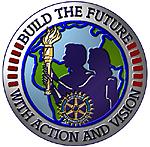 The Charter Dinner this year was a busy occasion attended by over 60 Rotarians, partners and friends. At the beginning we were entertained with music by Annie Song, Violin and Amy Edwards, Piano. Annie is a very talented musician and was sponsored by the Club at the area Young Musicians Competition in January. She will continue to the District Round.
President Richard then introduced the Canon Neville Jones - a long-time Rotarian and member of Cardiff Breakfast since 2002. He has had to retire from Rotary due to ill-health. To honour his service to Rotary and the commuity he was presented with a double Paul Harris Fellowship and a certificate for 30 y service in Rotary.
After an excellent dinner the speaker was Colonel Reverend Robbie Hall, QGM. Robbie Hall is a former bomb-disposal commander in the British Army and now pastor at Hope Baptist Church in Bridgend. The subject of his thought-provoking talk was "The Hidden Peril".

The pictures below show Annie and Amy, The Reverend Neville Jones and President Richard with the speaker, Robbie Hall.