Visit to Coventry University
Fascinating! Learnt about the array of courses, geared to the needs of the Scarborough area and local employers; and new ways of educating to degree standard.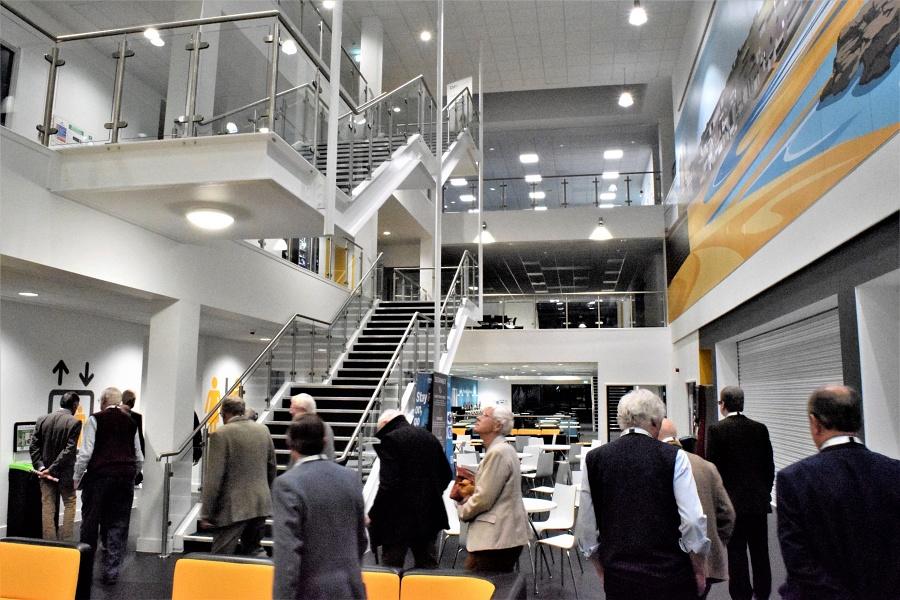 Group visit to CU Scarborough (Coventry University)
Chris and George organised a visit to the new teaching facility which is alongside Scarborough TEC and the football, swimming pool, fitness centre in Weaponess Valley Scarborough.
Thirty members and guests attended the presentation given by Kay Fraser, Associate Pro Vice Chancellor of the University. Our immediate impression of the premises, once we had parked our transport in the large car park, was one of space and airiness, a huge atrium appeared to rise up from the reception area, well illuminated and quiet.
We were ushered into a lecture room and helped ourselves to teas and coffees which suited us as we all needed a catchup with each other before the proceedings began.
Kay welcomed us all and started by explaining how and why the Coventry Group had decided to come to Scarborough. They had done their homework and felt there was a need from local employers for certain groups of people which were not catered for from other education centres.
Scarborough also offered good facilities for students, reasonable lodging costs, part time work opportunities, sports facilities, shopping, arts, history, eateries, themed pubs etc. CU also offered lower fees which was another plus factor for students.
Kay went on to explain the array of courses offered which have been geared to the requirements of the Scarborough area and employers needs and the 'new' ways of educating to degree standard which offers no exams at the end of term, is all geared around continuous assessments, 6 week modules and a 20 hour week.
Some of the courses offered include acting, adult nursing, business management, counselling, cyber security, digital studies, electro mech. engineering, health and social care, law, policing, primary edu. teaching and public health and community studies.
As can be seen from the list certain areas are recognised. Nursing is important for our area, we have an growing elderly population. Teaching we used to have a teacher training college. Cyber security, GCHQ Irton Moor is a big employer.
Kay introduced us to Jane Harper who was to lead the group around the building. Several classrooms were opened for an inspection which were all very large and tidy.
Of note was the hospital set up complete with beds and life monitoring equipment which amused a certain group of Rotarians with careers in the medical profession.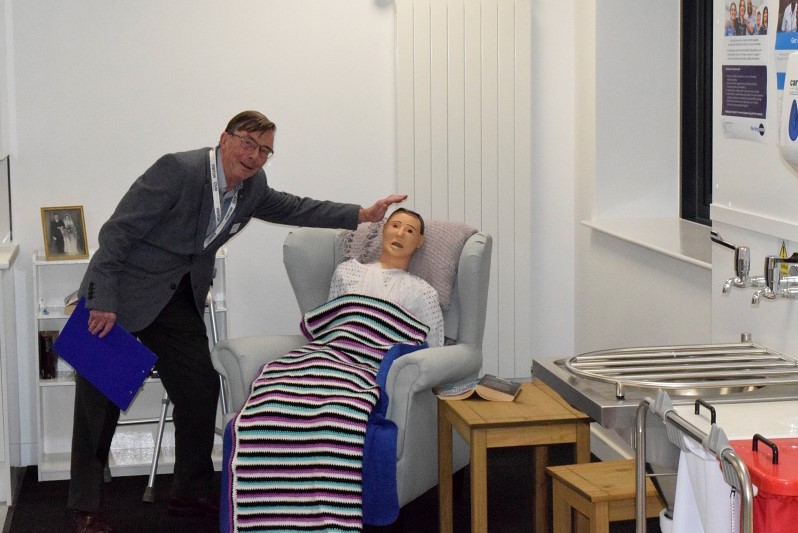 A truly inspiring visit thanks to Kay Fraser and her staff for a very interesting insight to CU Scarborough.
Our evening was completed with a fine meal at The Scarborough Tandoori curry house.
Thanks to Chris and George for organising a really interesting evening. Roger.~ November 2019