Fire Walk 2020
Sponsored individuals will walk across 20 feet of wood embers burning at 1236 degrees Fahrenheit, without experiencing any pain or injury at all! An inspirational and barrier-breaking experience with the benefit of raising money for fantastic causes.
**Unfortunatley this event has been rescheduled to Friday 23rd October 2020. Please feel free to continue applying and fundraising though!
---------------------------------------------------------------------------------------------------------------------------------------
Our upcoming event at Dainton Park, features local entertainers Lez the Fez (magician) and the Hot House Combo supplying some musical backing. Charity stalls and a BBQ will also be part of the evening.
RCNA President and organiser Martin Smith suggests you view the links to previous events staged by BLAZE, who have been organising such Firewalks since the 1980's and have been featured on many prominent TV shows.
Martin comments "I have completed the Firewalk myself 4 times at different events and am still here to tell the tale, it is a great confidence builder and every participant in the past I have spoken to have been enthused by the experience. If you have a charity you would like to support why not help them, by raising some much-needed funds and put some FUN into fundraising!"
To reserve your place, email Martin martrcna@outlook.com; you will receive a registration form and info pack by email.
Once you have returned your form and entry fee you will receive a walker reference number and a sponsorship form.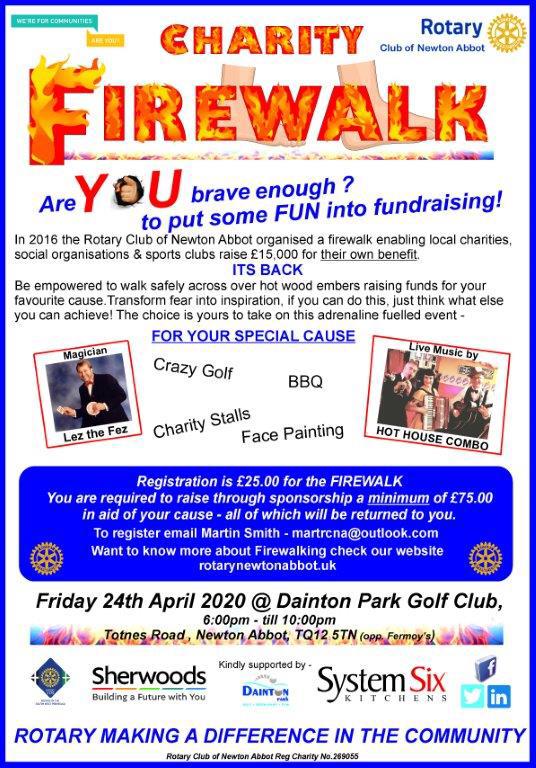 In 2016 the Rotary Club of Newton Abbot organised a Firewalk, this enabled charities, social organisations to raise monies for their own cause.
The 65 walkers raised £15,000 by sponsorship for 23 different organisations, including Rowcroft Hospice, Newton Abbot Community Transport, Meadowside, Dame Hannah Rogers Trust.