St John's Primary
History Man of Radcliffe Visit to St John's Primary School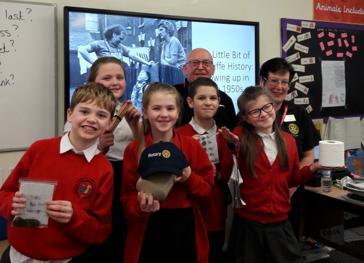 History Man of Radcliffe Visit to St John's Primary School
As part of the school's Local History Week, Michael Dudley from Radcliffe Heritage Society, spent a day telling the children about his childhood in Radcliffe. His presentation included photographs of the 2-Up, 2-Down home he lived in when he was 10 years old in the 1950s. It was very well received by children in classes from Nursery/Reception to Year 6. They and their teachers were fascinated by the images the streets around central Radcliffe and of toilet and bathing facilities of that time.
At the conclusion of the visit Head Teacher, Anna Withey, said "Local History Week has been an interesting and exciting week for us all. We are very proud to be at the heart of the Radcliffe community and learnt so much about the unique history of our town. One of the things that does make Radcliffe so special is our community spirit and we were lucky to have Michael and Ann support the children by sharing their experiences with them. Thank you both so much for adding to the success of the week."
Radcliffe Rotarians led by Ann Chapman, an ex-pupil of St John's, arranged the visit in response to an appeal from the school.
Photograph shows Year 6 pupils with Michael Dudley and Rotarian Ann Chapman.