A thank you from the Tree of Lights
A message about the success of 2019 Pershore Rotary Tree of Lights and a thank you to all our sponsors and donors.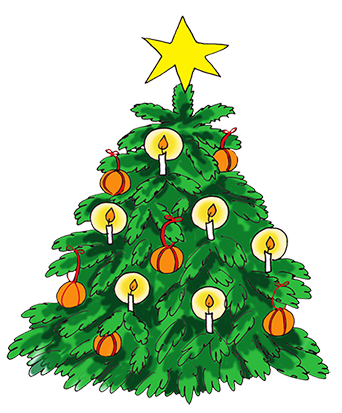 Thanks once again to the generosity of our community, Pershore Rotary's Tree of Lights Appeal 2019 exceeded expectations by raising just over £5,000 for charities.
President, Ken Rowe said.. "thanks to donations received from many local people and businesses we have been able to support the following charities: £1,500 to Midlands Air Ambulance, £1,500 to St. Richard's Hospice and £1,000 to the PROGS grant scheme for local needs. Amongst other good causes, your donations have enabled us to support a 'Kids Out' day for disadvantaged children in the local area and a Pershore High School candidate for the Rotary Youth Leaders Award (RYLA)."
President Ken went on to say that.. "Pershore Rotary is again immensely grateful to the Asda and Co-operative stores in Pershore for allowing Rotarians to collect donations from shoppers in the lead up to Christmas. Our challenge for the 2019 Appeal was to raise more money for our nominated charities than we did in 2018. We have achieved that by extending our Appeal within the local community and included many local businesses."
Appeal organiser, Jim Douglas, commented that Pershore Rotary owed much to the generosity of many businesses throughout the 2019 Appeal. In particular;
Andrew Grant & Clifton-Crick Sharp & Co - for displaying rolling lists of 'Loved Ones Remembered' on computer screens in their office windows;
Timothy Lea of Lodge Farm - for supplying the Christmas tree;
Vic Haynes Transport - for delivering the tree to site, and
Pershore Town Council - for fixing and lighting the Christmas tree.
And to the following businesses in Pershore and the surrounding area; Adder Bookkeeping Ltd, Angel Hotel, Carlton Smith Projects Ltd, Carrick Travel Ltd, Deer Park Hall. Eckington Manor, E Hill & Son Funeral Directors, Faith Property Services, Jackson Family Funeral Directors, Johnsons Property Consultants, KC Carpets Ltd, Lincoln House Dentists, MED Associates Ltd, Memory Lane Memorials, O.H.M.S. Ltd, Penny Raby, Family Lawyers, Pershore Hire Centre, Pershore Tyres Ltd, Riverside Fish Bar, Silver Fern Osteopaths, Simply Stone UK Ltd, TC Fireplaces, Thai Legend, Thomson & Bancks, Water Cooler World, W&D Property Company and Widmer Ltd.
Rotary is one of the world's largest and most successful humanitarian service organisations. As Rotarians, we take pride in our local community and do what we can to help improve the lives of others. To know more about Rotary in Pershore, contact Bob Marchant at bobmarchant@uwclub.net (07850 996732) or Alan Tromans (Pershore Rotary Business Club) at alanetromans@gmail.com (07726 685583).