Record numbers attend Leeds Technology Tournament
Tue 10th March 2020 at 09.00 - 15.00
With 204 competitive pupils - 51 teams arriving from 20 Secondary Schools - the race was on to build the best performing Weight Powered Vehicle in less than 5 hours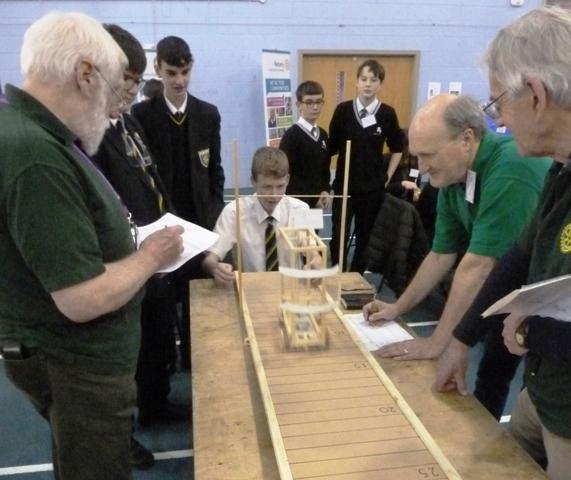 Clubs involved were: Aireborough, Calverley, Leeds, Headingley, Roundhay, Wetherby and Leeds White Rose. Aireborough Club the Master of Ceremonies, two Judges and six Stewards to the Leeds Technology Tournament at the John Charles Centre looking after a record number of teams and pupils, not forgetting supportive teachers.
Aireborough was also well represented on the organising committee, chaired by District Youth Chair Andrew Wilson. They also turned out on the night before the event to make sure all preparations could be made to ensure the day ran well. The number of teams attending also meant that some additional work was necessary before the announcement to open the envelopes to reveal the day's challenge.
'Your challenge today is to help reduce pollution by designing, building and testing a vehicle powered by a 200 gm. weight which is carried within the vehicle. Your model must be able to climb straight up a track rising 80 mm. over a 1.5m. distance. It must carry an advertisement for Green Power and have a flag which rises when the vehicle moves'.
Organisers were delighted to welcome the Lord Mayor of Leeds, Councillor Eileen Taylor to the Tournament. She spent two hours circulating amongst the teams and expressed herself impressed both by their motivation in working together and by their ingenuity in solving the day's problem.
When the judges had carried out their difficult task of comparing teams' achievements the group winners, receiving their trophies from the Lord Mayor were announced as:
Foundation: Cockburn John Charles Academy team A
Intermediate: Temple Moor High School
and Advanced: Elliott Hudson College team C.
The overall prize for Innovation in design went deservedly to one of the youngest teams Brigshaw High's Foundation team.
Next year's Tournament will take place on Tuesday 9 March 2021.