"Rotary Friendship Exchange"
Assistant District Governor, Brenda Waugh's own experience of an exchange to India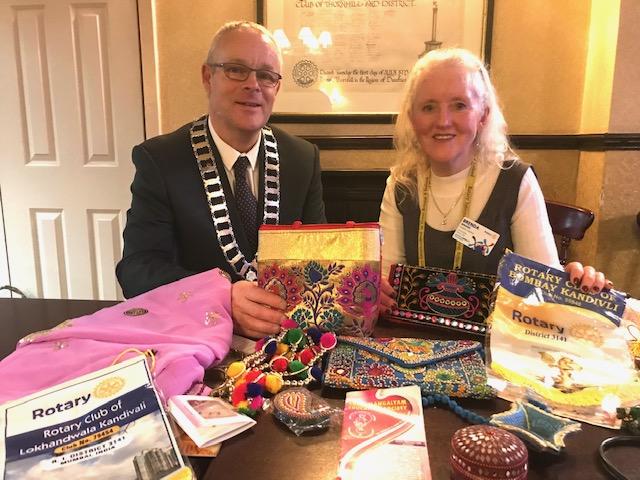 Recently, Wednesday 11th March 2020 our Assistant District Governor, Brenda Waugh guest of Rotarian Liz Baxter joined our weekly meeting to talk about the 'Rotary Friendship Exchange' and her own experience of an exchange in India.
Brenda spoke about the 2008-2009 RI theme, "Make Dreams Real" well when she went to India on The Friendship Exchange it did make her dreams come true, she and seven other Rotarians exchanged to Mumbai, India. Brenda stayed with an Indian Rotarian family who lived on the outskirts of the city bordering a National Park where she cycled and seen many animals in their own habitat.
During her exchange she visited a number of Rotary Clubs also a few Rotary Projects one being an eye hospital but by far her favourite was The Rotary School Bus. The bus travels around the villages and towns to bring education to the local children, they loved the lessons and getting involved in all the activities. Brenda explained that the annual cost of running the bus with driver and teacher was £8,000.00 money well spent I say.
What Brenda really loved about her travels was absorbing the culture, although her host didn't like her to go out alone she liked to see the local area, how people lived and couldn't get over the animals that lived on the street, also while she was there she sampled quite a number of India dishes but didn't like the tea, too sweet and milky. What Brenda did bring back with her was lots of happy memories.
The Friendship Exchange is an international exchange program for Rotary members and friends that allows participants to take turns hosting one another in their homes and clubs. Participants may travel as individuals, couples, families, or groups, and may be Rotary members or not.
To find out more about the "Rotary Friendship Exchange" follow the link below:
https://www.rotary.org/en/our-programs/friendship-exchange
---
A.S. 20-03-2020