Fellowship Meeting (Zoom), 6pm
Mon 23rd November 2020 at 6.00 pm - 7.00 pm
Rotarian Tony Jepps is 90!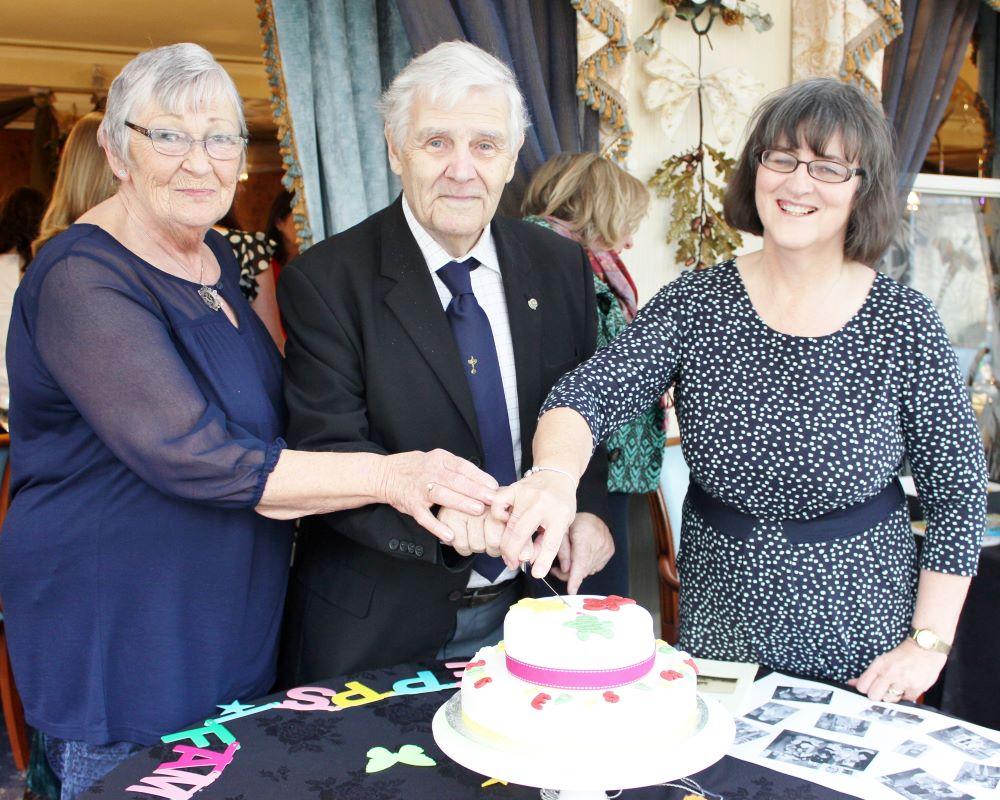 A picture of Tony with his daughter Debbie and his friend Mo taken in 2016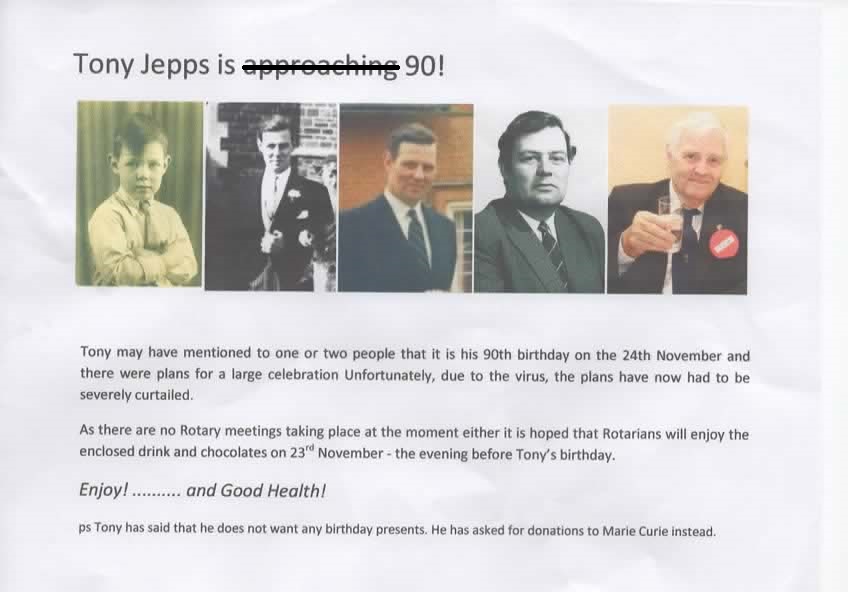 President Kathy and 16 members (yes, 16 - that's everyone - definitely a first!) zoomed in to this online meeting to wish Tony a very happy 90th birthday on 24th November.
Way back, months ago, when life was normal, Tony promised to buy all of us a drink on his 90th birthday and, true to his word, he did. He had arranged for the delivery to every one of us a brown paper envelope marked "do not open until the 23rd" and on opening it we found it contained a little bottle of whisky and a couple of delicious Ferrero Rocher chocs.
This generous gesture was very much appreciated and we all showed our gratitude by raising a glass and singing "Happy birthday to you...". TWICE.

NINETY - NOT OUT!

I've just heard a rumour – I'm sure it isn't true
But they say that you'll be ninety in just a day or two.
They said there was a party planned where you would buy the drink
But now this silly Covid means the plans are down the sink!

What do you mean you don't remember – or are you trying to forget
That you told another story and then just said it for a bet.
I'm sure your memory's not that bad – you don't forget a lot
And when you find that cup of tea it might even still be hot.

If you've forgotten where your keys are just try counting up to ten
If you only get to seven well you'll just have to start again.
Your glasses must be somewhere – did you leave them by the bed
Or just look in the mirror 'cos they could be on your head.

Before you start your breakfast just stop – think to yourself
"Have I got my teeth in or are they still up on the shelf".
Then have a Happy Birthday in the best way that you can
Live it up – enjoy yourself – and don't forget the Phyllisan!

HAPPY BIRTHDAY TONY.

So we say again "Happy birthday Tony and may you enjoy many more".

It's Tony's birthday party - we'll have to celebrate online,
We'll all sing happy birthday - I'm sure it will sound fine,
Then on to Alan for the draw - it's just about to start,
Someone has to win the pot before we all depart.

First one out - Dave Collett - a groan goes up all round,
Then Bruce is second out the bag - he's smiling I'll be bound,
The third AND fourth -oh no- a fix - its Collett yet again,
It's just not fair, but don't despair, 'cos Terry's lost his pen!

Yes, you read it right. The overdue July, August, September and October "200 Club" draws were performed online by Alan and Linda and remarkably David Collett's number was not drawn out once. No, not once, it was drawn out THREE times!
Lucky old David Collett
Got more cash in his wallet.

Sincere thanks to Linda Goodearl for penning the rhymes (she didn't write the last 2-line one, she will probably want to distance herself from that one) - KW