Mass Crocus Planting: Vale of Belvoir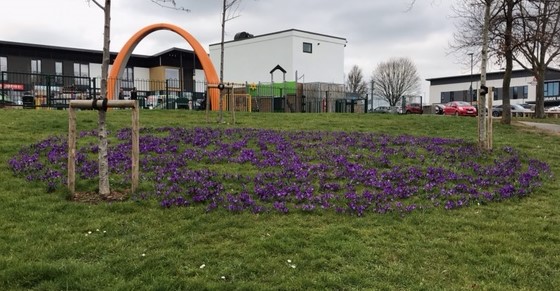 For over 30 years, Rotary and its members have been committed to fighting to eradicate Polio across the world and on World Polio Day on 24 October 2018 we planted hundrede of Purple Crocus
Rotary's pledge for a polio free world was made in 1985 when there were 125 Polio endemic countries and hundreds of new cases every single day. In 2017 there were only 22 cases in the entire world but unfortunately due to conflicts and the COVID pandemic cases have risen to 140 in 2020. As long as there is one single case anywhere children everywhere are at risk.
Thanks to Rotary, and the support of our partners WHO, Unicef, CDC and the Bill and Melinda Gates Foundation, there are now just two countries still classed as endemic: Pakistan and Afghanistan. The continent of Africa was declared Polio free in August 2020. To finish the job over 2 billion doses of oral polio vaccine have to be administered each and every year in over 60 countries until the world is finally certified polio free.
The Rotary Club of The Vale of Belvoir has supported this International effort since the Clubs establishment in 1990 through fund raising efforts across the communities in our area.
In recent years the fund-raising effort for Polio eradication has been themed as Purple4Polio in recognition of the purple dye that is applied to children's fingers following mass immunization projects in areas of the world with poorly developed healthcare services.
To further raise the profile of the Rotary Polio Story, Rotary in the UK and Ireland has partnered with the Royal Horticultural Society to establish mass planted areas of Purple Crocus.
This partnership allows community planting and flowering to raise the profile of Rotary Purple4Polio whilst also helping the RHS's Greening Grey Britain campaign. It brings together a wide cross section of communities together to transform public spaces, brighten up local areas and benefit local wildlife, including bees, by planting this rich source of nectar.
The communities in Cotgrave, Radcliffe on Trent and Bingham have been generous in their support over the years and we wanted to recognise that with the establishment of a Crocus planted area adjacent to the Town Centres.
A history of Rotary involvement in the eradication of Polio can be found here:
https://www.endpolio.org/rotary-and-the-fight-against-polio
The early part of the 2020-21 Rotary year saw great progress on the construction of 2 Five stance Girls Latrines at Schools in the Lyantonde District of Uganda. Our Club with the support of the Rotary Club of Rushcliffe and a Rotary Foundation Grant has financed this project.
Construction has continued despite pandemic restrictions and children being out of School.
Our partner organisation, Child Aid Uganda, which is a not for profit NGO has arranged the construction and has posted the following message along with some photographs of the latrines nearing completion.
"As candidates prepare to return to school, the girls at Buyanja and Kalyamenvu primary schools in Lyantonde will be surprised and happy to use the new 5 stance VIP latrines with a bath shelter. Thank you to our Rotary Friends for making this very possible for as many girls as possible."
On 28/11/2020 we were pleased to to announce that work is now completed on the construction of the 2 latrine blocks for the girls at Buyanja and Kalyamenvu primary schools in Lyantonde.

.