Our donations............/ Rayleigh Mill takes advantage of Lock-down to recycle bicycles for Africa
The Rotary Club of Rayleigh Mill collects 82 bicycles for re-cycle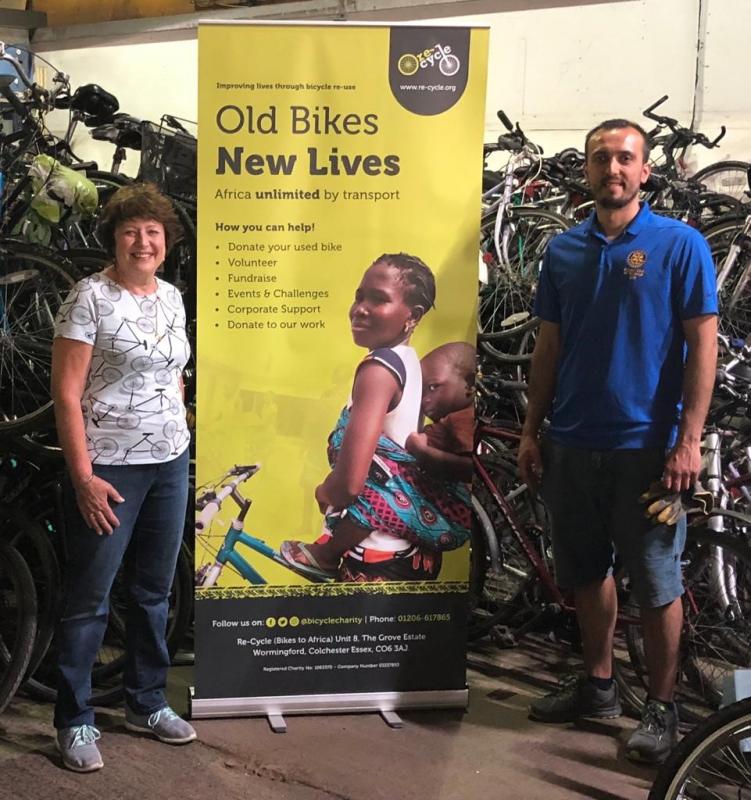 On 24th February Lindsay Hurrell from the charity Re-cycle visited the Rotary Club of Rayleigh Mill to tell the members about the work of re-cycling unwanted bicycles and shipping them to communities in Africa where they can transform the lives of the recipients, in a totally energy efficient way, by reducing the time spent walking to schools, to water sources and to work. The charity has been collecting bikes in North Essex since 1997 but has no collection facilities in the south of the county.
The members of the club were keen to help the charity, but the corona virus pandemic suddenly put a halt on any immediate action to collect bicycles.
The Lock-down, however, proved to be an advantage as many people, unable to go to work, turned their attention to clearing out their garden sheds and, with the rubbish tips closed, trying to find a way to dispose of unwanted bicycles. The President of the club, Jackie Wellman, undeterred by the restrictions on movement, set about finding these unwanted bikes, and via Facebook and Nextdoor social media websites, requested the names of people who had bikes to dispose of. The results were almost overwhelming but, lock-down meant that she could not take up the offers immediately, and so she collated all the donor's data and, when the restrictions were eased, set about collecting the bikes.
Another Rotarian, Assistant District Governor Steve Gale, of "Steve's Selfdrive", from the Rotary Club of Thorpe Bay, lent the club a van, complete with a full tank of petrol, and on Tuesday 2nd June, Jackie with fellow Rayleigh Mill Rotarian, Sertac Yilmaz, planned their route, collected 40 bicycles and delivered them to the re-opened Re-cycle warehouse in Colchester. The following day they collected a further 42 unwanted bikes and again delivered them to the thankful volunteers at the warehouse.
The Covid-19 pandemic has had world-wide consequences, mostly adverse, affecting everyone but, in this case, the time that people have been forced to spend at home has resulted in a positive result for the Rotary Club of Rayleigh Mill, the Re-cycle Charity and the people of the communities in Africa who will have the benefit of increased mobility.
The need for these unwanted cycles is ongoing. If you have a bike that you want to donate, please get in touch with the Rotary Club of Rayleigh Mill at president@rayleighmillrotary.org.uk. For more information on re-cycle, visit www.re-cycle.org