Wellspring
Rotarian David Russell and Paolo Medori of ANDISA deliver the laptops to Sue Ball, Operations Manager of Wellspring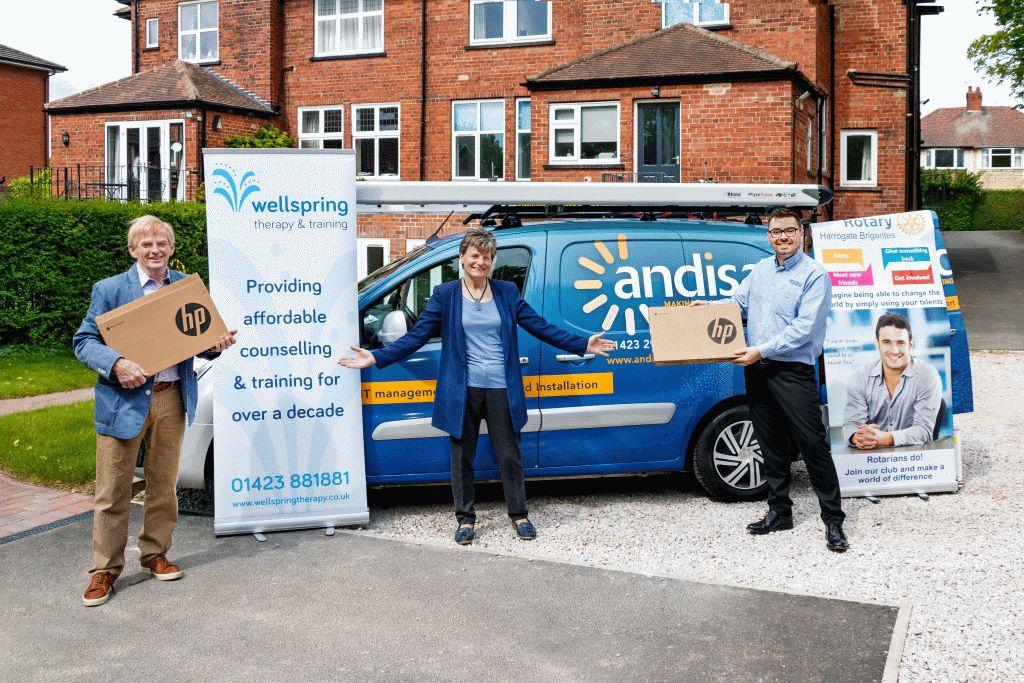 HELPING DISPEL THE LOCKDOWN BLUES
Since the lockdown began Harrogate Brigantes Rotary Club has raised some £6000, mostly from members and their families, for Covid relief, and has given away over £8000 in cash or kind to care providers and local charities. But the Club's focus is now changing. We're moving away, for instance, from helping with the provision of PPE, and towards supporting organisations dealing with the longer term consequences of the pandemic – like the danger to our mental health.
The Club recently responded to a request for help from Wellspring Therapy & Training, a charity based in Starbeck, which provides counselling for those with mental health issues. When the lockdown was imposed Wellspring reacted immediately and implemented a range of remote service which enabled it to continue delivering counselling and therapy to clients. Emily Fullarton, Director of Wellspring, explains:
"Covid-19 has had a devastating effect on people experiencing mental health problems. The implications of becoming infected, the multitude of issues associated with living in isolation, the additional financial difficulties, and problems of drink and drug abuse and domestic violence, have hugely increased the psychological distress and mental health problems of many. We have already had positive feedback from clients who have continued with their sessions over video-link or telephone, and our ambition is build our capacity to offer such remote support. But this needs funds and, unfortunately, these are fast reducing. The income we generate through community fundraising and rentals has been lost under the current situation, forcing us to use our reserves."
Brigantes have helped by providing two new laptops to enable Wellspring to further develop their services. One of our corporate members, IT company ANDISA, co-ordinated the project, procuring, configuring and then installing the computers. Club President, Peter Wearmouth, commented "We're delighted to be able to help a local organisation doing such wonderful work in these difficult circumstances."
The Club would like to do more to help Wellspring and other organisations looking after our health and well-being. But, it too, is currently unable to raise funds as it usually does. If you can help, please let us know.