Our poetry competition.
The winners of the competition.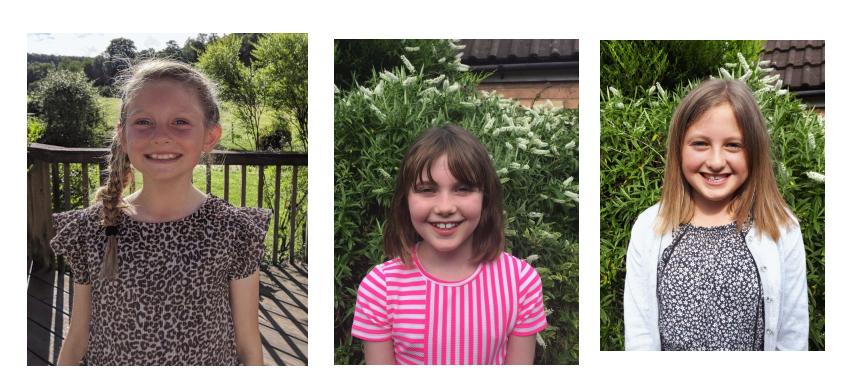 Top picture, left to right April Duesbury, Chloe Blackburn and Lucy Shaw
COMPETITION
LOCKDOWN LYRICS
The competition is over, the entries all gathered and judged. Congratulations and £30 book tokens go to the winners: Chloe Blackburn (aged 10), April Duesbury (aged 9) and Lucy Shaw (aged 10). Two of them are pupils at Richard Taylor Church of England Primary School and the other a pupil at St Roberts Catholic Primary School.
The competition had the double purpose of encouraging children to develop their skills at creative writing and at the same time to help those in greatest need in our community by raising money for the Covid 19 Relief Fund established by Harrogate Brigantes Rotary Club. While it was intended as a local initiative, poems were received from as far away as Australia.
Mike Hammond, organiser of Brigantes efforts to help combat the suffering caused by Covid 19, commented: "Since Lockdown, and with the support of the Lockdown Lyrics competition, we have raised over £6,300 and made donations of over £9,000 to families in distress, hard-pressed care workers and local charities such as Dementia Forward, Wellspring, Supporting Older People and Carers' Resource. We are most grateful to all those who have helped us to help those most in need."
Competition organiser Guy Wilson commended the entrants and winners: "The majority of the poems were well-written and showed a creative use of language, and some had a real surprise in store for the reader. Lucy Shaw won the "I Wish" category with an inspiring poem that clearly describes our present predicament and holds out hope for a better future. Chloe Blackburn won the "My Hero" category with a heart-warming poem that reminds us of how much we need our close nearest and dearest in times like these. April Duesbury won the "A Better World" category with a poem written from the viewpoint of the virus itself. Covid's last remark 'Laughter is all they need to create a better world' should set us all thinking and, I hope, smiling. Well done to all, especially our winners."
WINNING POEMS
A Better World
By April Duesbury
I'm new to this planet,
I've not been here before,
I thought I'd have a look around,
Want me to tell you more?
I like to make new friends,
So I said hello to a bat,
But you didn't treat me well,
Thought you could squish me flat?
One day I got payback,
And went to explore,
This is a savage battle,
But you destroy me more.
So now I try harder,
You dare me to leave,
The humans stay strong,
But my name's Covid-19.
I don't think they want me here,
But I want to stay,
I think you're going to win this fight,
'Cos together you all pray.
I've had enough here,
My back is now turned,
Laughter is all they need,
To create a better world.
My Hero
By Chloe Blackburn
You won't find them in a comic book,
Or see them in a movie,
They aren't very tall,
Or very strong,
But I still love her.
They might argue,
And they might shout,
But everyone does that, no doubt,
People like those on You Tube,
Or Instagram,
But she isn't on anything like that.
Natasha is her name,
And she is my little sister.
Together we are unstoppable,
And I will forever love her because
She is my hero.
Having her as my sister,
And as my best friend is amazing.
She makes me laugh all day,
And loves to play.
Natasha means the world to me,
And I love her lots and lots.
Covid-19
By Lucy Shaw, age 10
The world is in hibernation,
COVID-19 has affected each and every nation.
We've had to stop seeing friends, family and neighbours,
All people have had to change their behaviours.
At times we've wanted to get back to our normal routines,
The government setting new rules; setting a different scene.
We've looked after those around us who have found this time extra tough,
Feeling isolated, alone, needing love.
We've displayed rainbows and clapped for key workers; heroes without capes,
I hope this kindness our future shapes.
There is talk about changes to social distancing and bubbles,
I wish reunion hugs with friends and family will ease our troubles.
When this is all over and the virus has fled,
I hope our world will be better, have chance to mend.