Recognising support and help for local dementia sufferers
Three Hythe Heroes honoured by Rotary
Dudley Shipton, Anne Mayne and Shirley Moberly, were nominated to receive a Service Recognition Award from Rotary International in Great Britain and Ireland for the sterling work they have undertaken in Hythe in the furtherance of assistance for Dementia sufferers and their carers. Over the last four years of very hard work, they have accomplished so much:
• Foundation of the Hythe Town Council Dementia Forum which has brought together - and meeting monthly - in the region of 20 various organisations in the area specialising in the care of dementia sufferers.

• They have worked tirelessly in arranging visits to places like Dover Transport Museum, the RH&D Railway Museum and the Aircraft Museum near Hamstreet – all of which have been so well supported by dementia sufferers and their carers.

• The forum has impressed Waitrose to the extent that it has donated £10,000 towards the efforts.

• In addition, of course, running the Fun Day at Oaklands bringing together all the various dementia organisations and providing splendid entertainment for sufferers and their carers.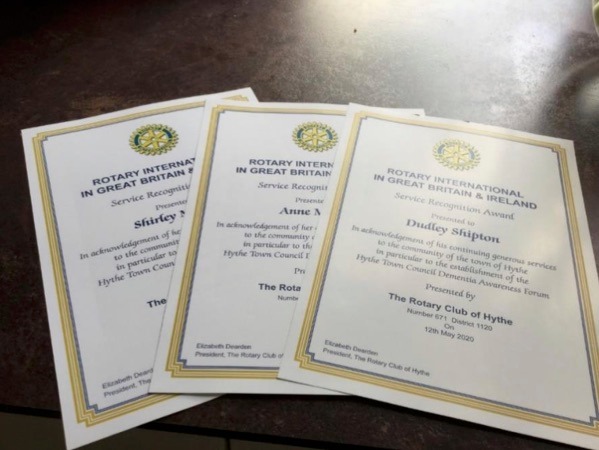 When we are able to have regular meetings, we will invite Dudley, Anne and Shirley to join us to express our appreciation of their community service.