Recent News
Recent news from Aldershot Rotary Club
Novemeber 2020 - Remembrance Sunday
On Remembrance Sunday people up and down the country took time to reflect and remember the contribution of British and Commonwealth military and civilian servicemen and women.
Our President Elect Pauline attended a small socially distanced ceremony at the Aldershot Municipal Gardens and placed a wreath on the Cenotaph. As guest numbers were very restricted, President Elect Pauline also placed the wreath on behalf of the Inner Wheel Club, Aldershot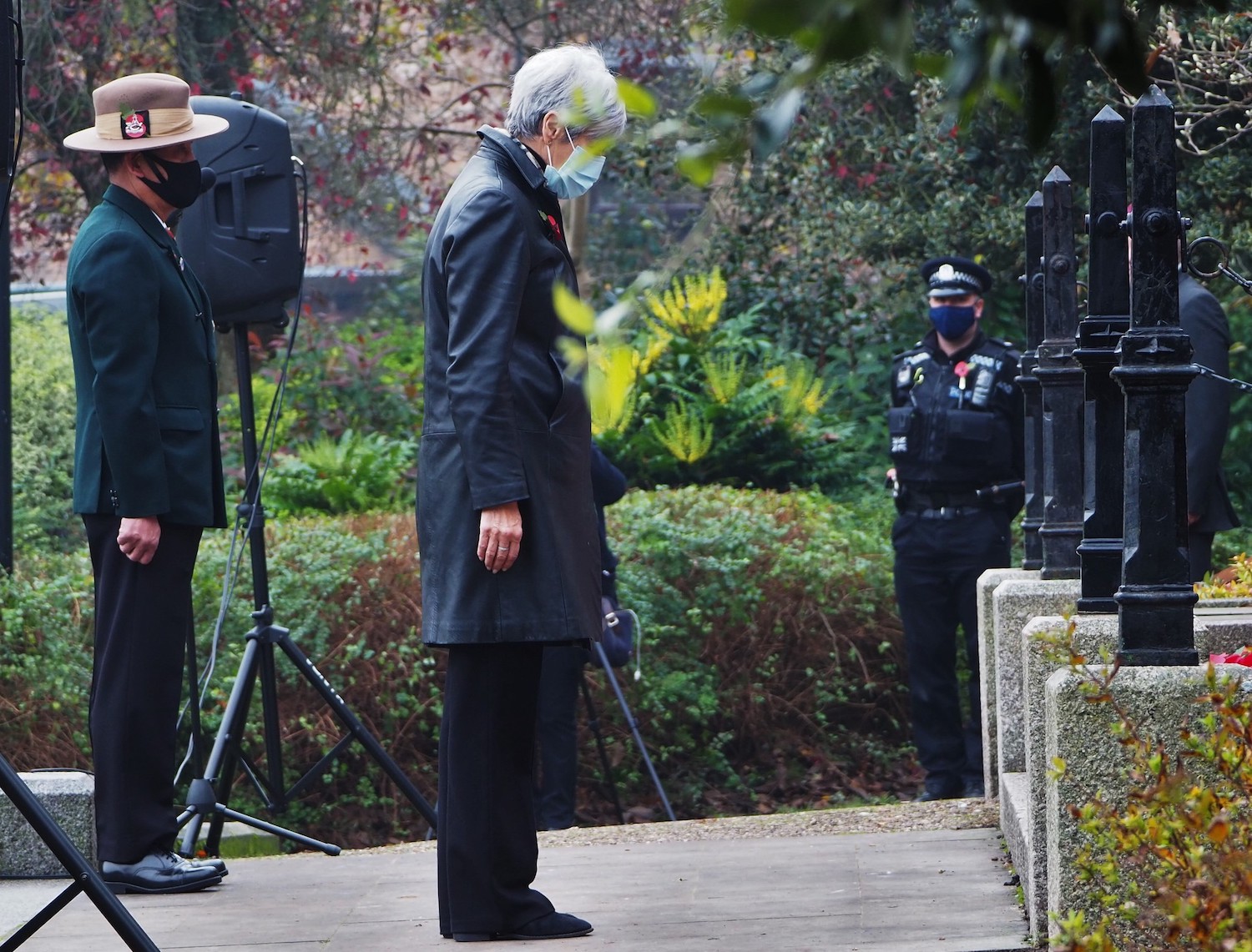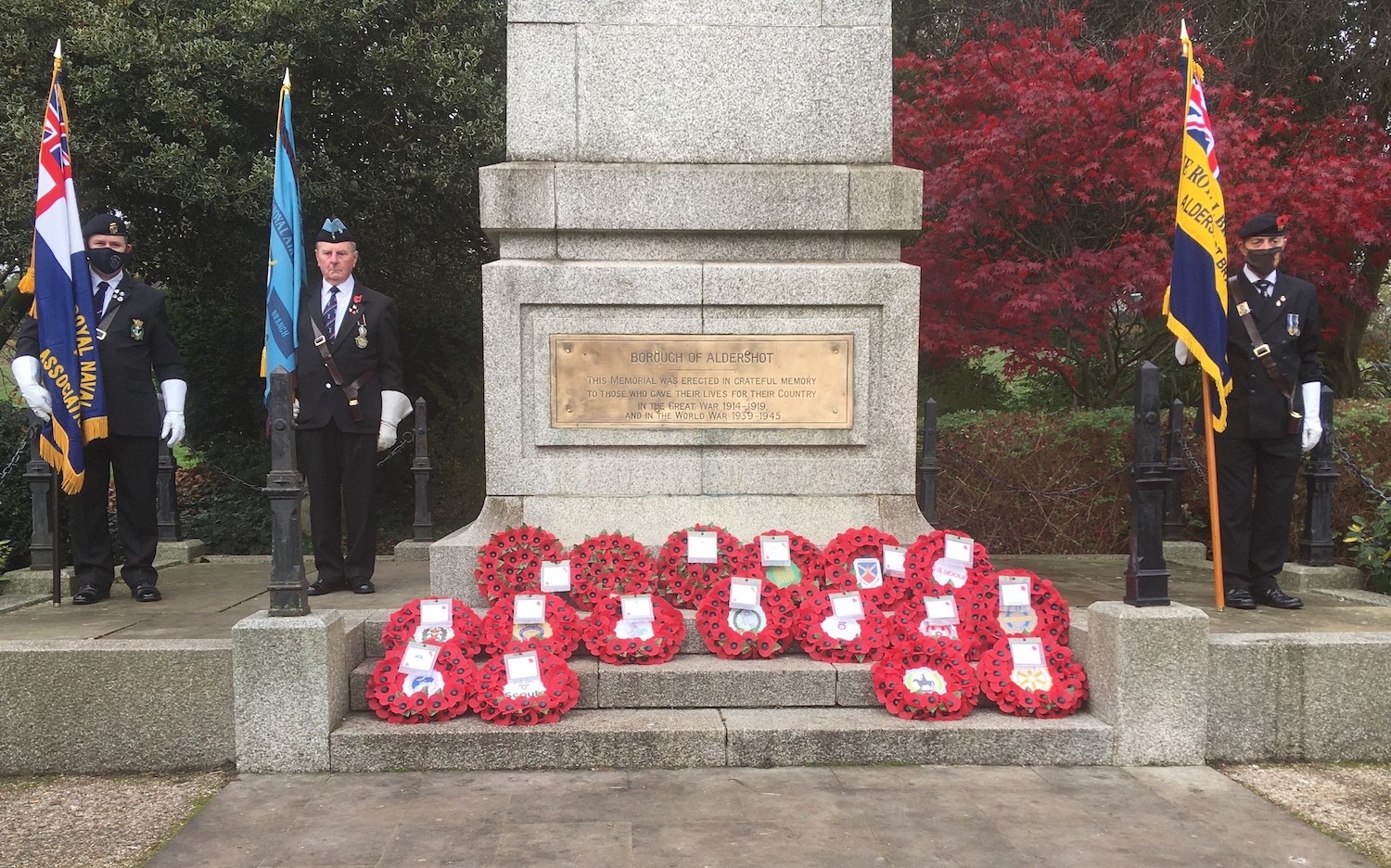 August 2020 - We received a gift from the Rotary Club of Tulispur City in Nepal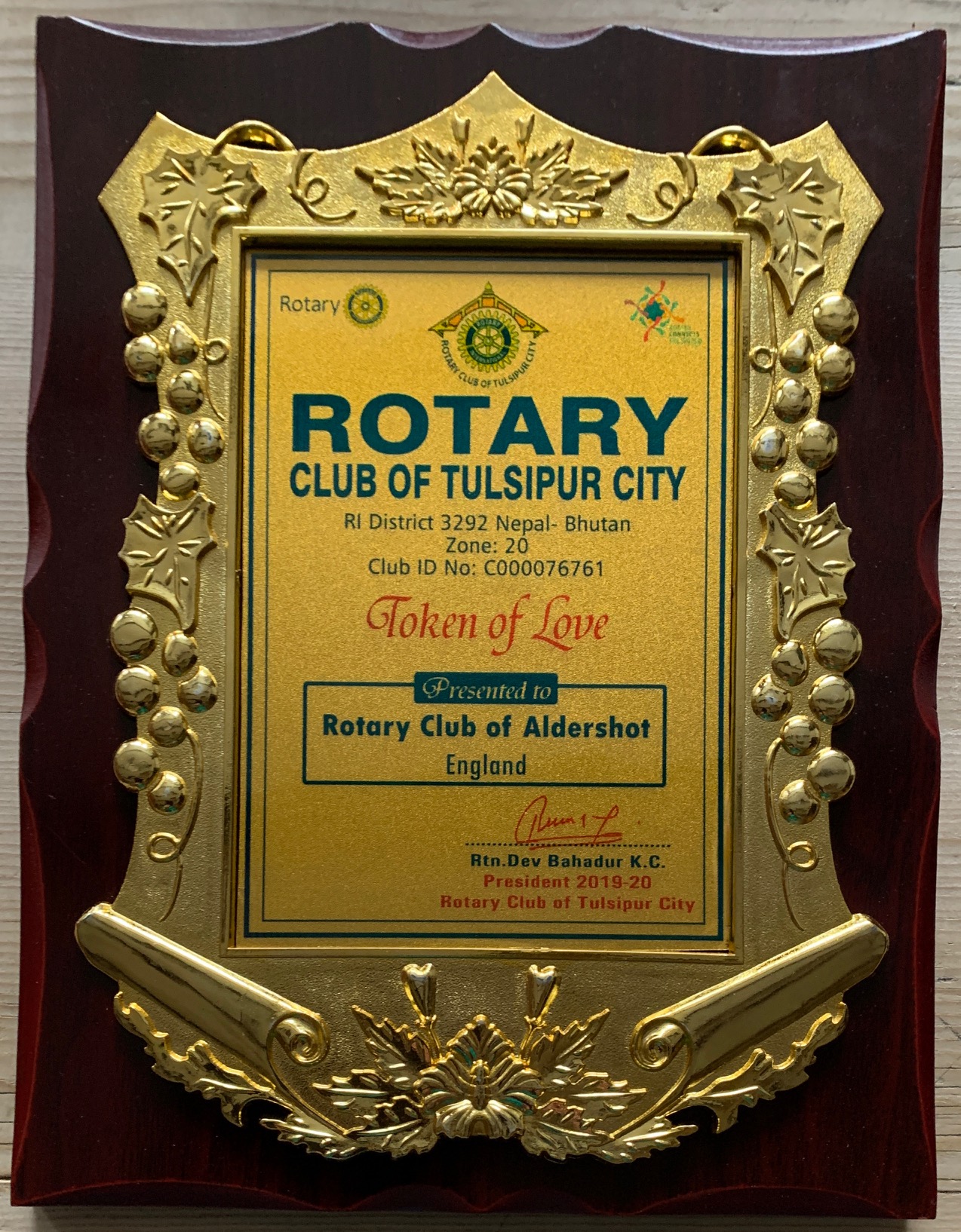 For some years now, we have enjoyed the company of a Rotary member, a Nepalese colleague, who had 'family connections' with the club identified on this super shield.
Our club colleague is living in Aldershot, and we were very pleasantly surprised recently, to be presented with this shield.
Surely, a super example of Rotary International, Friendship, Goodwill......
July 2020 - Our President Malcolm was awarded a Paul Harris Fellowship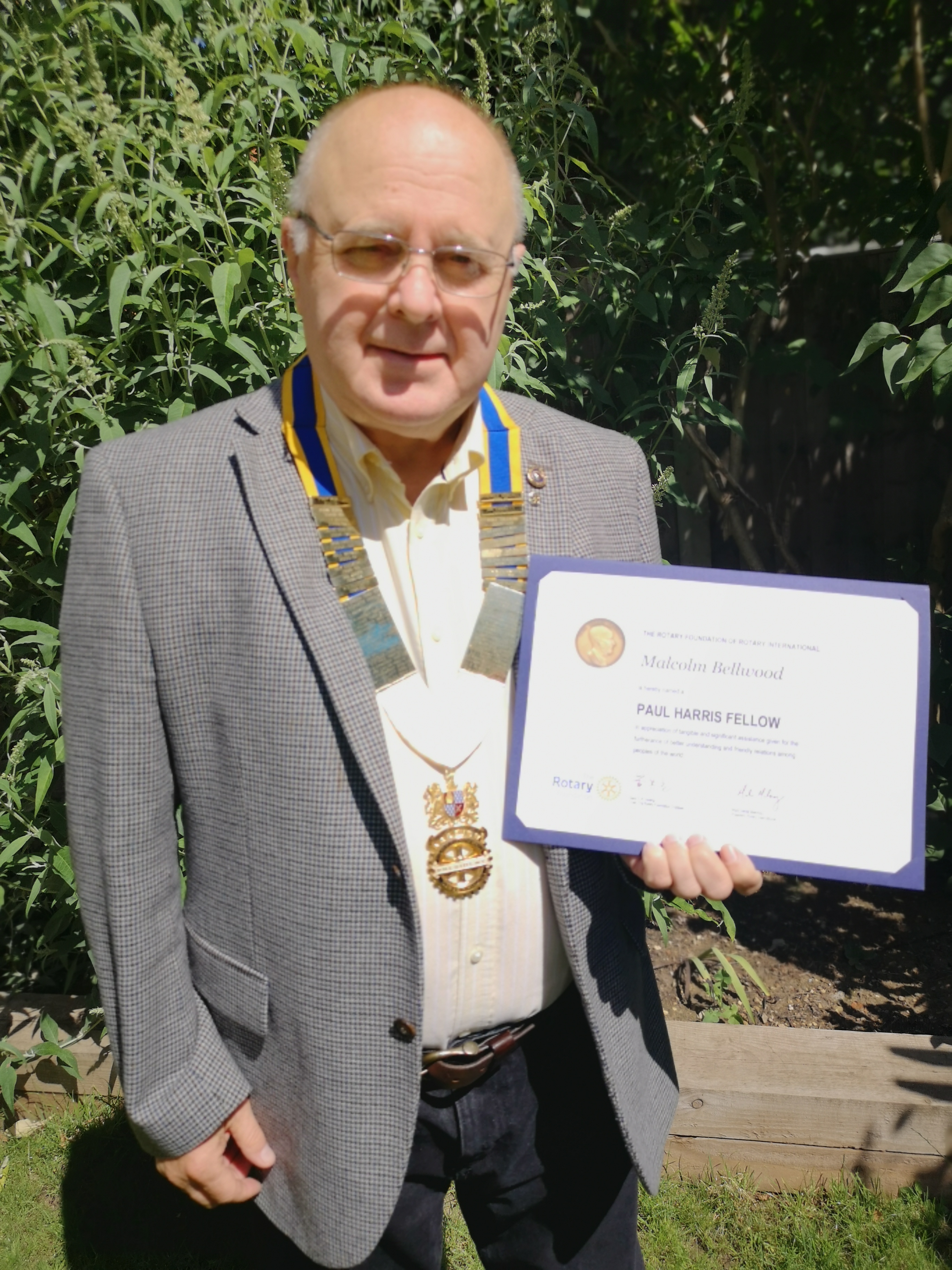 At our Rotary club Zoom meeting on 1 July 2020, we were delighted to surprise our Rotary President Malcolm Bellwood, with the award, Paul Harris Fellowship.
This is of a special pin and a medallion recognising Malcolm's extremely hard work and support, not only within Rotary but in all areas of Community.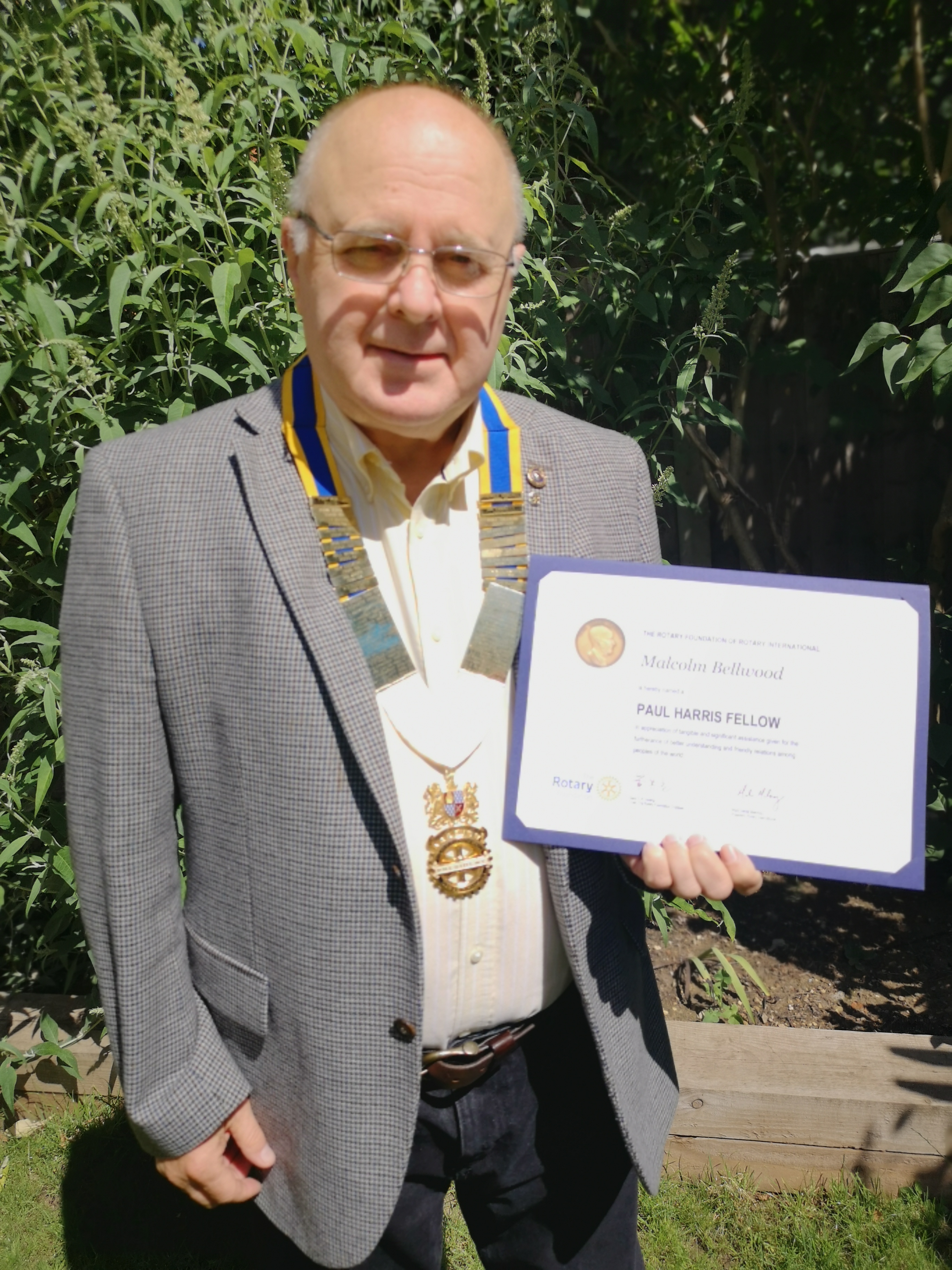 Paul Harris was a Chicago Lawyer who founded a club which went on to become the Humanitarian Organisation Rotary International in 1905. We are very proud that many of our club colleagues have also earned this Rotary recognition. The Award can be earned by all members of Society.
Paul Harris Citation
Malcolm's a staunch Yorkshireman and was originally from a small village called Bottom Boat, which is close to Wakefield.

Even though Malcolm had a successful career in the Army an early ambition was to be an RAF pilot. However, when it was clear that this would not happen he joined the NHS and had a successful career working as a psychiatric nurse.

In his early 30s, Malcolm decided to join the Army on a short service career and stayed for much longer and ended up as the Army's chief psychiatric nurse. He spent time in Germany and is also a veteran of the first Gulf War.

After leaving the Army Malcolm took up a new role with the charity Combat Stress where his expertise was put to good use and spent 10 years with Combat Stress before retiring.

Despite the Army being land-based Malcolm is a keen sailor and apparently this came about as one of his bosses in the Army was a keen sailor so Malcolm decided to have a go, and no pun intended, took to it like a duck to water.

So rather than retiring and doing nothing Malcolm took up the challenge of working with the Vine Centre, an Aldershot based charity that provides services for homeless adults and currently he is Chair of the Trustees.
Despite this Malcolm's wife Joyce tells us he's a laid back character and enjoys spending time with their son, daughter and five grandchildren.

Malcolm was introduced to Rotary by Bruce Bulgin and since becoming a Rotarian has thrown himself into a range of activities and projects he was the Club President for the first time in 2017/18 and stayed as the president for a second year 2018/19 and has again taken up the role of Club President in 2020 to serve until 2021. During this time he has held the position of Chairman for the local Kids Out for their day in June and has taken the club forward to promoting a visit to the Christmas Pantomime for children of troubled families. His selfless approach has been of immense benefit to the Rotary Club of Aldershot and as such Malcolm is a worthy recipient of a Paul Harris Fellowship.