Speaker Evening (Zoom) - Lindsay Hurrell - Re-Cycle
Mon 18th January 2021 at 6.30 pm - 8.30 pm
Join us for a Zoom Speaker Evening with Lindsay Hurrell of the Re-Cycle Charity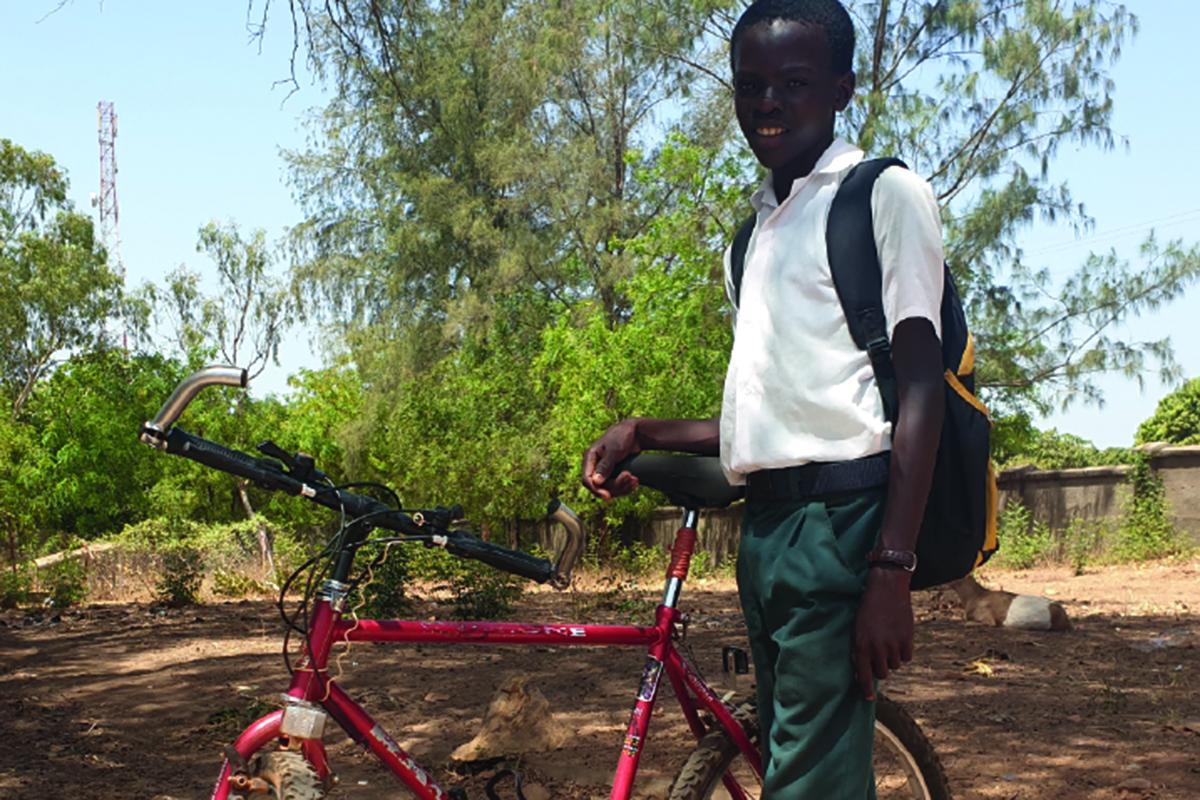 Join us for a fascinating zoom talk by Lindsay Hurrell of Re-Cycle. This talk will take place on Zoom. The Zoom link will open at 18.20 on Monday 18th January. To receive an invitation to join the talk please email Club Secretary Fiona Brown on fiona.brown@fionabrown.com.
About Re-Cycle
Across the UK thousands of bikes are thrown away or lie unused in sheds and garages, whilst many people in Africa are forced to walk for hours to get to school, work, market or to fetch water, crops and firewood.
A bike lightens this burden and dramatically improves people's lives.

Who we are?
Re-Cycle is a small charity based in Essex which has been in operation since 1998.
We take in unwanted bikes at our warehouse in Essex and through collection points throughout the UK, partnering with Halfords and smaller bike retailers.

Our Vision
A future where every person in Africa has access to quality, affordable, sustainable bike transport- reducing hours of walking each day to get to school, work or water source.
Our Mission
Improving lives through bike re-use.

Sustainability
Re-Cycle has a 0% waste policy, all bikes being donated are put to good use rather than going to landfill. Bikes that are not suitable to ship to Africa but are still usable are sold to the local community here in the UK, with all funds going into our Africa project. Others are stripped down for spare parts or maybe re-cycled. We inspect each bike and prepare them ready to send to our trusted partners, who run bike projects on the ground; refurbishing, distributing and maintenance.
Overseas Support
We help people to help themselves, working with our partnerships and NGO's to help provide people with the opportunities to gain new skills and sustainable income which enables them to invest in their own projects such a bee keeping, water boreholes and farming.

UK Support
Re-Cycle touches the lives of people in the UK, as well as overseas, by providing life skills and social support to a diverse community through our volunteering programme.

Everything we do is to care for others – the people who we support in Africa, the volunteers (30 plus) who support our project here in the UK and the communities in which we live.

Since 1998 we have shipped over 115,000 bikes to Africa. Donating our bikes helps change lives, reduces the impact on landfill and makes for a cleaner environment in the UK. Make a donation online via our website www.Re-Cycle.orge-C
We ship around 500 bikes, spare parts and tools per container to four African countries. South Africa, Zambia, Ghana and The Gambia.
One of our bikes could potentially support a family of six, both adults and children. Our bikes have a real impact on people's health and wellbeing, giving greater independence and a better quality of life with access to work, education and basic resources.

Monmodou attends Tujereng Upper and Secondary School. He lives with his father, older sister and younger brother on a farm growing groundnut and cassava. His school was selected to take part in our Cycle to School pilot. He received a bike along with 20 other students and attended our one-day bike workshop to learn how to repair and fix his bike. Monmdou told us "Before, I would walk 2 hours to school. My father gave me money for food which I often spent on the bus. Now I have a bike, I use the money given to me by my father as lunch money and my family are very happy. 'Now enjoying school, Monmodou's favourite subject is mathematics and he wants to become a teacher'.

We can only continue to provide bikes to those who are in desperate need with your help.
There are many ways in which you can help us and therefore we are appealing for your support.

"Gift a Bike – Gift an Opportunity – Gift the Environment"
If you would like to know how you can support us, please get in touch email lindsay.hurrell@re-cycle.org or call 01206 -617865.
Further information can be found on our website: www.re-cycle .org
"Together we are changing the planet, one pedal turn at a time" Chris Boardman MBE, Re-Cycle Patron