Facemasks raise over £500 for Jessie May
Suzanne Allen seen handing over a cheque for £515 to Roger Harper representing Jessie May Children's Charity.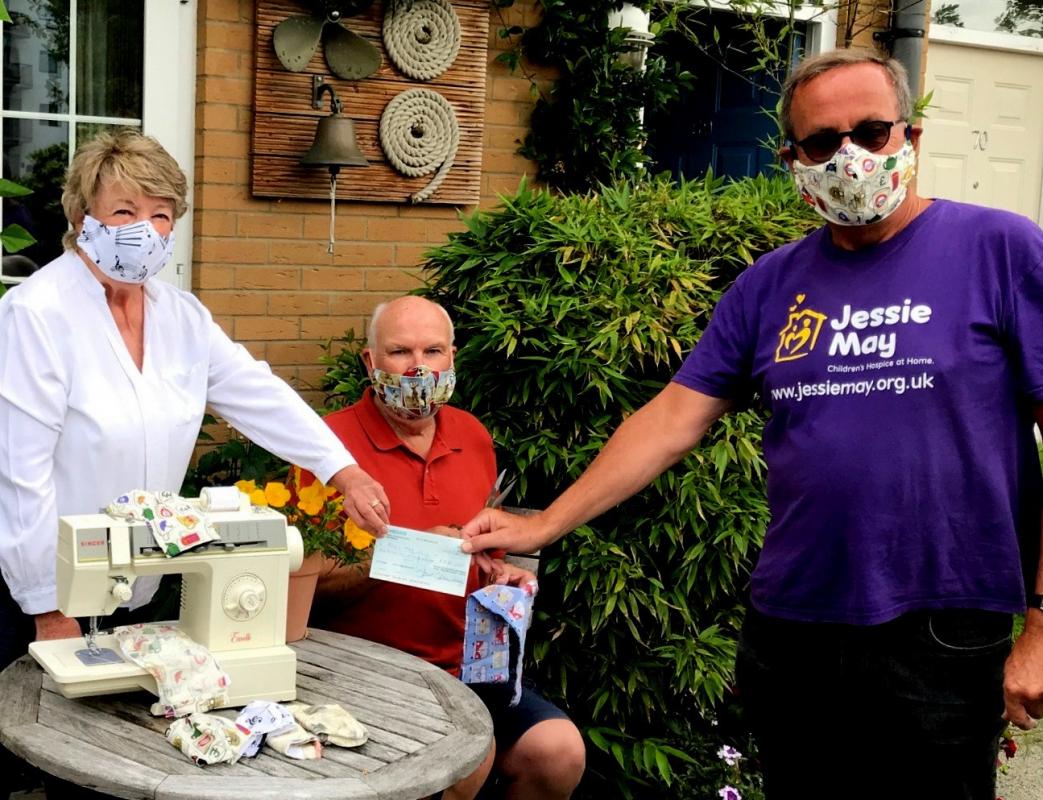 Suzanne helped, by her husband Lance, have been making face masks since lockdown.
Suzanne is a friend of Portishead Rotary Club, which handled the donations, and the club are very proud of her achievement plus supporting such a great local charity.
Suzanne is still making her masks and anyone can order from Suzanne by contacting her on:smdjohnson@sky.com. She just seeks a donation which will continue to go to Jessie May.
Further details on the masks and how to order them are below:
The mask on the inside is pure white 100% cotton and the outside is of light-hearted printed fabric.
They come in three sizes Large (men), Medium (women) and Small for children.
The side elastics will be tacked only and you will be able to sew, pin or tie to customise the fit.
The mask is hand washable but cannot be put in dryer or sterilised in the Microwave (as it contains metal).
At the top of the mask there is a wire sewn inside, which can be squeezed to adjust the bridge of your nose. This permits your glasses to sit on the outside not getting steamed up as they would with ordinary masks.
The mask has a side pocket into which you can either slip a paper towel, tissues or coffee filter between the two layers and this will offer more filtration.
The filter should be thrown away after every wearing.
Masks will be delivered locally to Portishead or sent by post if further afield.
Please send your request to Suzanne - smdjohnson@sky.com and include your name, the address to deliver the masks to and the size of mask you would like
Donations can be made by one of 3 methods:
Via website using the "Donate to our Charity Trust Fund" link and entering "Masks" and your name in the "Leave a Message" field Click here for the payment link Please note that the miniumum donation this method will allow is £5
On-line via your bank account to: " The Rotary Club of Portishead Trust Fund ", Sort code 20-94-74, Account number 10489387
By cheque to Treasurer Richard Bonfield, 53 Estuary House, Lower Burlington Road, Portishead, BS20 7BJ
Thank you for your support