The Rotary Year in reverse order ...

30th JUNE 2020
PRESIDENTS HANDOVER

This special meeting marks the end of the Rotary year for the existing President and the start of the President Elect's year.
In more normal times we celebrate this event with some style,
with a dinner and some entertainment, after the Rotary formalities.
Members joined the Zoom meeting and acknowledged retiring President Ian Bradley's
resume of his eventful year (his fourth time as President) followed by his welcome to Sue Worthington as President for 2020/21.
As Vice President, Sue also had an eventful year and her enthusiasm and dedication to Rotary and community service will show again in her President's year.
Pictured below and observing social spacing, the chain of office is "handed over".
CONGRATULATIONS SUE AND WELCOME FROM MEMBERS, FAMILY AND FRIENDS.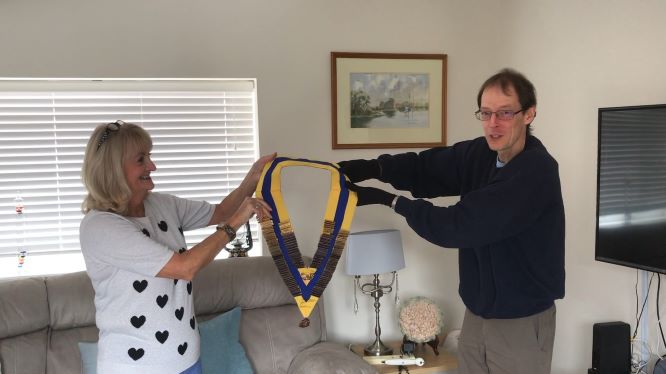 23rd JUNE 2020
CLUB ASSEMBLY
This meeting prior to the Handover to the new Rotary year outlines to the members details of the proposals and ideas for projects for discussion and vote.
Vice President Sue Worthington leads us through this event A visitor representative from Rotary District joins the meeting to monitor the activity of the club.
16th JUNE 2020



With the help of Zoom,
we were very pleased to welcome on screen
Rotarian Brian Stoyel, past Director of Rotary International 2017/19.
He shared with us his memories of Rotary business at the top level of Rotary International.
The first Zoom speaker meeting allowed us to invite
Dr James Taylor, Past President of this club and presently resident in Switzerland.
He was able to show a presentation
of life as a Rotarian in Switzerland.
We miss face to face contact with members as in the ---traditional meeting but appreciate the ability to "see and speak" to those who join this digital solution, from the comfort of their own home.
The club is now well established with Zoom, most members are set up to join the Tuesday meeting as pictured below.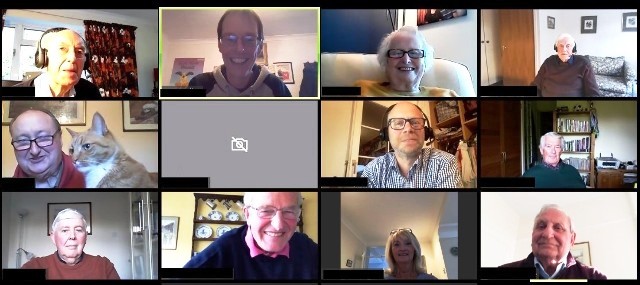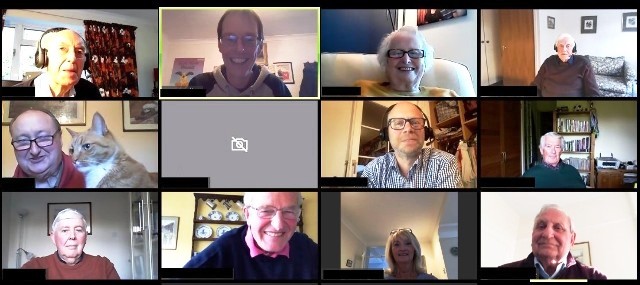 14th. April 2020
NEW MEMBER INDUCTION
This was a first for the Club with the induction of new member, David Pincombe, via Zoom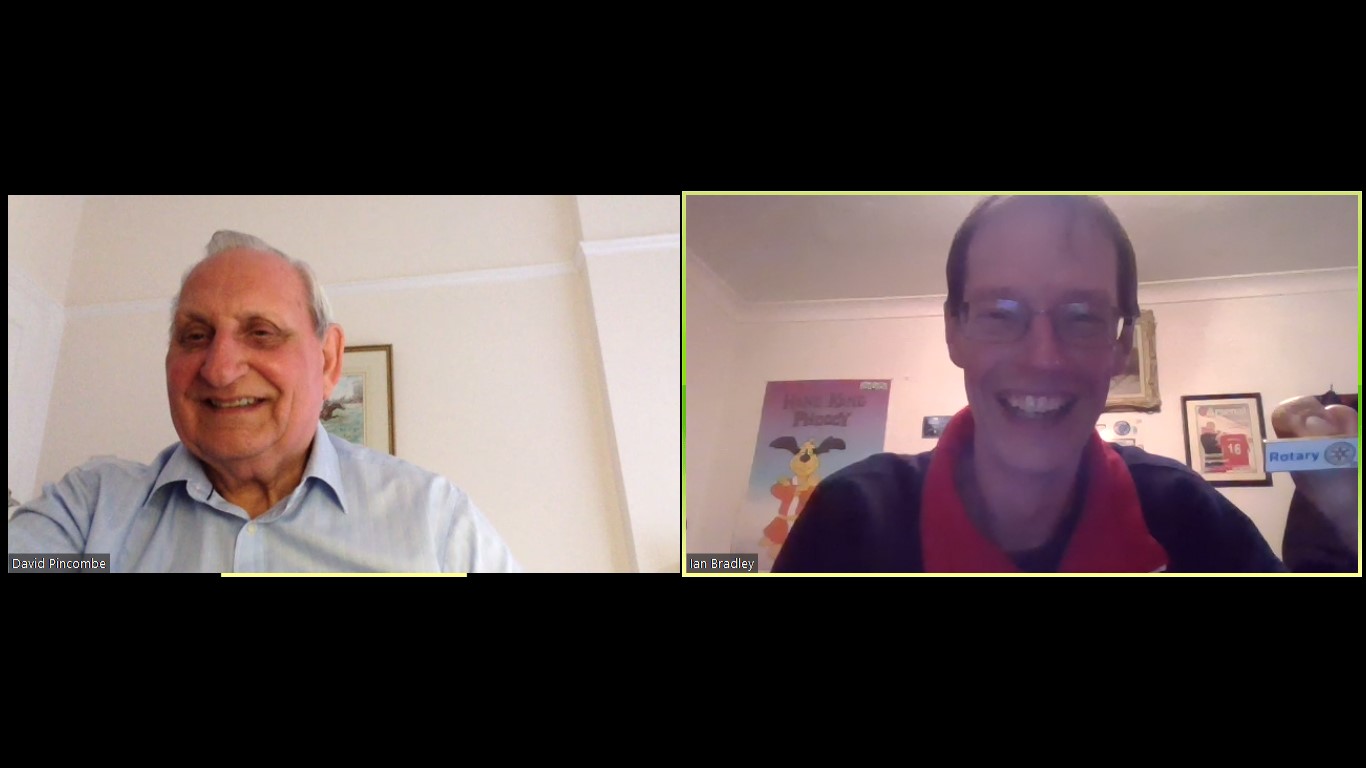 17th. March 2020
BLACK TUESDAY
THIS IS THE DATE OF THE LAST CLUB MEETING
AT THE DEANWATER HOTEL
CLUB COUNCIL MADE THE DECISION TO COMBAT THE POSSIBLE EFFECT TO MEMBERS FROM THE CORONA VIRUS. A NUMBER OF MEMBERS ARE "MEETING" ON TUEDAY EVENINGS USING DIGITAL SUPPORT.
This will maintain Rotary fellowship and service to the community where possible.


THE SWIMATHON
WE STARTED TO STAGE THIS EVENT AGAIN THIS YEAR
Pictured below, just before the Govermemt lock down :- members ready to supervise the swim and look after The Easter egg raffle (which raised over £100).
Followed by a group photograph of the swimmers from Wilmslow High School swimmimg to rase money for the schools nominated charity.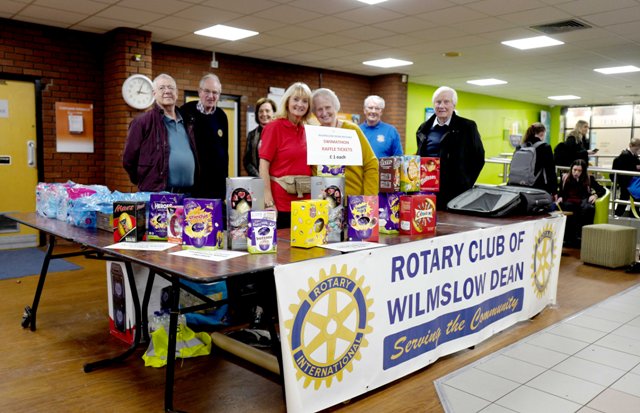 A donation cheque from our Christmas collections and a cuddly toy (donated by The Unicorn Christmas Raffle winner)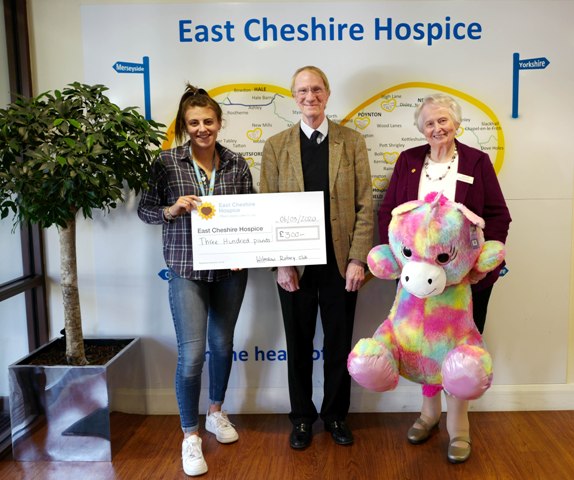 Saturday March 7th. 2020
NOT THE BEAUJOLAIS BRUNCH
This popular annual event was held again at The Deanwater Hotel, where we enjoyed a traditional English breakfast followed by a presentation by wine specialist John Lomas, from Waitrose.
A selection of five French wines was prented to members to taste after a comprehensive appraisal by John on each in turn.
Another enjoyable Rotary occasion for members, family and friends also supported by a number of local Rotary Club members.

President Ian Bradley leads his table guests to the breakfast buffet table.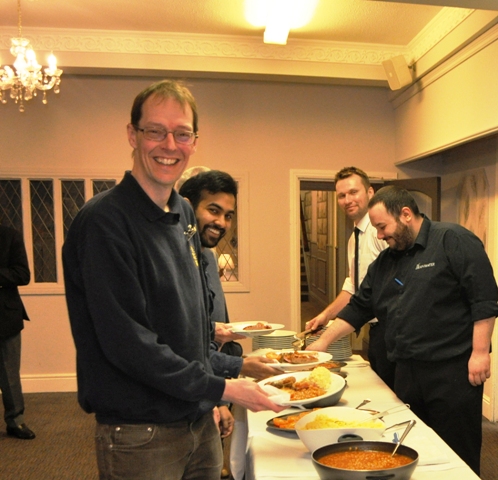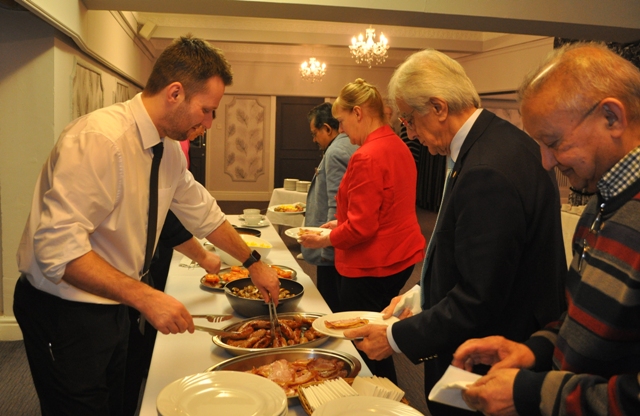 At Table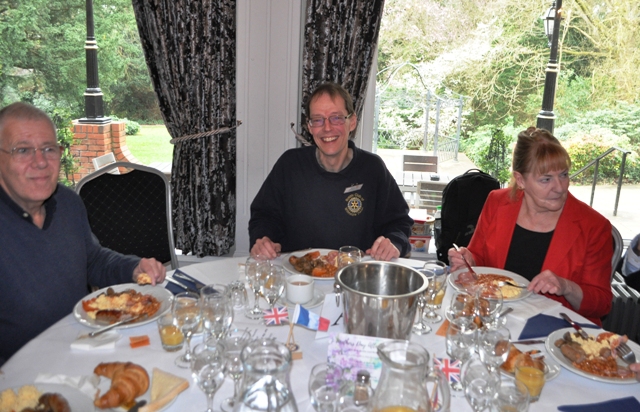 Now we taste 5 French wines from John's selection.
Here John Lomas gives his appraisal on the next wine for tasting.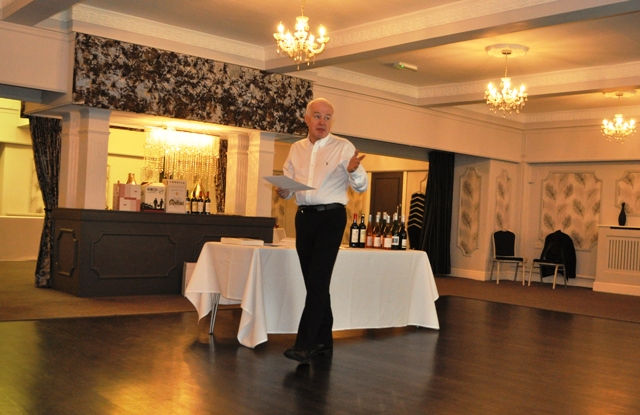 President Ian about to taste a Red.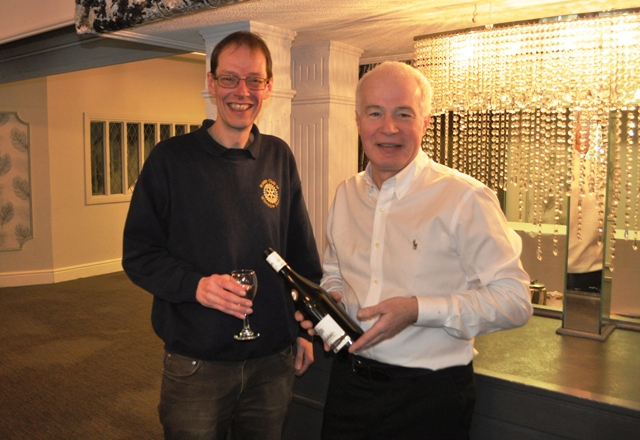 ANOTHER ROTARY SOCIAL EVENT, ENJOYED BY MEMBERS, FAMILY AND FRIENDS, TOGETHER WITH ROTARIAN MEMBERS FROM LOCAL CLUBS.
14th. FEBRUARY 2020
VALENTINES DAY
An exciting way to celebrate Valentines day.
A trip on a steam train, hauled by one of the classic engines, The" Royal Scot" with a five couse meal served in style to match the occasion.
Immediate Past President Frank and wife Dorothy enjoyed this experience


What a fantastic machine.
and pictured below Dorothy studied the five course menu.


24th February 2020
Scatter Week
This week members visited other local Rotary clubs to promote Rotary fellowship.
The choice available included:-
Bramhall and Woodford, Cheadle and District, Knutsford, Sale and Macclesfield Castle who had speakers/other activities during this week.


18th FEBRUARY 2020
SPEAKER MEETING
MEMBER RICHARD CONROY, FOOD SCIENTIST, PRESENTED MEMBERS WITH AN ILLUSTRATED TALK ON THE NUMEROUS TYPES OF FOOD POISONS PRESENT IN THE FOOD WE EAT. ALBEIT SERIOUS, RICHARD ADDED SOME HUMOUR IN HIS LIVELY ANECDOTES.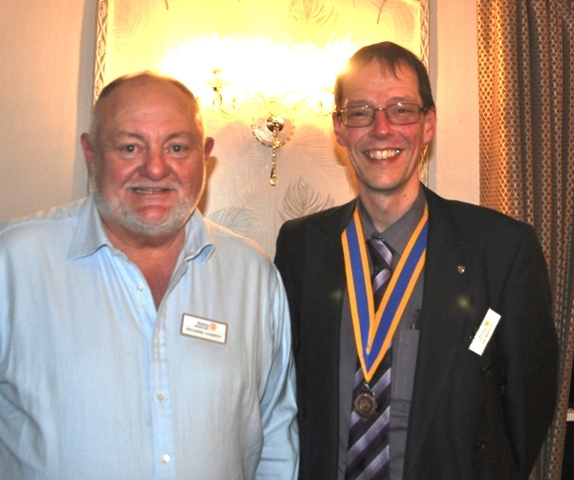 11th. February 2020
Speaker meeting

Vice President Sue Worthington welcomes Brian Wood who presented a video record of his exciting flight in a Lightening jet fighter plane.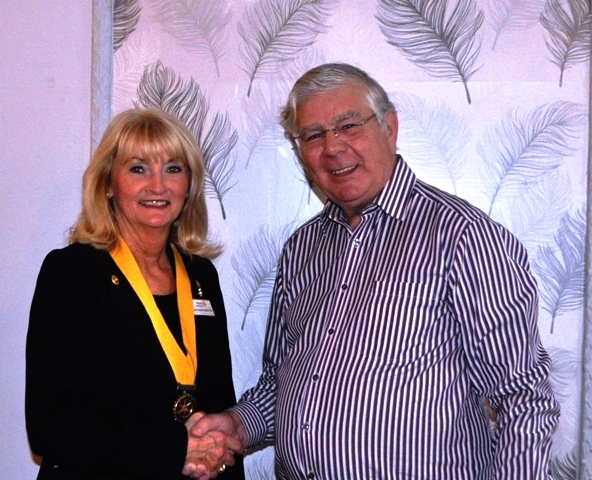 The pictures here are of this outstanding jet fighter.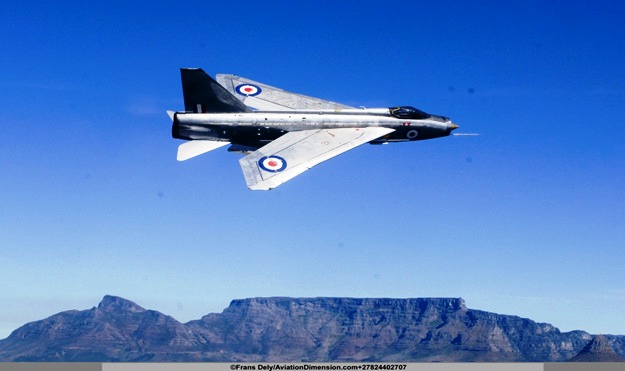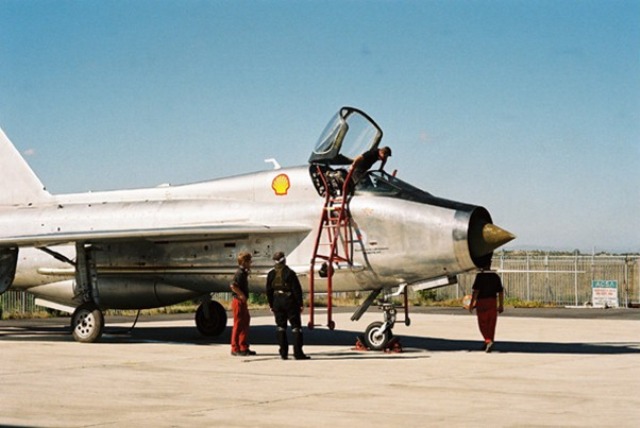 BURNS NIGHT SUPPER
WE HELD THIS POPULAR ANNUAL EVENT ON
21st. JANUARY 2020
AT THE DEANWATER HOTEL.
The pictures below record the content of the evening .
Here, regular visitor to our event, Rtn. Robert Strachan, from Altrincham Ro
tary Club
shares the floor with President Ian for
"The address"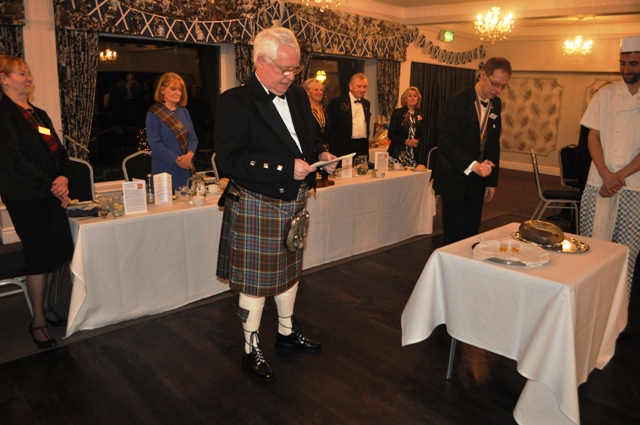 OFFERING "THE WEE DRAMS"


PRESIDENT ATTACKS "THE BEASTY"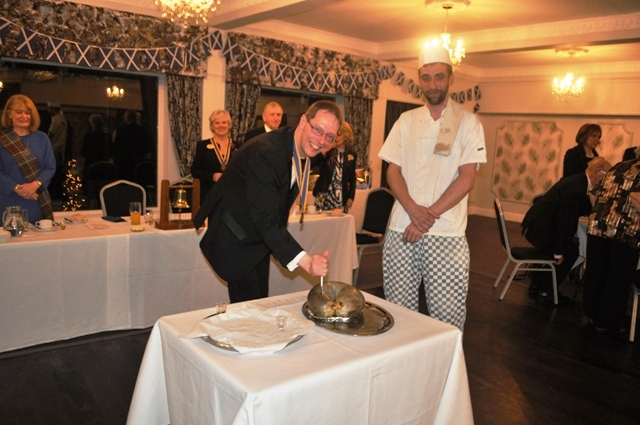 THE TOAST "TO THE HAGGIS"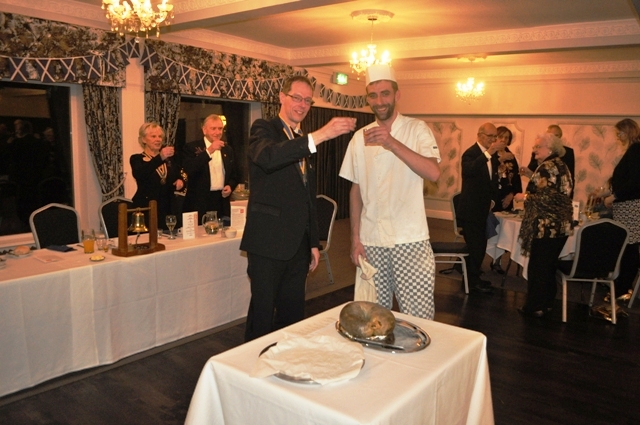 THE MAIN COURSE IS SERVED


THE RAFFLE RAISED OVER £100 FOR "END POLIO NOW"

ENTERTAINMENT AFTER A SHORT BREAK BY MENBERS FROM
THE CALLEDONIAN SOCIETY.
WITH A PROGRAM OF SCOTTISH DANCING.




A SPLENDID EVENING
ENDS WITH AULD LANG SYNE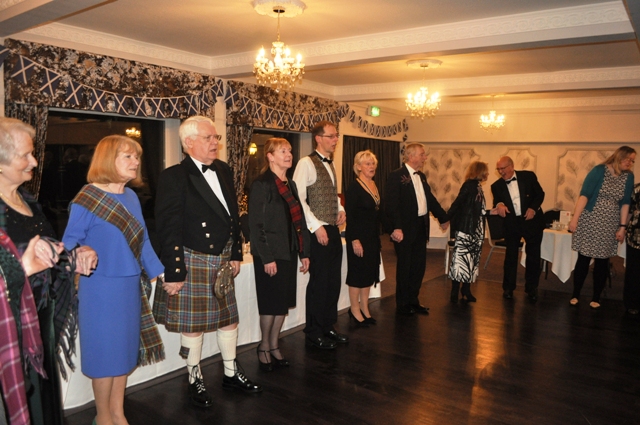 BY MEMBERS FAMILY AND FRIENDS


********
MARIANNE AND ANDREW
DISPLAY THEIR CHOCOLATE GOLD AWAWDS
FOR HELP DURING THE CHRISTMAS COLLECTIONS


21st January 2020
The first speaker in the New Year
President Ian welcomes Ray Acton : local historian
who gave us a most interesting presentation with pictures
of "Wilmslow Village" as it was known many years ago
and still referred as such by the long established residents.






3 January 2020
We are now in 2020 and wish everyone a Happy New Year/Decade. For us (a group of members and friends), the first activity of 2020 was a visit to see Aladdin performed by a very talented young cast from CHYPS (the Cheshire Youth Pantomime Society) in Woodford.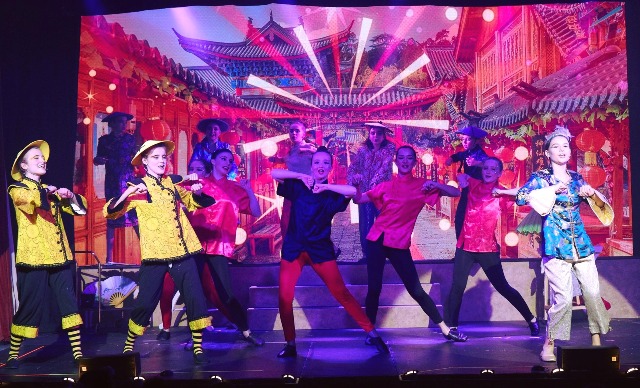 Out and about with Santa and the Rotary Float.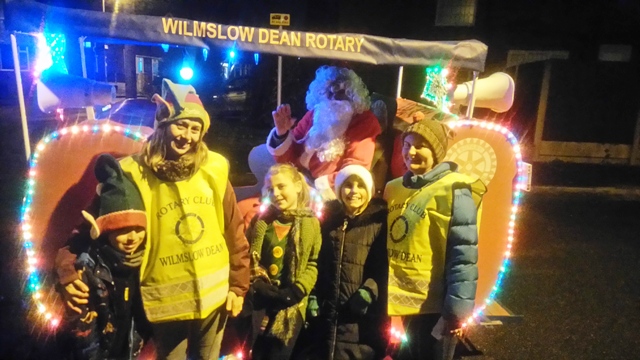 Gold Medals (chocolate)
Members Marianne and Andrew were in Santas good books for their help collecting for charity. Here they display their medals.




17 December 2019
Our Christmas Party for members and guests was held at The Deanwater Hotel with a traditional meal of Turkey and all the trimmings (although there was also a salmon option).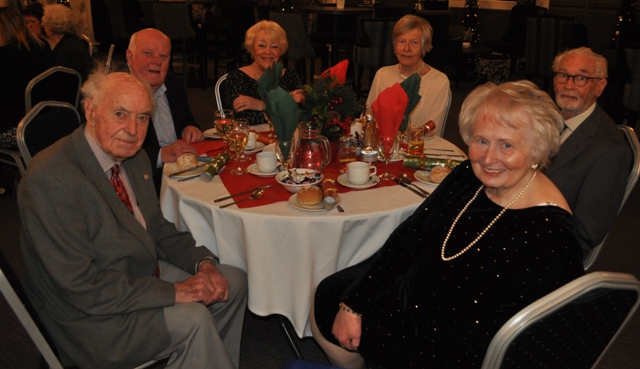 Our entertainment was provided by magician and speaker, Pete Turner, who in his talk "Curiosity killed the cat" performed and explained a number of magic tricks including the disappearance of The Statue of Liberty by David Copperfield from many years back. Our photo shows Pete with President Ian.

19 November 2019
We celebrated our 82nd Charter Night (which is essentially our birthday) at The Deanwater Hotel. After a good meal and a few formalities our guest speaker, Rotarian Geoff Mackey, entertained us with his wit and wisdom. Geoff had last spoken to us 20 years before (when Ian was President for the first time). Our photo shows President Ian flanked by District Governor Patrick Tyrell (left) and Geoff (right).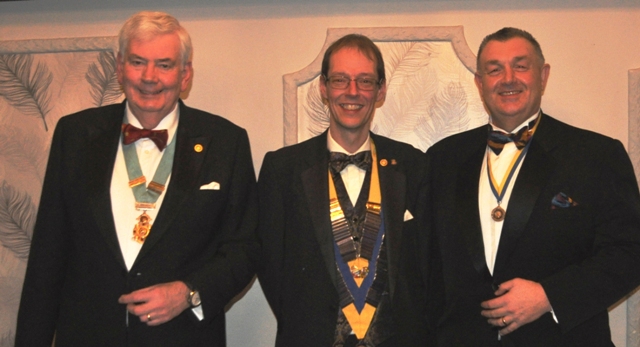 12 November 2019
Our speaker for this evening was Reverend Jeff Gould (a former member of the Club) who is the local Unitarian minister based at Dean Row Chapel Wilmslow. Jeff reflected on his many years of service to the local and international community.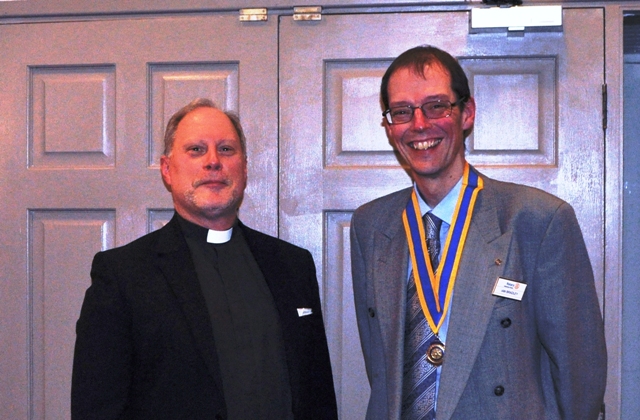 10 November 2019
Past President Frank McCarthy represented the Club as part of the Wilmslow commemorations for Remembrance Sunday in Wilmslow. It was good to see large numbers from the local community supporting the event which concluded at the Memorial Gardens.



29th October 2019
A SOCIAL EVENING
MEMBERS, FAMILY AND FRIENDS ENJOYED A MEAL AT A LOCAL THAI RESTAURANT










22nd.October 2019
SPEAKER MEETING


President Ian Bradley welcomes our speaker Dr. Simon Hyde. Headmaster of King's school, Macclesfield.

Dr. Hyde gave an excellent presentation covering the history of the School. We were surprised that this dated back 517 years.
We were also very interested in the update of the building work of the "state of the art" campus on an 80 acre site between Macclesfield and Nether Alderley.
This super accommodation will offer cultural, academic and sporting facilities to a standard difficult to find anywhere else in the UK.
Here is a picture showing the progress to date.







8th October 2019
CLUB SCATTER NIGHT
Members selected local club Knutsford as their venue for this evening, to share Rotary fellowship, sample their dinner menu and listen to their speaker for the evening.
Below are pictures of seven of our members joining members of Knutsford club, where we enjoyed an interesting talk on "The fear of flying"












Below you will find a photographic
record of our events for this year, in chronological order, with the most recent heading this page.
September 25th. 2019
Speaker Ella Worthington, pictured below gave members an interesting illustrated talk on facilities provided by Utility Warehouse.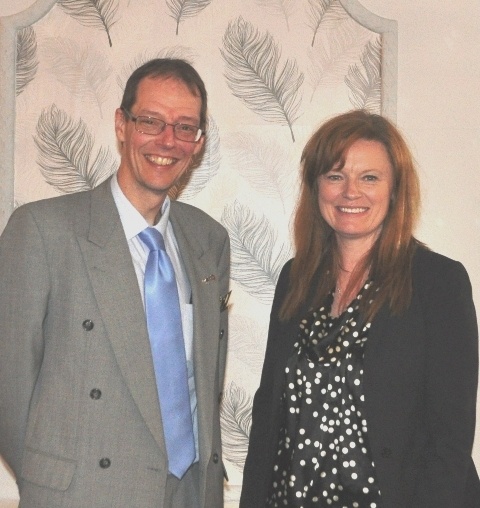 17th September 2019
After a short business meeting, President Ian Bradley invited two long serving members, Past District Governor Derek de Belder (L) and Bernard Davies to share some of their memories from earlier Rotary years.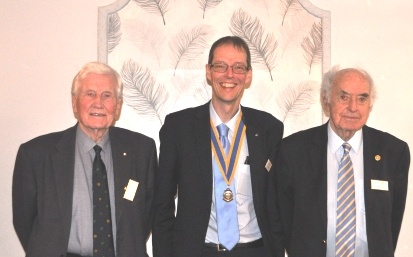 10th September 2019
Pictured below with President Ian the speaker this evening was Dominic Tinner, fund raiser for the SEASHELL TRUST. 150 Deaf, Blind , Autistic childre and young people, many with severe and complex learning difficulties are supported by this charity. There are 600 staff, and with the cost per child ranging from £100.000 to £300,000 per annum - raised mainly from generous charitable contributions.

Some of our members are marshalling at SEASHELL SPORTIVE on 15th September, an exciting fund - raising cycling event on some thrilling routes through the Pennines. The event starts at 6am and means a very early start for our volunteers, who are seen below planning the event with Dominic.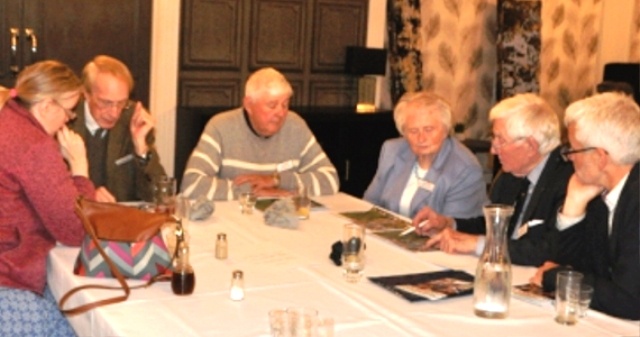 DG CLUB VISIT
We were pleased to welcme District Governor
Patrick Tyrrell
pictured below left with President Ian Bradley.


Sunday 29th July 2019
Members of the Time Out Group enjoy a trip on the Mary Sunley, sponsored by our club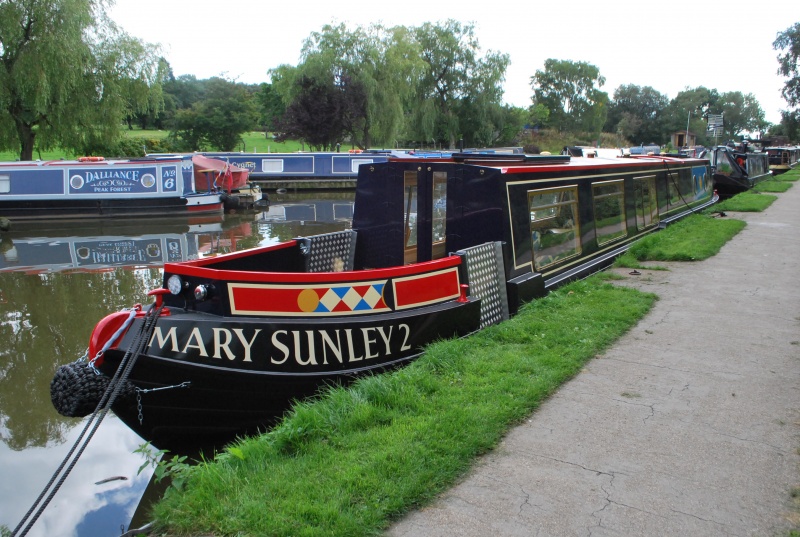 23rd July
Quiz Night



Saturday 20th July
Summer Lunch, arranged by Margaret, Marianne and Sue


Vice President Sue with one of the prizes from the raffle


16th July
Winner of the 2019 wilmslow Rotary Scarecrow Competition from HOME LIBRARY receives the certificate from President Ian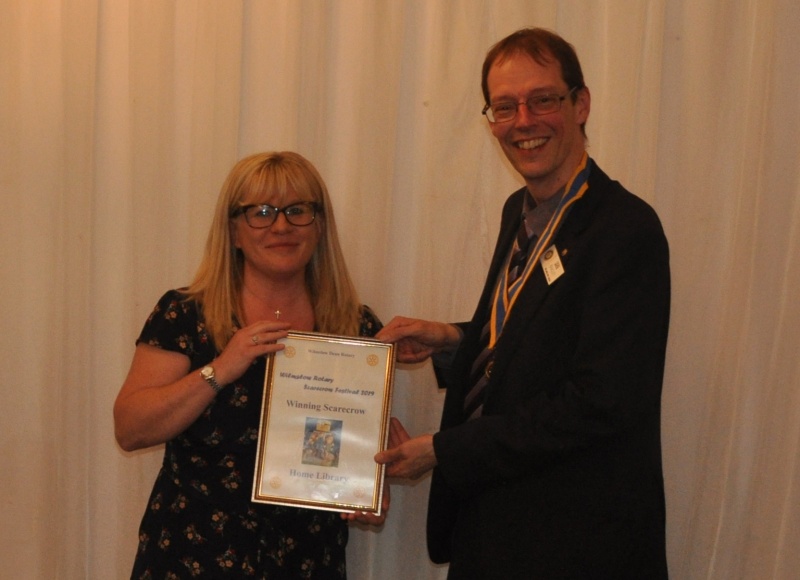 Below, the winning Scarecrow (R) , together with the winning schools entry from Wilmslow Lacey Green Primary Academy.

9th July
Our first speaker of the Rotary Year. Deepak Oberoi of Albert Road Opticians with President Ian


Sunday 7th July 2019
Wilmslow Dean at the Wilmslow Community Show.
The Rotary Stand just before the start of the show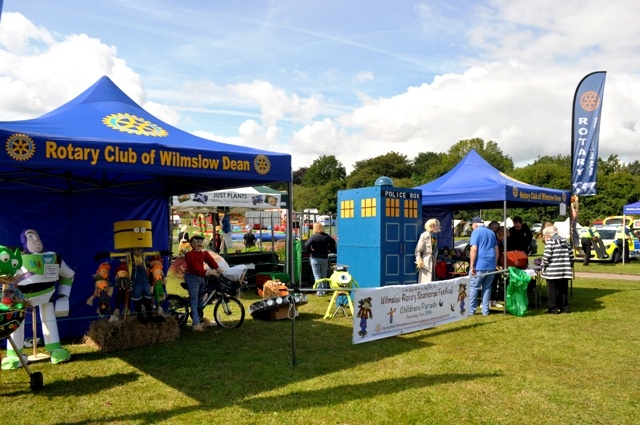 Final preparation of one of the displayed scarecrow finalists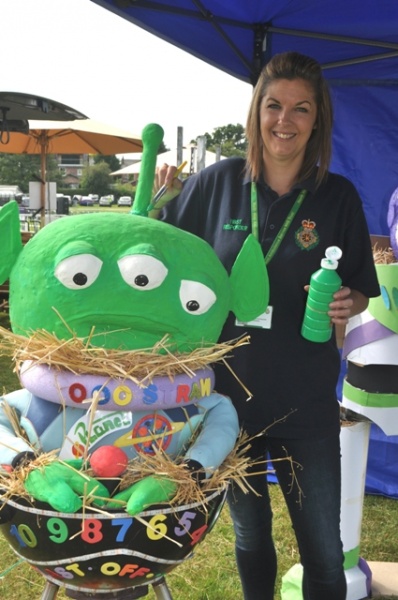 Choose a ticket!
One of the many winners at our Tombola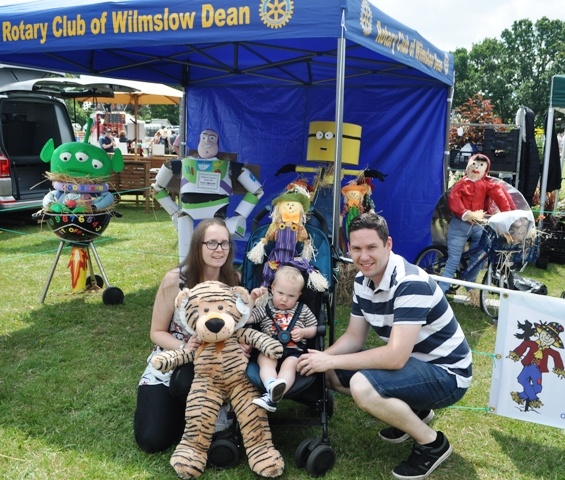 And another one!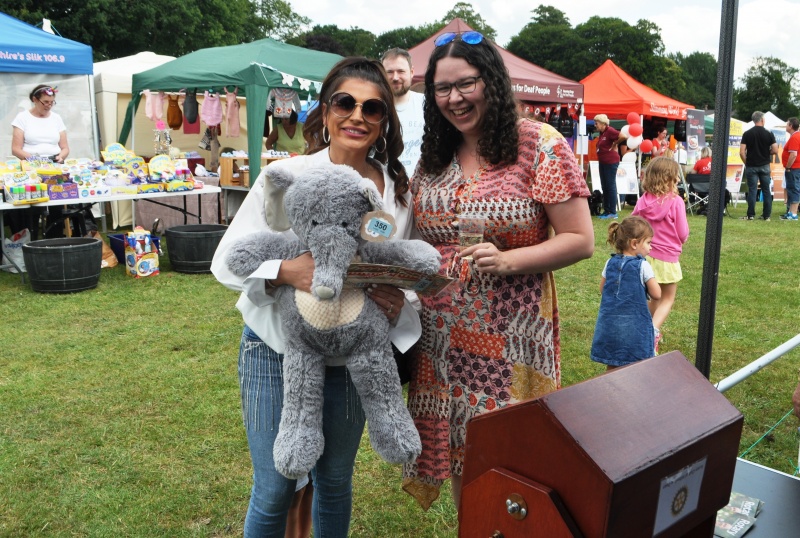 Look at those scarecrows!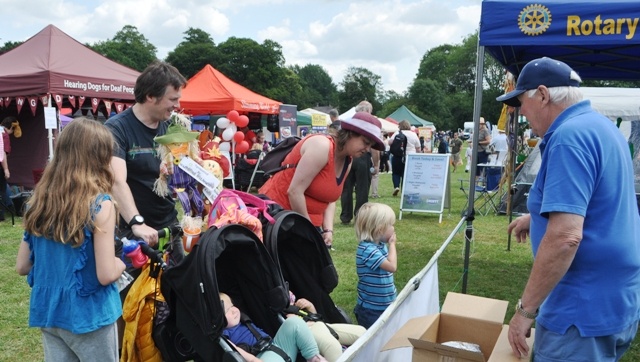 Judges of the Scarecrow Competition - Angela McPake, Chairman of the Wilmslow Community Show (L) with Kuomi Burton.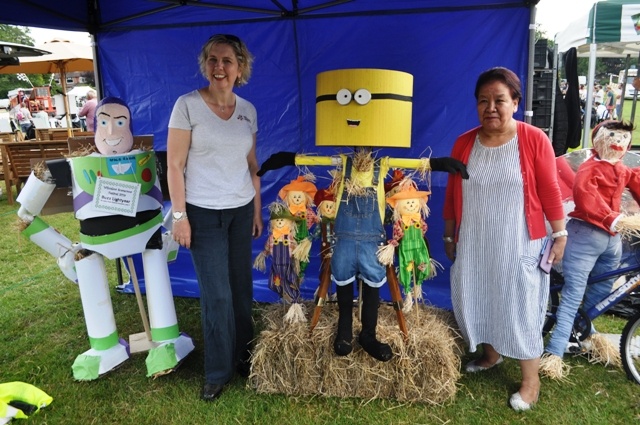 Saturday 29th June 2019
The annual Rotary Scarecrow Festival concludes with a chidren's parade through the town waving their mini scarecrows.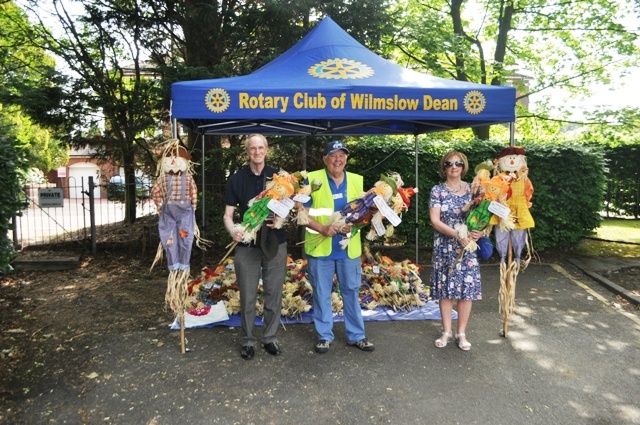 District Governor Patrick Tyrell ready for the off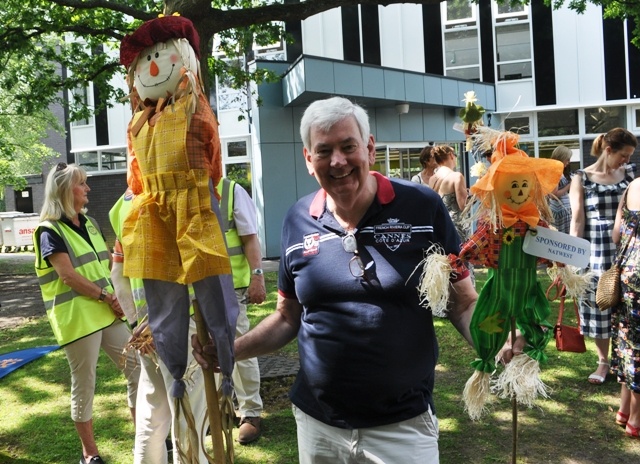 The Poynton Youth Marching band assemble ready to lead the parade
The children all lined up ready for the parade to Bank Square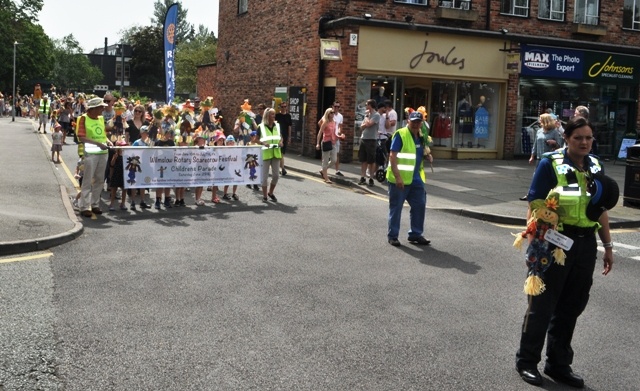 The police stopped the traffic as we crossed the road on our way to Grove Street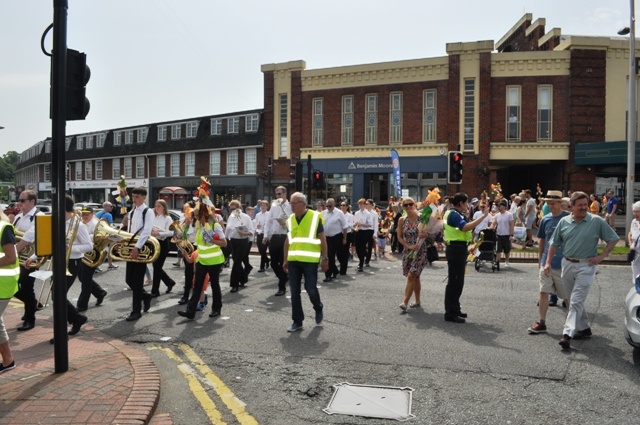 Frank leads the parade down Grove Street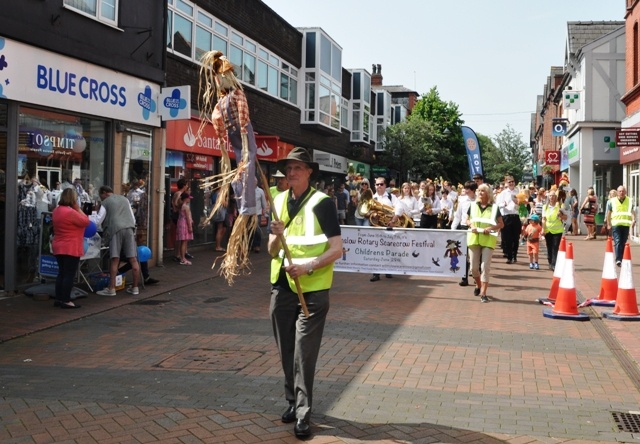 Almost at the end, we arrived at Bank Square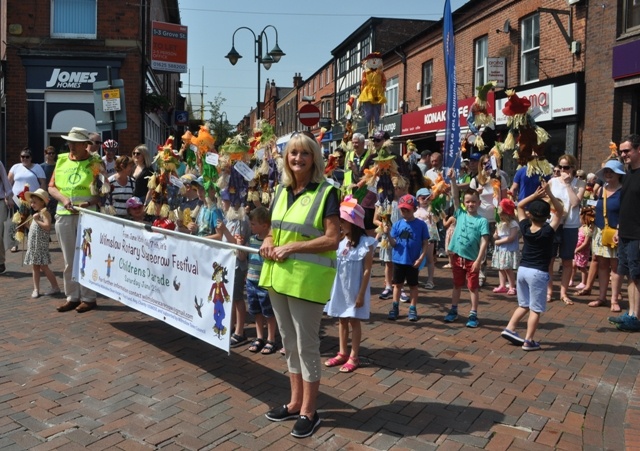 A very welcome sight - chilled water! Many thanks to Sainsburys, Tesco and Waitrose for providing the water and keeping it cold.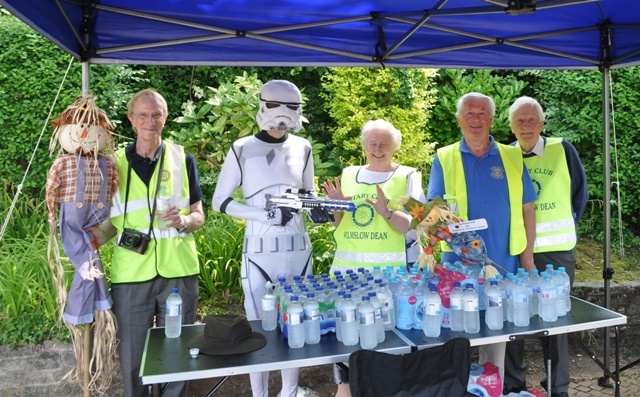 The first important event of the Rotary Year is to install our new President. This year we welcome for the fourth time Rotarian Ian Bradley, and pictured below retiring President Frank McCarthy hands over the chain of office.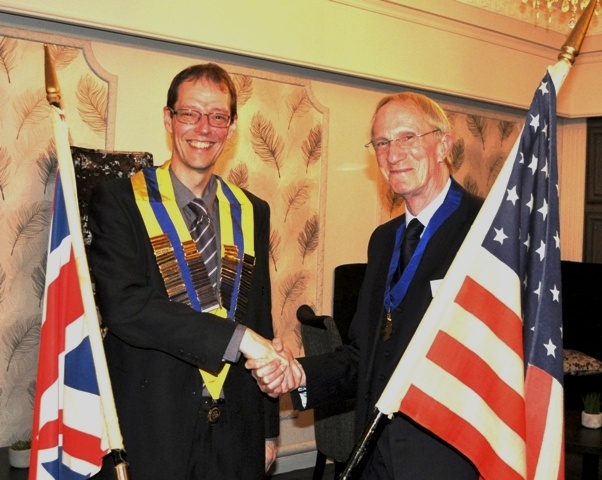 Top table before handover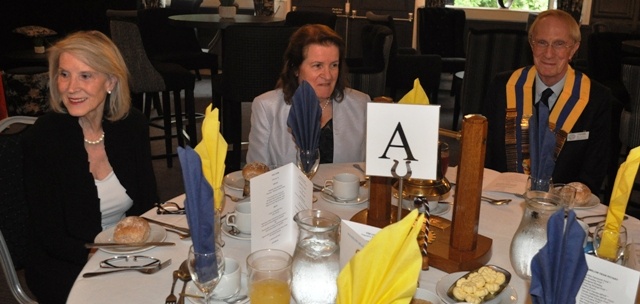 Ian and Marianne share a joke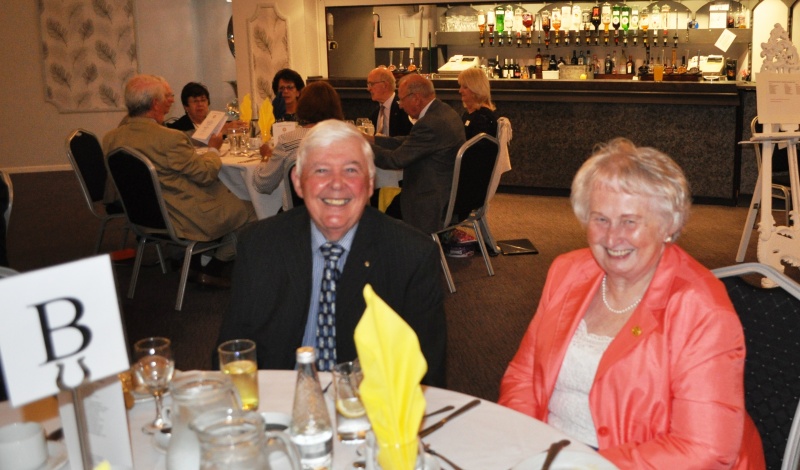 After the Rotary formalities, we were royally entertained by Jean Martyn of Britains Got Talent Fame.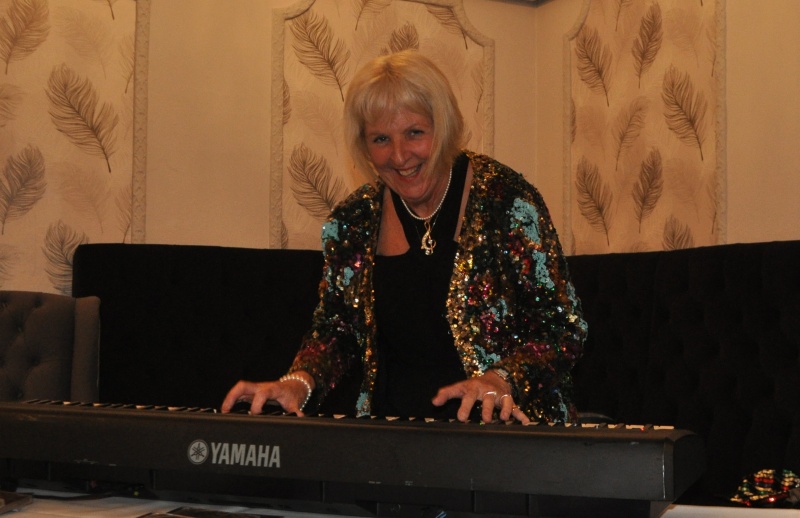 **************************************