Free Zoom - DNAPQuiz
Wed 21st October 2020 at 7.30 pm - 9.00 pm
The fifth zoom DNAPQuiz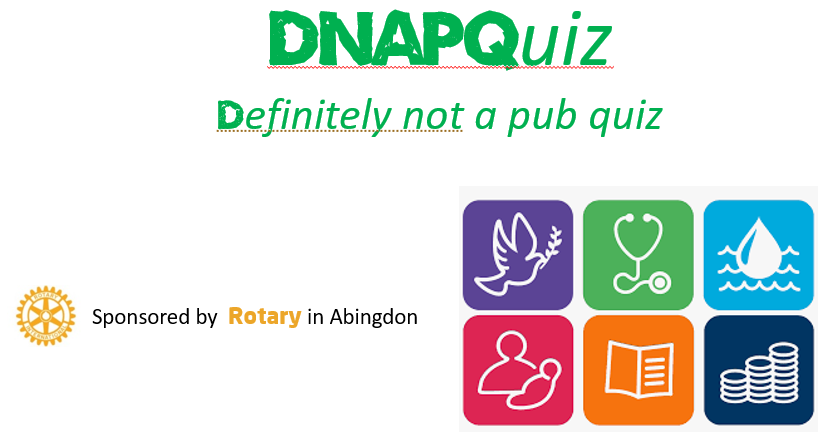 Rotary in Abingdon will be holding its fifth FREE zoom DNAPQuiz on Wednesday 21st October, 19:30

IF YOU (and your friends) WOULD LIKE TO TAKE PART YOU NEED TO REGISTER; no need to be a Rotary volunteer
At our last DNAPQuiz we had eight teams (>50 people) and can handle up to 100 people. It lasts just under 90 minutes.
Please …
… register, by replying YES PLEASE to this email, latest Monday 19th
see TEAMS about registering for a group of emails.

On 21st, I shall send to all those emails that are registered, the answer sheets (pdf) to print off, and a zoom link to join at 19:25. Only registered emails will be admitted on the night.
FORMAT
It will follow the DNAPQuiz format; far removed from someone merely reading out questions.
· A very visual and audible experience using PowerPoint as a platform.
· Six rounds of five questions.
· Teams are sent into 'breakout' rooms after each round to discuss answers.
· An electronic scoreboard.
· Just under 90 minutes in length. Bring your own refreshments.
TEAMS
Using the 'Breakout' feature of zoom, we put you into teams (up to seven people per team); if you would like to define a team, one person may register with a group of emails, they will all be sent the answer sheet and link; no need to be in the same house, no need to be a Rotary volunteer.
Equally we will randomly create teams of those registering individually if you want to meet different people in the 'breakout' rooms.